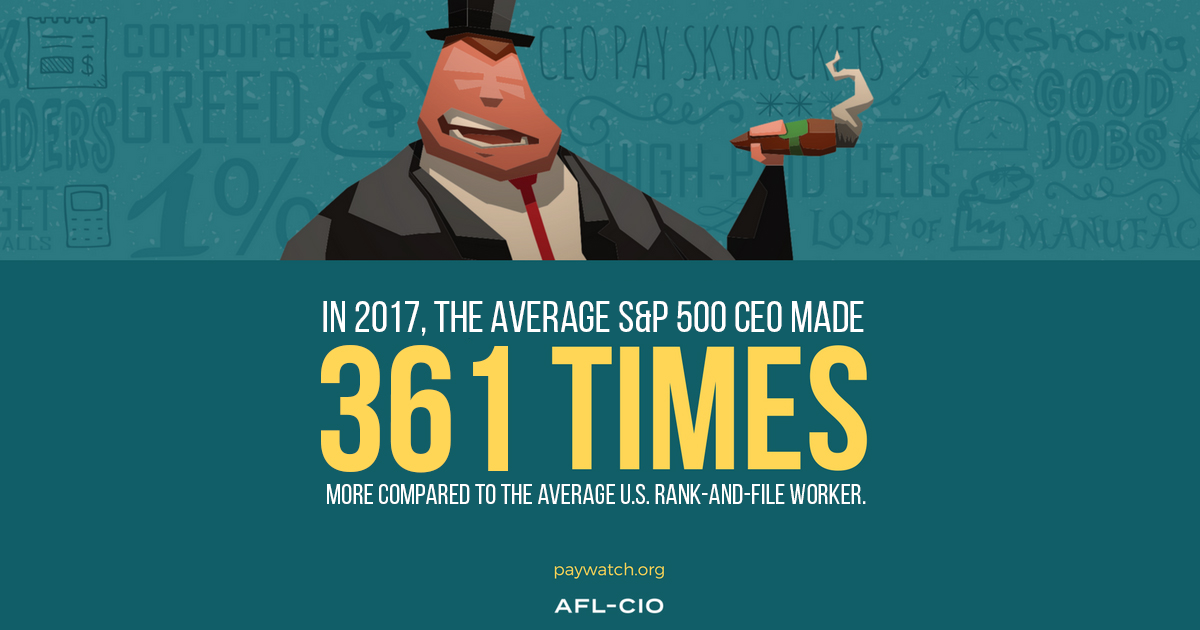 CEO pay for major companies in the United States rose nearly 6% in the past year, as income inequality and the outsourcing of good-paying American jobs have increased. According to the new AFL-CIO Executive Paywatch, the average CEO of an S&P 500 Index company made $13.94 million in 2017—361 times more money than the average U.S. rank-and-file worker. The Executive Paywatch website, the most comprehensive searchable online database tracking CEO pay, showed that in 2017, the average production and nonsupervisory worker earned about $38,613 per year. When adjusted for inflation, the average wage has remained stagnant for more than 50 years.
"This year's report provides further proof that the greed of corporate CEOs is driving America's income inequality crisis," said AFL-CIO Secretary-Treasurer Liz Shuler. "Too many working people are struggling to get by, to afford the basics, to save for college, to retire with dignity while CEOs are paying themselves more and more. Our economy works best when consumers have money to spend. That means raising wages for workers and reining in out of control executive pay."
Here are eight key facts you need to know about from this year's Executive Paywatch report:
America is the richest country in the world at its richest point in history. And once again, CEOs got richer this year. CEO pay for major U.S. companies was up more than 6% in 2017 as income inequality and outsourcing of good-paying American jobs increases.

Total compensation for CEOs of S&P 500 Index companies increased in 2017 to $13.94 million from $13.1 million in 2016.

The CEO-to-worker pay ratio grew from 347 to 1 in 2016 to 361 to 1 in 2017.

For the first time this year, companies must disclose the ratio of their own CEO's pay to the pay of the company's median employee. This change was fought for by the AFL-CIO and its allies to ensure investors have the transparency they deserve.

In 2017, the CEO-to-worker pay ratio was 361. In 2016, the ratio was 347. In 1990, it was 107. And in 1980, it was 42. This pay gap reflects widening income inequality in the country.

Mondelēz is one of the most egregious examples of companies that are contributing to inequality. The company, which makes Nabisco products including Oreos, Chips Ahoy and Ritz Crackers, is leading the race to the bottom by offshoring jobs. New CEO Dirk Van de Put made more than $42.4 million in total compensation in 2017—more than 989 times the company's median employee pay. Mondelēz's former CEO Irene Rosenfeld also received $17.3 million in 2017, 403 times its median employee's pay.

So far for 2017, the highest-paid CEO in the AFL-CIO's Executive Paywatch database is E. Hunter Harrison, CEO of CSX Corporation. He received more than $151 million in total compensation. In contrast, the lowest-paid S&P 500 company CEO was Warren Buffett who received $100,000 in total pay in 2017.

The toy-maker Mattel had the highest pay ratio of any S&P 500 company. Mattel's median employee is a manufacturing worker in Malaysia who made $6,271, resulting in a CEO-to-employee pay ratio of 4,987 to 1. Buffett's company Berkshire Hathaway Inc. had the lowest pay ratio of all S&P 500 companies, just 2 to 1.
Our economy works best when consumers have money to spend. That means raising wages for workers and reining in out of control executive pay. Executive Paywatch is a tool that helps the U.S. pursue those goals.
Learn more at Executive Paywatch.