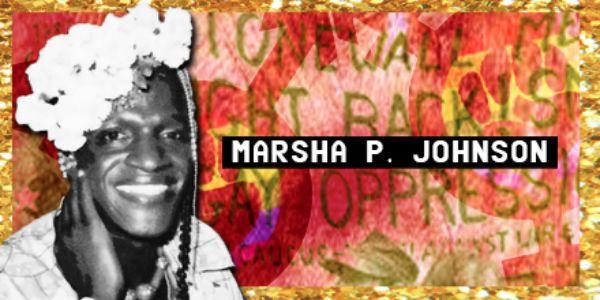 Throughout Pride Month, the AFL-CIO will be taking a look at some of the pioneers whose work sits at the intersection of the labor movement and the movement for LGBTQ equality. Our next profile is Marsha P. Johnson.
Marsha P. Johnson was an LGBTQ activist who became well known in New York City by being herself and fearing no judgment on her comfort as a black trans woman. She lived in Manhattan's Greenwich Village, a socially liberal area where most LGBTQ people felt acceptance and salvation.
In 1968, a riot broke out at the Stonewall Inn, a popular LGBTQ bar, when police officers raided the building. This became known as one of the most important events that sparked the LGBTQ rights movement, commonly referred to as the Stonewall Riots or, more accurately, the Stonewall Uprising. 
Author David Carter wrote that Johnson was one of three key figures leading the resistance, but Johnson modestly downplayed her role, saying, "I was uptown, and I didn't get downtown until about two o'clock. When I got downtown, the place was already on fire, and there was a raid already. The riots had already started."
Either way, she joined in and played a pivotal role not only in the uprising, but in the founding of the Gay Liberation Front, an organization founded in the aftermath of Stonewall that advocated for the sexual liberation of all people.
Fighting back against discrimination toward transgender people, Johnson, along with Sylvia Rivera, founded STAR—Street Transgender Action Revolutionaries—a trans rights group that organized shelters for homeless transgender teens and drag queens. Johnson also helped found STAR House, which provided shelter to homeless queer youth.
Johnson's life wasn't all battles, however; she was a social butterfly who spent time with the likes of Andy Warhol. She also toured America and Europe as part of Hot Peaches, an avant-drag performance troupe.
Johnson died in 1992 at the age of 46, and the circumstances surrounding her death remain a mystery today. A recent Netflix documentary, "The Death and Life of Marsha P. Johnson," examined her amazing life and tragic death. 
Johnson's life speaks to the fluidity of gender and a person's right to self-identify without judgment, and she helped pave the way for increased awareness of the challenges faced by the LGBTQ community in the U.S., in the workplace and in the larger culture.