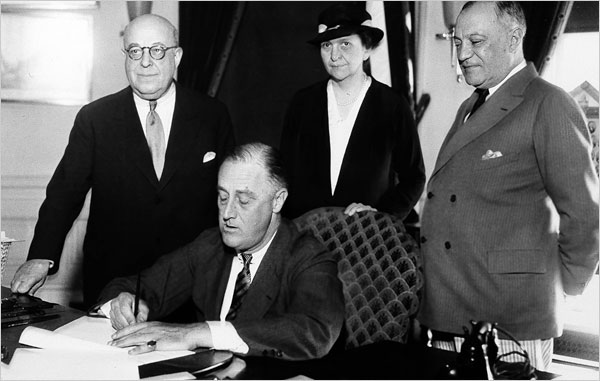 Signed into law by President Franklin D. Roosevelt 83 years ago yesterday, the National Labor Relations Act marked a critical step forward for working people's right to join together in unions and bargain collectively. As Roosevelt said at the time, "By preventing practices which tend to destroy the independence of labor, it seeks, for every worker with its scope, that freedom of choice and action which is justly his."
More than 80 years after our leaders proudly advanced the rights of working people, corporate interests are still ruthlessly fighting to deny us that which is justly ours. Just as the labor movement helped secure passage of the NLRA, today we are demanding an even better deal that fully guarantees our fundamental economic rights and freedoms.
To that end, Democrats in the House and Senate recently introduced the Workers' Freedom to Negotiate Act, which would enact several key provisions expanding collective bargaining rights, such as:
Strengthening penalties against abusive and predatory corporations that violate workers' rights.

Combating misclassification of workers as supervisors and independent contractors.

Strengthening our right to strike for the wages, benefits and working conditions we deserve.

Creating a mandatory mediation and arbitration process to ensure that corporations and newly organized unions reach a first contract.

Banning state laws that undermine our freedom to join together and negotiate.

Protecting the integrity and fairness of union elections from employer propaganda.