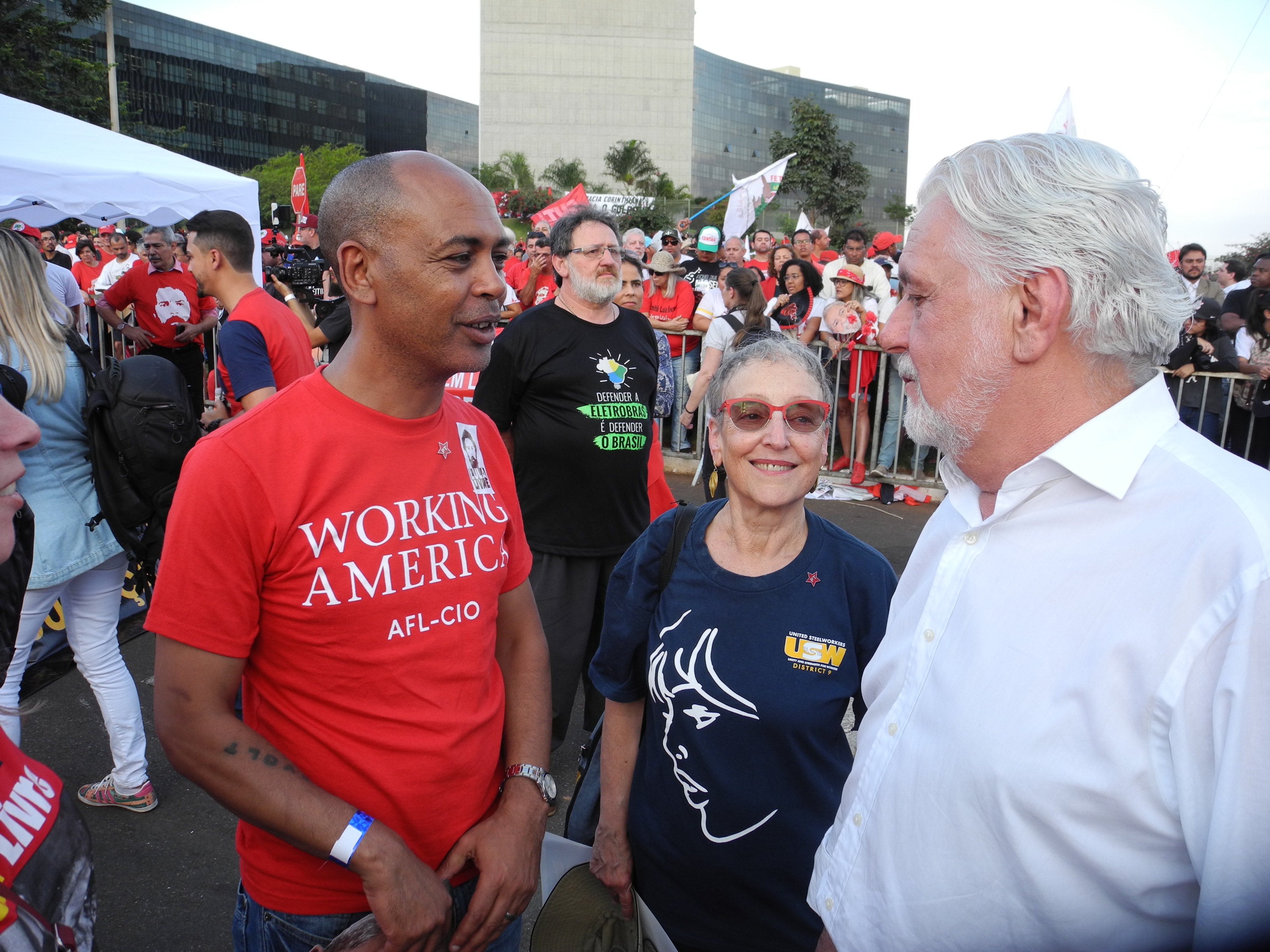 From Aug. 13–18, AFL-CIO Executive Vice President Tefere Gebre (UFCW) and AFL-CIO International Committee Co-chair Stuart Appelbaum (RWDSU/UFCW) led a delegation to Brazil to support Brazilian brothers and sisters dealing with the implementation of national "right to work" legislation, and to show their solidarity with former Brazilian President and union leader Luiz Inácio Lula da Silva, who was unjustly accused and convicted on corruption charges earlier this year and has been inhibited from campaigning freely as a candidate in the upcoming Brazilian presidential elections. Representatives from UAW, United Food and Commercial Workers (UFCW), United Steelworkers (USW) and UNI Global Union also participated in the delegation.
As Appelbaum, president of the Retail, Wholesale and Department Store Union (RWDSU) and executive vice president of the UFCW said at the outset of the delegation: "At a time when we are witnessing attacks on democracy, social justice and working people at every turn and in so many places, it is more important than ever before that we stand up and fight back together. President Lula's imprisonment is a direct assault on the working people of Brazil. We will not simply watch as those who want to undo the rights of workers break the rules to move backward."
The delegation met with leaders of Brazil's two largest national union federations, the Central Única dos Trabalhadores (CUT) and Uniāo Geral dos Trabalhadores, who explained how the current government has implemented policies to roll back formerly protective labor law legislation and to drastically cut back on social spending, leaving Brazilian working families in a precarious state. According to Ariovaldo de Camargo, the CUT vice secretary for international affairs, "This gesture of solidarity by American workers is extremely important for Brazilian workers, who are living through a tragic social regression, exemplified by the labor law reform and the increase in unemployment, hunger and misery in the country."
The delegation also had a chance to discuss Brazilian politics with 20 members of Congress from the Workers' Party. The delegates learned about how Lula has been falsely accused and convicted on corruption-related charges, despite the fact that there was no credible evidence produced against him besides unsworn, uncorroborated testimony given in exchange for a plea bargain. Lula's real crime, however, for greedy businessmen and establishment politicians, was to have carried out innovative, wide-ranging policies to reduce social and economic equality in South America's largest nation. As Appelbaum told the members of Congress, "We have been greatly inspired by Lula. When in history have we heard of a time when 40 million people have been lifted out of poverty so quickly?"
One of the most memorable moments of the delegation was participating in a 25,0000-person strong march led by union activists and family farmers in the country's capital, Brasília, to register Lula's candidacy for president and protest in favor of free and fair elections. Gebre addressed the crowd  during this important rally, telling Brazilian workers that they are not alone in their fight to strengthen their democracy and improve their working and living conditions. Addressing our Brazilian brothers and sisters, Gebre said, "If you want to win something genuine, it always comes at a cost, it always comes through struggle. And we will struggle with you until shared prosperity becomes a reality once again in your country."