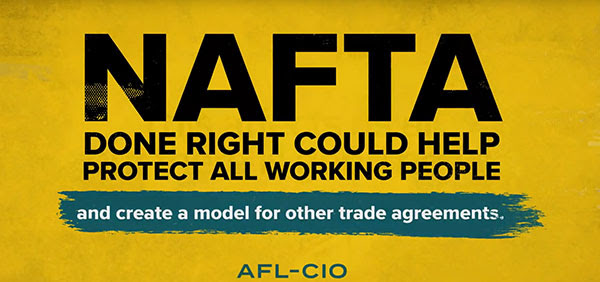 In the wake of the latest NAFTA news, labor leaders noted that the pursuit of an agreement that works for workers was on track while cautioning that the work is far from over. In a joint statement yesterday, AFL-CIOPresident Richard Trumka, United Steelworkers (USW) International President Leo W. Gerard, UAW President Gary Jones, Machinists (IAM) International President Robert Martinez Jr. and Communications Workers of America (CWA) President Christopher Shelton called for an agreement that addresses the North American Free Trade Agreement's "deeply ingrained flaws."
The group of labor leaders insisted that the interests of working people be prioritized in any finalized agreement:
NAFTA has had a devastating impact on workers for more than 25 years. We are aggressively engaged in pursuing an agreement that works for working people in all three countries, and we are not done yet. There is more work that needs to be done to deliver the needed, real solutions to NAFTA's deeply ingrained flaws.

Any new deal must raise wages, ensure workers' rights and freedoms, reduce outsourcing and put the interests of working families first in all three countries. And working people must be able to review the full and final text and have the confidence not only in the terms of the deal, but its implementation, monitoring and enforcement. We remain committed to working with the administration to get NAFTA right. Our members' jobs depend on it. But, as always, the devil is in the details.
Read more about a NAFTA agreement that would serve working people.