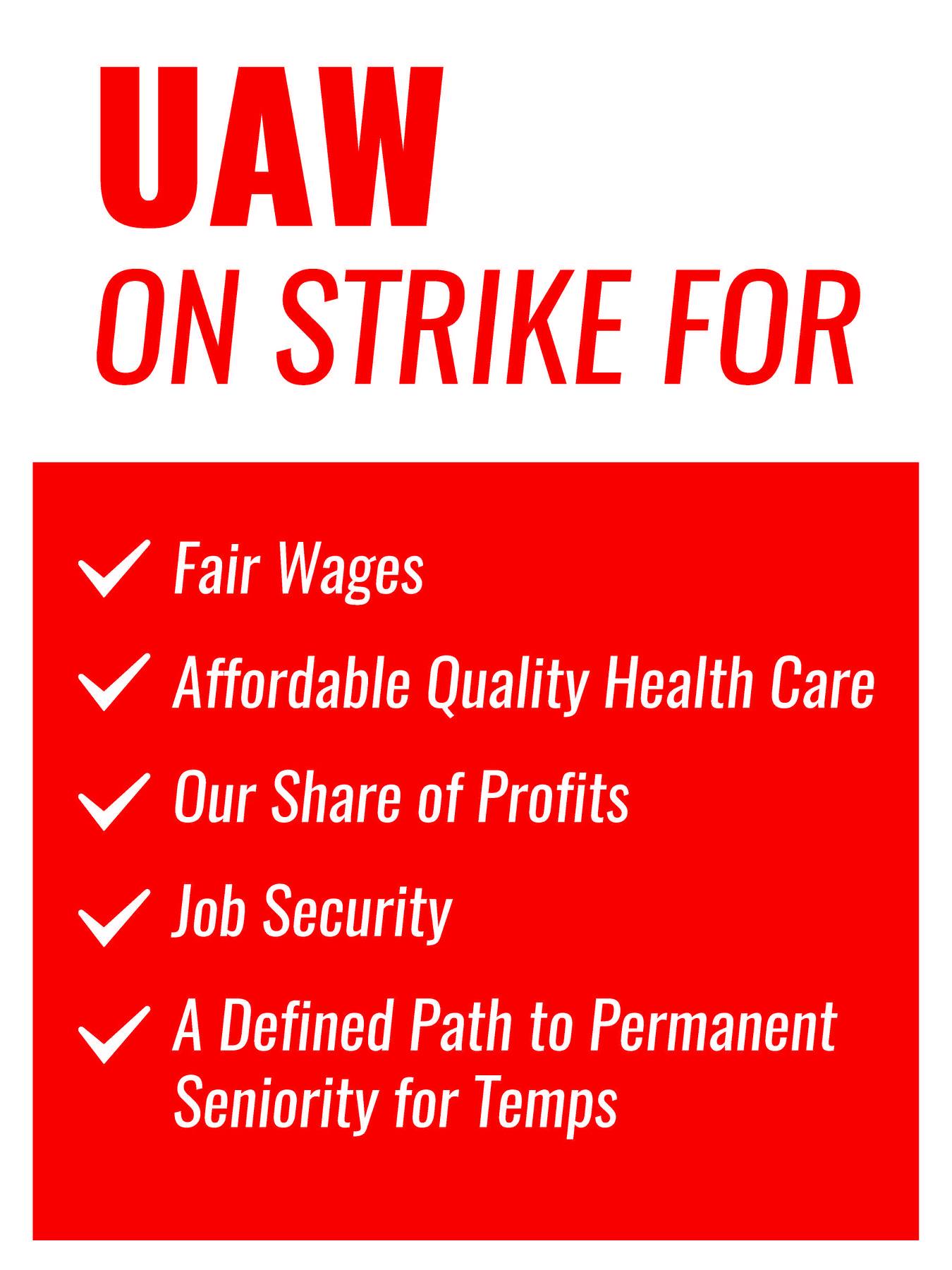 The longest and largest automotive strike in decades came to an end this week as UAW members employed by General Motors Co. ratified the tentative agreement between the union and the automaker. Nearly 50,000 UAW members went on strike Sept. 16 seeking fair wages, affordable quality health care, profit sharing, job security and a defined path to permanent seniority for temps. With the victory of the UAW members, working people across the country lauded the strikers and thanked them for standing up against corporate greed. Here's what people said:
General Motors members have spoken. We are all so incredibly proud of UAW-GM members who captured the hearts and minds of a nation. Their sacrifice and courageous stand addressed the two-tier wages structure and permanent temporary worker classification that has plagued working class Americans.
We want to once again thank our members' families and their local communities for their outpouring of support. Our members not only joined together in solidarity but felt the support of their whole community throughout this important stand.
I've never felt prouder to be a union member. Backed by millions of brothers, sisters and friends across the country, UAW members stood together to win the fair treatment that they've earned over years of selfless sacrifice. I commend the UAW's national negotiators for standing firm to deliver on what their members demanded and hope this will bring an end to one of the most courageous fights I have ever seen.

This is the latest victory in a wave of collective action happening across America. Working people won't allow greed to dictate our lives, and we won't tolerate a system that's been rigged against us. Bosses everywhere should take note—we're not going to take it anymore.
Today, after five weeks of intense negotiations, the UAW GM National Negotiators and UAW GM Vice President Terry Dittes announced the achievement of a Proposed Tentative Agreement with General Motors.

— UAW (@UAW) October 16, 2019
The National Negotiators, elected by their local unions, achieved major wins for members in the Proposed Tentative Agreement. The negotiators voted to recommend the National Council accept the Proposed Tentative Agreement as the agreement represents major gains for workers.

— UAW (@UAW) October 16, 2019
The number one priority of the national negotiation team has been to secure a strong and fair contract that our members deserve," said UAW Vice President Terry Dittes, Director of the UAW GM Department.

— UAW (@UAW) October 16, 2019
There is no change to health care and no additional costs to members in the UAW-GM Tentative Agreement. #Bargaining2019 pic.twitter.com/vn68vIybiv

— UAW (@UAW) October 18, 2019
The UAW-GM Tentative Agreement provides a defined path to permanent seniority for temporary workers and includes improved time off policies and new restrictions on GM's use of temporary employees. #Bargaining2019 pic.twitter.com/HI81ltsdeR

— UAW (@UAW) October 19, 2019
The UAW-GM Tentative Agreement maintains and extends the benefits of the current Legal Services Plan. #Bargaining2019 pic.twitter.com/1p1G0MuV6q

— UAW (@UAW) October 20, 2019
UAW General Motors members ratified the 2019 Collective Bargaining Agreement this evening ending the longest automotive strike in 50 years. https://t.co/Ijap4brQdX

— UAW (@UAW) October 25, 2019