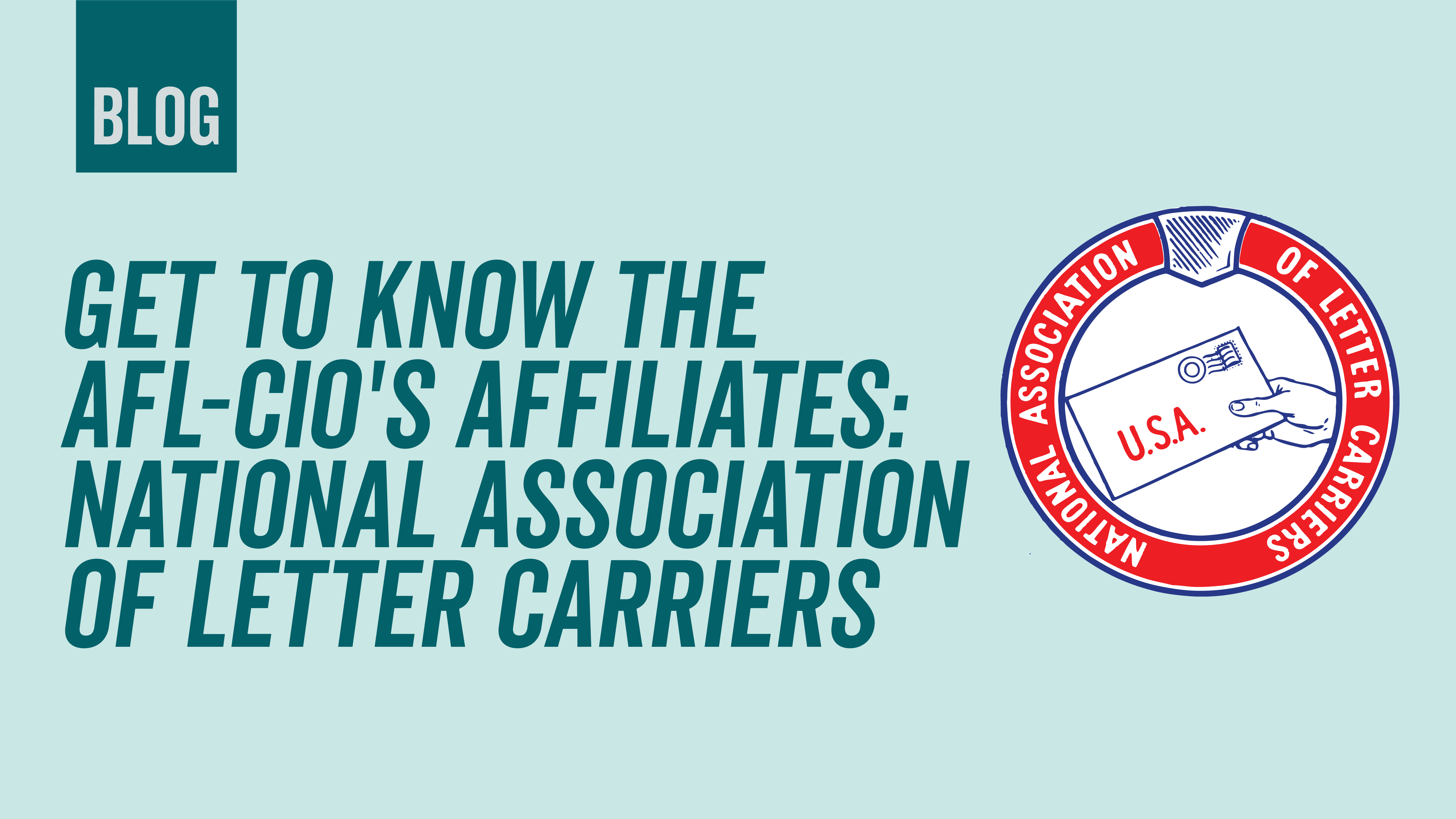 Next up in our series that takes a deeper look at each of our affiliates is the National Association of Letter Carriers.
Name of Union: National Association of Letter Carriers (NALC)
Mission: To unite fraternally all city letter carriers employed by the U.S. Postal Service for their mutual benefit; to obtain and secure rights as employees of the USPS and to strive at all times to promote the safety and the welfare of every member; to strive for the constant improvement of the Postal Service; and for other purposes. NALC is a single-craft union and is the sole collective-bargaining agent for city letter carriers.
Current Leadership of Union: Fredric V. Rolando serves as president of NALC, after being sworn in as the union's 18th president in 2009. Rolando began his career as a letter carrier in 1978 in South Miami before moving to Sarasota in 1984. He was elected president of Branch 2148 in 1988 and served in that role until 1999. In the ensuing years, he worked in various roles for NALC before winning his election as a national officer in 2002, when he was elected director of city delivery. In 2006, he won election as executive vice president. Rolando was re-elected as NALC president in 2010, 2014 and 2018.
Brian Renfroe serves as executive vice president, Lew Drass as vice president, Nicole Rhine as secretary-treasurer, Paul Barner as assistant secretary-treasurer, Christopher Jackson as director of city delivery, Manuel L. Peralta Jr. as director of safety and health, Dan Toth as director of retired members, Stephanie Stewart as director of the Health Benefit Plan and James W. "Jim" Yates as director of life insurance.
Number of Members: 291,000 active and retired letter carriers.
Members Work As: City letter carriers.
Industries Represented: The United States Postal Service.
History: In 1794, the first letter carriers were appointed by Congress as the implementation of the new U.S. Constitution was being put into effect. By the time of the Civil War, free delivery of city mail was established and letter carriers successfully concluded a campaign for the eight-hour workday in 1888. The next year, letter carriers came together in Milwaukee and the National Association of Letter Carriers was formed.
The first NALC convention took place in Boston in 1889. At this point, NALC had more than 50 branches, representing 4,600 letter carriers. In 1905, the National Ladies Auxiliary was founded, allowing women to participate in the union for the first time. In the early 1900s, postal workers won the right to organize and affiliated with the American Federation of Labor. Women were first allowed to work as temporary letter carriers as many men went off to fight in World War II.
In the postwar years, NALC has focused on wages and benefits for members. In 1950, NALC began its health benefit plan. In 1964, the Nalcrest retirement community for retired letter carriers opened in Florida. The Great Postal Strike of 1970, which led to the Postal Reorganization Act, brought collective-bargaining rights to letter carriers and other postal employees. In recent decades, NALC has focused in part on legislation and on seeking commonsense legislative and regulatory reform, including the unfair 2006 congressional mandate to pre-fund future retiree health benefits decades in advance, which threatens the viability of USPS by posing an unsustainable—and unique—financial burden. NALC also has continued to regularly negotiate national agreements between letter carriers and the USPS while working to protect the safety, jobs and well-being of letter carriers. Broadly put, NALC is very active in the federal legislative and political arena to protect the interests of its members and to secure the long-term future of the Postal Service.
Read Carriers in a Common Cause, the official history of NALC.
Current Campaigns: NALC stays in regular touch with its members through The Postal Record, the monthly membership magazine; the semi-regular NALC Bulletin and the NALC Activist. The union also sends out regular notifications to members via the NALC Member App for smartphones. NALC members have access to a number of members-only benefits, such as the NALC Health Benefit Plan (though other federal employees also can join the plan), the Mutual Benefit Association insurance company, the NALC Auxiliary and the letter carrier retirement community known as Nalcrest. Union-made clothes bearing the NALC logo and other items can be purchased through the online NALC store. 
Community Efforts: The NALC Disaster Relief Foundation helps those in need after disasters. The Letter Carriers' Food Drive, held the second Saturday each May, is the largest one-day food drive in the country. Letter Carrier Heroes recognize the acts of bravery and compassion that letter carriers engage in on a daily basis. NALC's official charity is the Muscular Dystrophy Association, with letter carriers raising funds to Deliver the Cure. Carrier Alert is a community service program to monitor the well-being of elderly and disabled mail patrons. The Postal Employees' Relief Fund helps active and retired postal employees, both management and craft, whose home, as a result of a major natural disaster was completely destroyed or left uninhabitable. The Combined Federal Campaign allows federal employees to donate to community service groups of their choice through paycheck deduction.