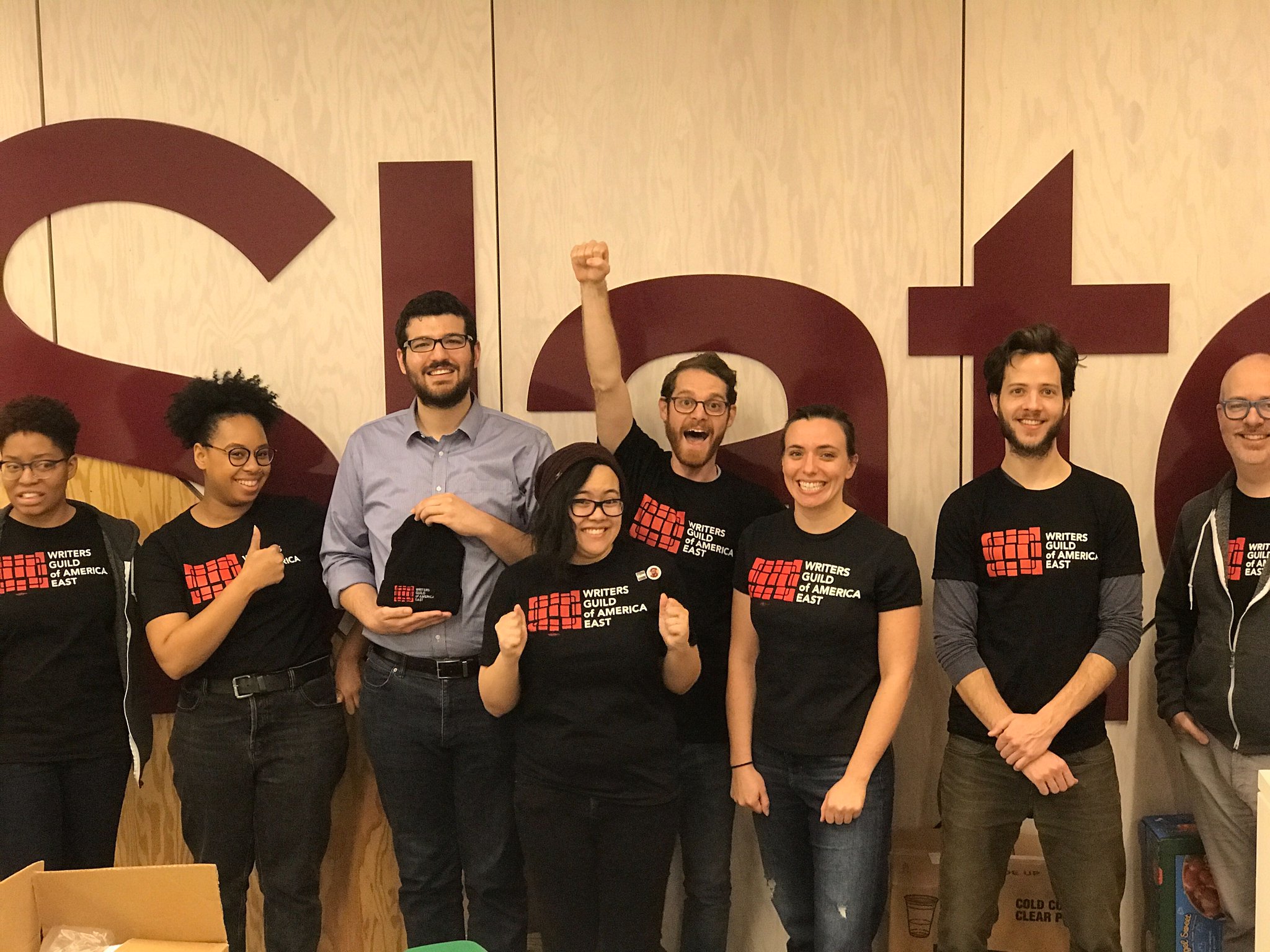 Our latest roundup of worker wins begins with writers organizing and winning new contracts and includes numerous examples of working people organizing, bargaining and mobilizing for a better life.
Dodo Staffers Ratify First Contract with WGAE: Staffers at online publication, the Dodo, voted unanimously to ratify their first union contract. The publication, which is dedicated to compassion for animals and animal-related causes, has nearly three dozen covered employees. The bargaining committee for the workers said: "This contract was achieved through the collective action and mutual support of all of our colleagues, and we are so proud of the standards we established together. We are very excited to join our colleagues at Thrillist as we ratify the second union contract at Group Nine, and we look forward to other shops in digital media working together to provide themselves with the same fair and basic protections."
Slate Editorial and Podcast Staff Ratify First Collective Bargaining Agreement: Editorial and podcast staff at Slate, ratified their first collective bargaining agreement with the Writers Guild of America, East (WGAE). The 51 members will see annual pay increases, anti-harassment policies, a diversity task force, paid time-off and numerous other benefits. The bargaining committee issued a statement that said: "It's a new day at Slate! Our contract is built on principles of equity and diversity. And yes, we have union security! Management recognized our profound objections to a 'right to work' provision and honored our demand for a union shop. We will all pay our fair share for the representation we receive. One of our primary reasons for undertaking this process was our profound love of Slate. We felt so lucky to work with management last week to put our shared goals into action. Our contract reflects our fundamental values as a company and a workplace. We're very proud of it."
Writer-Producers at Peacock Productions Ratify First Collective Bargaining Agreement: Writer-producers at Peacock Productions, Comcast/NBCUniversal's nonfiction television division, ratified their first collective bargaining agreement. The workers, represented by WGAE, addresses one of the most pressing challenges in the field, portable health benefits. Lowell Peterson, executive director of WGAE, explained the importance of portable health benefits: "Nonfiction television writer-producers move from company to company as their shows wrap. Some producers make health benefits, but those benefits don't mean much to freelance employees as it takes too long to qualify, the benefits aren't worth the out-of-pocket cost, and employer-paid coverage terminates when the employee moves on. By contrast, if an employer pays contributions to the Entertainment Industry Flex Plan on behalf of a WGAE member, those contributions remain at the flex plan even if the employee changes jobs. The money can still be used to buy flex plan insurance or cover eligible benefits. As the WGAE negotiates more and more contracts that provide for employer contributions to the flex plan, health benefits in nonfiction television will become truly portable."
VICE Media Staffers Ratify Four New Contracts: Workers at VICE Media have approved four new collective bargaining agreements with WGAE. The contracts cover WGAE staff at VICE Editorial, VICE News, VICELAND and VICE Digital. WGAE's Peterson said: "Collective bargaining ensures that WGAE-represented employees have the opportunity to discuss what's most important in their work lives, what needs to be changed and what needs to be strengthened. We are very pleased by the concrete gains negotiated for people who craft content on the entire range of platforms, and we look forward to a productive relationship with VICE management for years to come."
Unionized Cannabis Retailer Opens in Oregon: Seattle-based cannabis retail chain Have a Heart opened its first store in Oregon and quickly ratified a collective bargaining agreement with the United Food and Commercial Workers (UFCW). Have a Heart workers at five stores in Washington state are already represented by UFCW. The new contract provides health care, pension benefits, holiday pay, paid time off, bonuses, a joint labor-management committee to address safety and other benefits.
Steelworkers Ratify Six-Year Agreement with National Grid: After a lockout that lasted nearly seven months, members of the United Steelworkers (USW) at National Grid ratified a new collective bargaining agreement. The new contract includes wage increases, increases safety and preserves affordable health care for the 1,200 members covered under the contract. USW International President Leo W. Gerard said: "This agreement is a testament to the commitment these hardworking union members have to their community and to each other. They demonstrated their strength and solidarity every day, and they should be proud of what they've achieved with this contract."
Iowa General Mills Workers Join RWDSU: More than 500 workers at General Mills in Cedar Rapids, Iowa, voted to join the Retail, Wholesale and Department Store Union (RWDSU). The union will now begin contract negotiations with General Mills. Employee Tim Sarver said: "I'm proud to say I'm now part of the RWDSU and I know everyone who works alongside me knows that representation from the union will change our future here. It's about time General Mills workers had a real seat at the table with the company and we're ready to get to work on a fair contract."
Workers at Irvine Marriott Join UNITE Here: More than 100 housekeepers, cooks, dishwashers and servers at the Mariott in Irvine, California, voted to be represented by UNITE HERE. Housekeeper Araceli De La Rosa said the resolve of the workers was enough to overcome a campaign from management that led to the filing of seven unfair labor practices with the National Labor Relations Board. She said: "Management used every trick in the book to try to confuse, intimidate and divide us. But I'm proud to say that we stood strong and we won! We voted 'yes' and now we can fight for the respect and the compensation we deserve."
Maine Millwrights Win Significant Wages Increases in New Contract: Millwrights in Skowhegan, Maine, represented by the Machinists approved a new contract that includes a significant wage increase and avoids a strike. The new contract between the union and Sappi North America lasts three years. Sarah Bigney, of the Maine AFL-CIO, said: "The contract ratification comes after an earlier contract offer was unanimously rejected in a vote last week, when the union then voted to authorize a strike. The union went back to the bargaining table with Sappi and won significant improvements. They voted last night to ratify that offer."