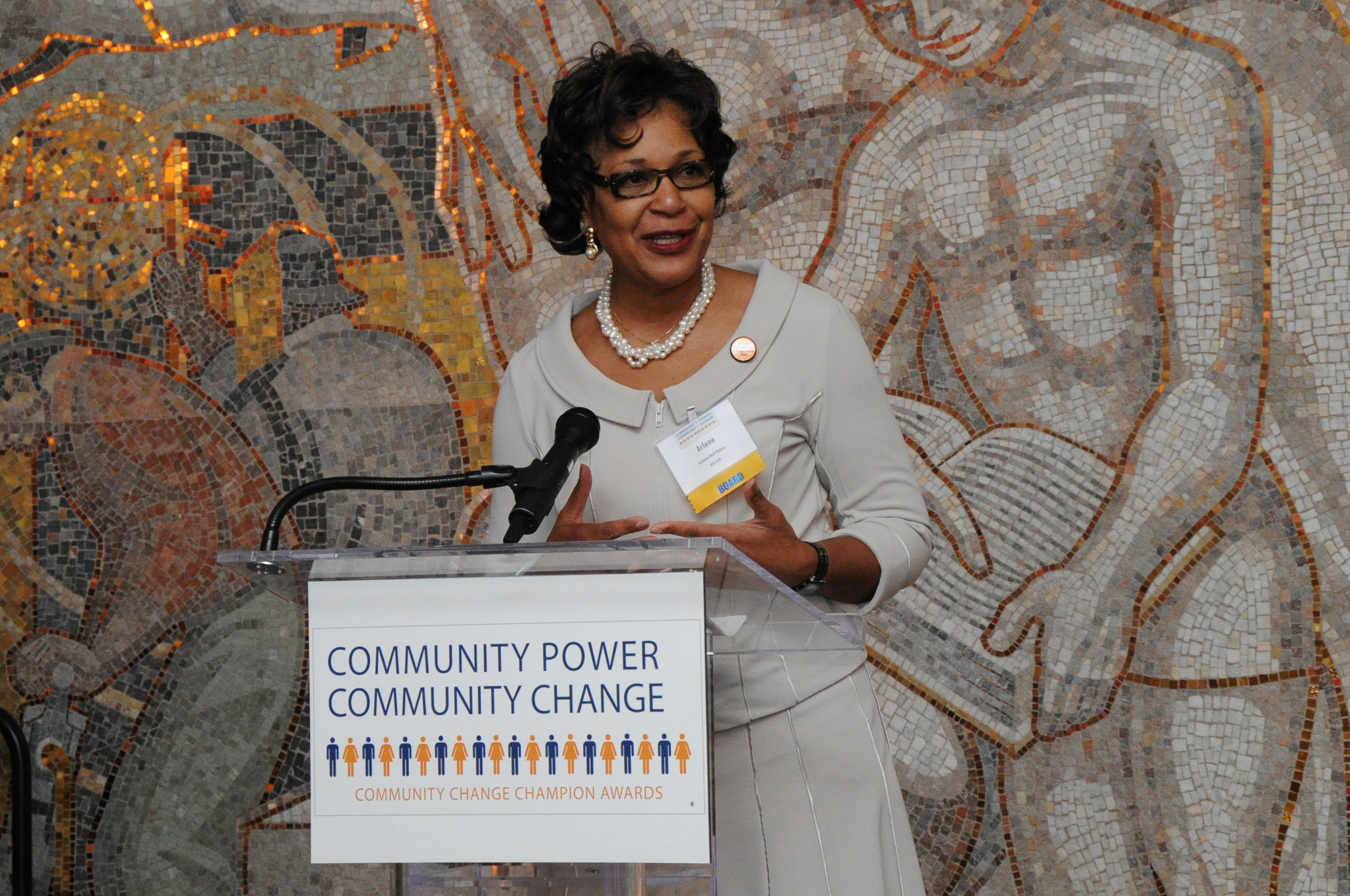 For Black History Month, the AFL-CIO is spotlighting various African American leaders and activists who have worked at the intersection of civil and labor rights. Our first profile this year is Arlene Holt Baker.
Arlene Holt Baker began her work in the labor movement in Los Angeles in 1972. As a member of AFSCME, she began organizing clerical employees who worked for the city. That process taught her that collective bargaining was the way to empower people economically. Her undying optimism was boosted by the fact that soon after she started her organizing work, William Lucy took office as AFSCME's secretary-treasurer, the first African American to hold one of the union's top offices. Her belief in the work she was doing was strengthened when she saw Lucy's picture hung on the wall in AFSCME's LA office. "I felt somehow that it was destiny to be there with an organization that believed in social and economic justice," she said.
Arlene's mother, Georgia Louise Leslie, was a domestic worker who sacrificed daily to make sure that Arlene and her six brothers and sisters could  thrive despite not having much. Georgia taught Arlene and her siblings to support their community and instilled in them the value of volunteerism. She inspired Arlene to continue fighting even when times got tough.
In the ensuing years, Arlene moved through the ranks of AFSCME while successfully helping organize California's public-sector workers and winning contracts that improved wages and secured equal pay for women. She worked as the international union area director for AFSCME from the late 1980s up until 1995. During that time, she worked on the state's Comparable Worth Task Force Committee and the Southern California Industrial Relations Research Association. She also worked on AFSCME's political activities, particularly in mobilizing voters.
In 1995, she joined the AFL-CIO as Executive Vice President Linda Chavez-Thompson's executive assistant. Among her successes in that role, she helped defeat the anti-working people Prop. 226 in California and helped organe support for migrant workers who wanted to unionize. She was chosen as the first director of the AFL-CIO Voice@Work campaign in 1999, launching a program to engage elected officials, religious and community leaders, and others to support workers' freedom to form unions. In 2004, she served as president of Voices for Working Families, an effort to register and mobilize women and people of color from under-registered communities. In 2006, she returned to the AFL-CIO to lead recovery efforts on the Gulf Coast, helping to bring good jobs and affordable housing in the aftermath of Katrina and other devastating hurricanes.
In 2007, Arlene was unanimously approved to serve the remainder of Linda Chavez-Thompson's term as executive vice president after Chavez-Thompson retired. Arlene became the first African American to hold one of the AFL-CIO's three highest offices. As executive vice president, Arlene fought for working people in many areas, with particular focus on collective bargaining rights, health care, fair trade, immigrant rights, LGBTQ+ rights, voting rights and the right for all union members to fully participate in democratic unions that reflect the rich diversity of the workplace. She was elected to a full term in 2009 and served the federation until her retirement in 2013.
Check out all of our Black History Month labor profiles.