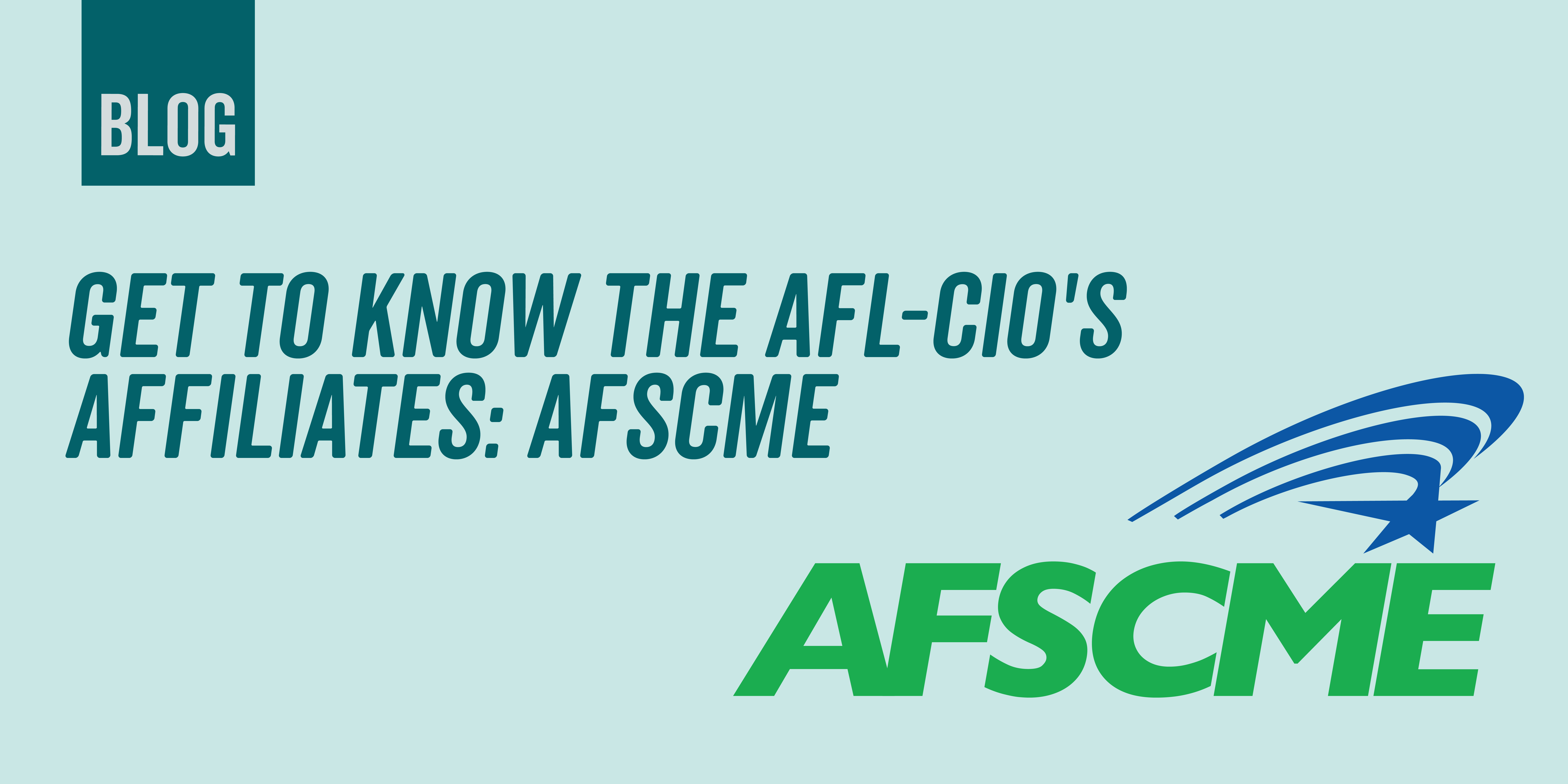 Next up in our series taking a deeper look at each of our affiliates is AFSCME. The series will run weekly until we've covered all 55 of our affiliates.
Name of Union: American Federation of State, County and Municipal Employees
Mission: AFSCME members provide the vital services that make America happen. With members in communities across the nation, serving in hundreds of different occupations, AFSCME advocates for fairness in the workplace, excellence in public services and the freedom and opportunity for all working families.
Current Leadership of Union: Lee Saunders was elected AFSCME president in 2012, the first African American to hold that position, after previously serving as secretary-treasurer and in many other roles with AFSCME since 1978. He comes from a union family, raised in Cleveland as the son of a city bus driver and a community organizer. Elissa McBride serves as secretary-treasurer, and AFSCME has 35 international vice presidents serving different regions
Members Work As: Nurses, corrections officers, child care providers, EMTs, sanitation workers, early childhood educators, home care workers, police officers, library workers, probation and parole officers, parks and recreation workers, biologists, environmental planners, watershed rangers, vehicle emissions testers, groundskeepers, food service employees, administrators, support services, information technology, waste disposal, bridge inspectors, parking attendants and many others.
Industries Represented: States, cities, counties and other local governments, as well as the federal government and private employers performing public services.
History: During the depths of the Great Depression, a group of state employees in Madison, Wisconsin, formed what would later become the Wisconsin State Employees Union/Council 24 in an effort to successfully defend the state's civil service system and stand up to political cronyism. Four years later, in 1936, the American Federation of Labor granted a charter for AFSCME, which united the Wisconsin group with numerous others that had formed across the country after the success in Madison.
At the end of 1936, the union had 10,000 members. Growth was difficult at first, but by 1946, the union had grown to 73,000 members. The AFL-CIO merger brought AFSCME another 40,000 members.
In the 1960s, during the presidency of Jerry Wurf, AFSCME was active in the struggle for racial justice. The 1968 strike of AFSCME sanitation workers in Memphis, Tennessee, was a signature moment in civil rights and labor rights history. It was in Memphis, in support of the sanitation workers' struggle, that Dr. Martin Luther King Jr. was assassinated on April 4, 1968.
AFSCME continued to grow during the 1970s and 1980s, with a focus on bringing together independent associations of public employees in an effort to harness the collective power of so many voices. Almost 60 associations, representing 450,000 people, joined AFSCME by affiliation or merger, pushing total membership past the 1 million mark.
AFSCME's growth across the country gave the union a more powerful voice when it came to fighting injustice. In September 1981, AFSCME's 60,000-member delegation, the largest from any single union, led the march at the AFL-CIO's Solidarity Day, a massive demonstration in Washington, D.C., demanding fair treatment for workers. That same year in San Jose, California, AFSCME Local 101 staged the first strike in the nation's history over the issue of pay equity for women. The action attracted national media attention and helped spark the pay equity movement.
For decades, corporations, billionaires and their allies have engaged in a coordinated and well-financed effort to weaken the power of public-sector unions like AFSCME. Last year, in a case called Janus v. AFSCME Council 31, the most business-friendly Supreme Court in history ruled in favor of anti-worker forces, overturning decades of precedent to make the entire public sector so-called right to work. Many pundits predicted this would be a death blow. But because of the work put in by AFSCME, together with other public-sector unions and the AFL-CIO, AFSCME has emerged in the strongest possible position. No politician or judicial decision can contain the collective power of working people. More than 300,000 fee payers converted to AFSCME members since early 2014; and since the Janus ruling, seven times more people have joined AFSCME than have chosen to drop.
Current Campaigns: AFSCME People works to elect politicians who promote policies that support working people. AFSCME Strong is building a culture of activism—in particular through member-to-member engagement and one-on-one conversations—that blunts the impact of attacks like the Janus case. I Am 2018, a 50th anniversary commemoration of the Memphis sanitation strike, is a call to action to continue the work of Dr. King and the sanitation workers of 1968.
Community Efforts: The AFSCME Free College program pays for higher education for members and their families. AFSCME Advantage offers discounts and benefits to members. The Never Quit Awards spotlight members who go above and beyond in performing their jobs. Next Wave seeks to empower and unite young AFSCME members. AFSCME Now serves as a daily digest of news and information about AFSCME members and the labor movement.