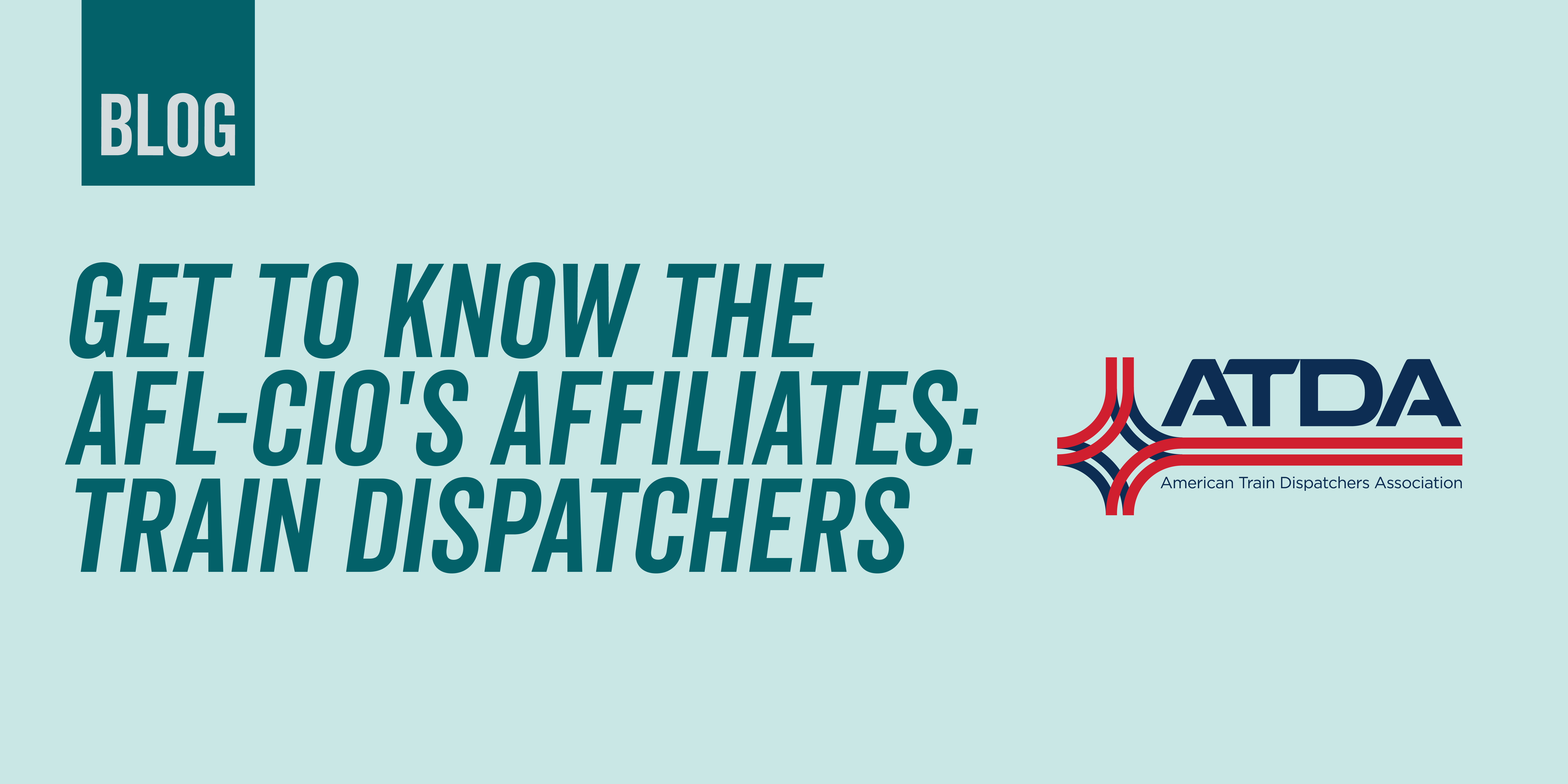 In this weekly series, we take a deeper look at each of the AFL-CIO's affiliates. Next up is the American Train Dispatchers Association.
Name of Union: American Train Dispatchers Association (ATDA)
Mission: To provide representation for train dispatchers and other railroad employees in contract negotiations with railroads both individually and collectively with other rail unions, discipline and grievance handling and contract enforcement, and to engage in legislative activities and regulatory processes on behalf of its craft and rail labor in general.
Current Leadership of Union: Leo McCann currently serves as president of the ATDA, a post he has held since 1999. Ed Dowell has served as secretary/treasurer since 2015. Paul E. Ayers, John Salvey, Rory Broyles and Barry Cross hold the positions of vice president. The organization also has a board of trustees with three members and a support staff of four full-time employees at its headquarters in Cleveland.
Members Work As: Train dispatchers, assistant and chief train dispatchers, power supervisors, power directors and load dispatchers, conductors and engineers, maintenance of way workers and yardmasters working for freight, passenger and commuter railroads across the country.
Industries Represented: The U.S. railroad industry.
History: While earlier efforts had been made to organize train dispatchers, the organization that would be successful, the ATDA, was founded in 1917 and its first meeting was held in Spokane, Washington. The craft union came together to organize and represent people working as train dispatchers in the nation's railroad industry. Eventually, the organization expanded to include assistant and chief train dispatchers and power supervisors and directors who supervise and manage the power supply for electrically powered trains. In the 1990s, other crafts such as train and engine crews, maintenance of way workers and yardmasters joined the organization.
Community Efforts: In addition to representing and negotiating contracts for its members, the officers and staff of the ATDA promote legislation and regulatory improvements that benefit the safety and well-being of its members, the rail industry and every community where the railroad provides a vital service. The ATDA also serves on committees that manage and improve health care benefits and partners with organizations like Union Privilege to provide additional benefits to its members.