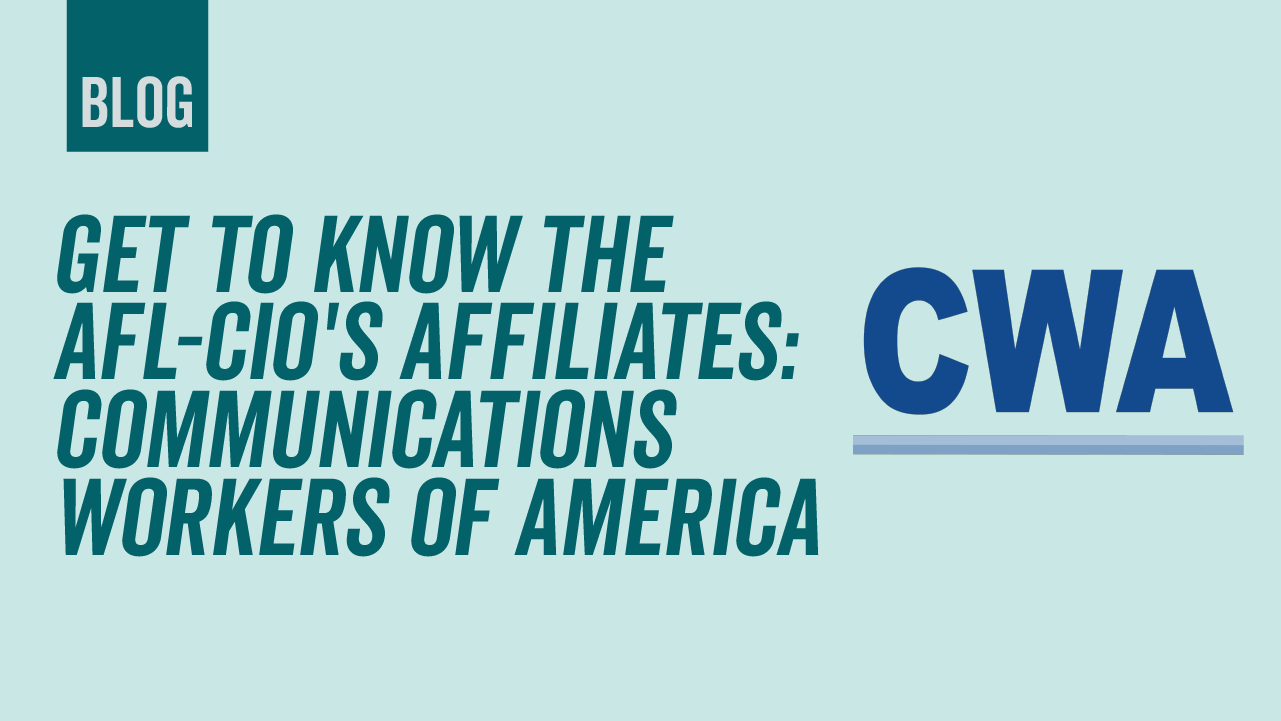 Next up in our series that takes a deeper look at each of our affiliates is the Communications Workers of America (CWA).
Name of Union: Communications Workers of America
Mission: CWA members and retirees fight for economic justice and democracy at the bargaining table, on the job, and in the legislative and political arena. They are committed to building a powerful movement that reaches beyond the workplace to build power for working families.
Current Leadership of Union: Christopher Shelton was elected president of CWA in 2015. Sara Steffens serves as the secretary-treasurer of CWA. In addition to the president and secretary-treasurer, CWA executive board includes vice presidents and leaders from seven geographic districts, seven industry sectors, four at-large members and the Canadian director.
Current Number of Members: 700,000.
Members Work As: A wide range of occupations in communications, customer service, technology, the airline industry, manufacturing, media, the public sector, health care, education, public safety, and many other fields in the United States, Canada and Puerto Rico.
Industries Represented: Telecommunications and information technology, the airline industry, news media, broadcast and cable television, education, health care and public service, law enforcement, manufacturing, and other fields.
History: CWA was founded in 1938 as the National Federation of Telephone Workers. The union became the Communications Workers of America in 1947. Because of CWA's democratic tradition and member involvement, a number of other unions have affiliated with CWA over the years, including: the International Typographical Union (1987), the National Association of Broadcast Employees and Technicians (1994), The Newspaper Guild (1997), the Independent Association of Publishers' Employees (1997), the International Union of Electronic Workers (2000) and the Association of Flight Attendants (2003).
Current Campaigns/Community Efforts: CWA members are engaged on the local, state, federal and international levels in the fight for economic justice and democracy and to build power for working families. They are calling on Congress to hold corporate executives accountable for their broken promise to use their enormous tax cuts to create jobs, raise wages and end offshoring. They are advancing legislation to help keep call center jobs in the United States and are taking on Wall Street and the big banks.
CWA is a founding member of The Democracy Initiative, working to ensure that we all have an equal say in a democracy of, by and for the people.