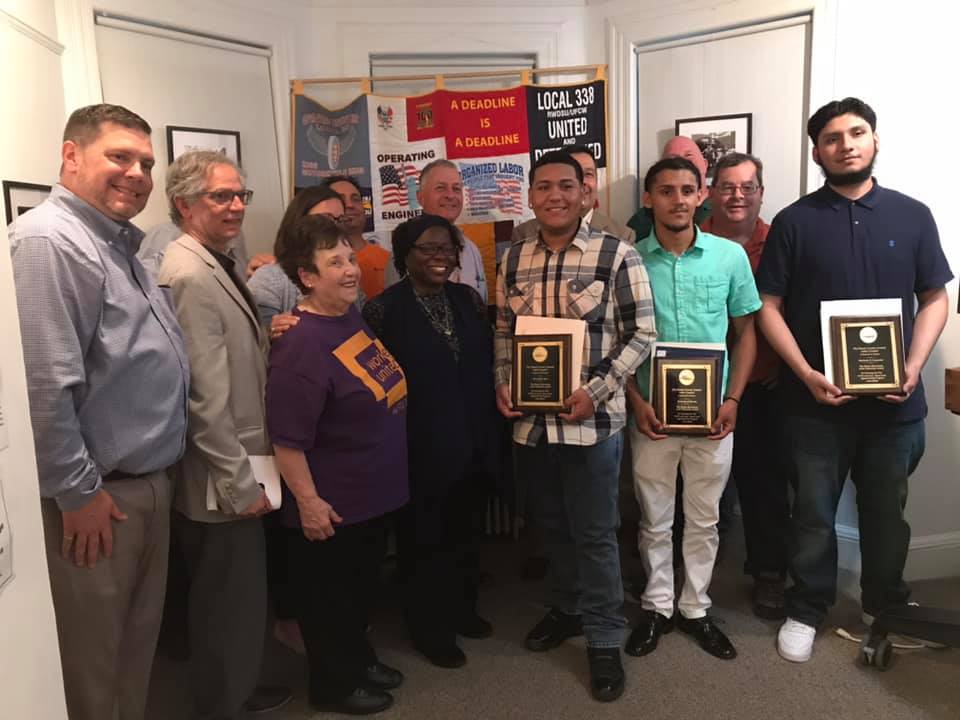 Last night I was a part of something so truly amazing I am still having a hard time putting it into words. And for those of you that know me, words are usually my thing. There is so much that I am grateful for and want to share. It was an incredible night and to me, it was more than 100 years in the making.
Last week, the Passaic County Central Labor Council paved the way financially for four high school seniors to enter into the trades through an apprenticeship program with the International Association of Machinists and Aerospace Workers (IAM). These four students from Paterson and Passaic were honored and recognized for their choice to enter into the union workforce. They were given education awards to pay for the books for their apprenticeship program to become unionized auto mechanics. Where our world usually celebrates going to college and gives all sorts of college scholarships, our Labor Council wanted to help make a difference for the future of unions.
We have (unfortunately) seen college scholarships given at breakfasts where the recipients don't even show up to receive their money. Thousands of dollars not even appreciated or understood. And we, the Passaic County CLC, were determined to make sure that our awards would go to not only those who need it, who it would greatly impact, but also those who would appreciate the opportunity and want to be a part of a union.
These four 2019 high school graduates and their families were part of something special. It was the first-ever award ceremony in our county (and maybe even New Jersey) of its kind. Seeing the smiles on their faces was truly priceless.
These students received an earful (and a heart full) of advice and wisdom from union leaders who were once in their shoes, embarking on a new career path. They were welcomed into a greater union family and provided with an understanding of what this opportunity is all about.
The event was hosted at the Botto House/American Labor Museum, which is not only a historical landmark but was also the home of an immigrant family, silk mill worker Pietro Botto, who held gatherings of more than 20,000 silk mill workers who were on strike for some of the basic working rights we have today⁠—the eight-hour work day, child labor laws and workers' rights. Labor union organizers from the Industrial Workers of the World held rallies at this landmark and by the power of unions, and people coming together, their voices were eventually heard.
The Botto House is also a special place for me personally, as my great-grandparents, who were immigrant silk mill and factory workers in Paterson in the early 1900s, attended these rallies and strikes. My dad volunteered at the Botto House for more than 25 years and always made sure we understood that the roots of our family coming to America, that all we had, could have possibly started right here in the crowd.
There were things I knew about my dad when he passed away. Creating union opportunities within our community was something he was passionate about. Being able to hold your head high knowing that you gave your best was one of the only and most valuable things we have in life. It's not about the cars you drive or how big your house is. It's not about what college you went to. There are more important things in life that money will never buy. Or as he would say, "dirty hands make clean money." He even had me write letters to the bishop of the Paterson diocese about his poor choices to support nonunion work when there were hundreds of union members/parishioners who were unemployed.
I can go on and on about my how proud my dad was to be a union member. He joined the Plumbers union after he served in the Marine Corps, not only to making a good living and provide for a family, but to be a part of something greater than himself. His path was not always easy. There were times when he was out of work and had a family to provide for, but to him, his chosen path was always worth it.
He often dragged us to events, to Labor Day parades and union rallies. He was a plumber, but one time we even hopped on a bus with IBEW Local 102 to head to a workers' rights rally in Philadelphia, because it mattered to him. He made sure our family knew why Labor Day isn't just a Monday off, but it's dedicated to the achievements of the backbone of America⁠—the honorable working class. If a store or a restaurant were built nonunion, he did not approve of us going there.
When my dad passed away, I wrote to the Passaic County Central Labor Council and asked if they needed any volunteers. After all, I wrote so many letters for my dad over the years, that I felt like I was already a part of it in a way. It was also a way for me to share my understanding of unions, how appreciative I was of all that I ever had in my life…and most of all, I felt like it was a way for me to stay close with my dad. To do something in his spirit. Something that he truly cared about.
Over the last few years, I have been blessed to work with some truly remarkable leaders. We have brainstormed and debated, and have been able to put some of our ideas into action. We've cared about the community⁠—brought Santa and hundreds of gifts to Martin De Porres village in Paterson. We've gathered hundreds of union members for labor walks and barbecues to help support politicians who care about union rights, workers' rights and our communities. And now, we've provided a foundation and understanding for new union workers.
Last week, when I arrived at the ceremony for these students, my friends and colleagues on the Labor Council totally surprised me. They asked me to be a part of the ceremony. If I would hand the plaques to the students. Of course, I agreed. I was so excited. But, there's more. When they uncovered the plaques, they unveiled to me that this would be "The Robert Ehrentraut Labor Education Award."
I was shocked! I'm still crying, just thinking about it. What an honor!
I'm sure it's something my dad wouldn't believe if he was here today. To him, he simply did his job. It wasn't about recognition, it was about doing your best, caring for your family and contributing to your community. The bar was set with expectations of integrity, hard work and care for others. Nothing less was even an option.
So, even almost five years after his passing, my dad is still teaching me to lead from the crowd. That it can be extraordinary to be ordinary. That there is honor in doing what you know in your heart is right.
More than 100 years ago my great-grandparents stood in the crowd for union rights. Last night, four students received an award in their grandson's honor. Values come full circle in life and I couldn't be more grateful to be my father's daughter AND a member of the Passaic County Central Labor Council.