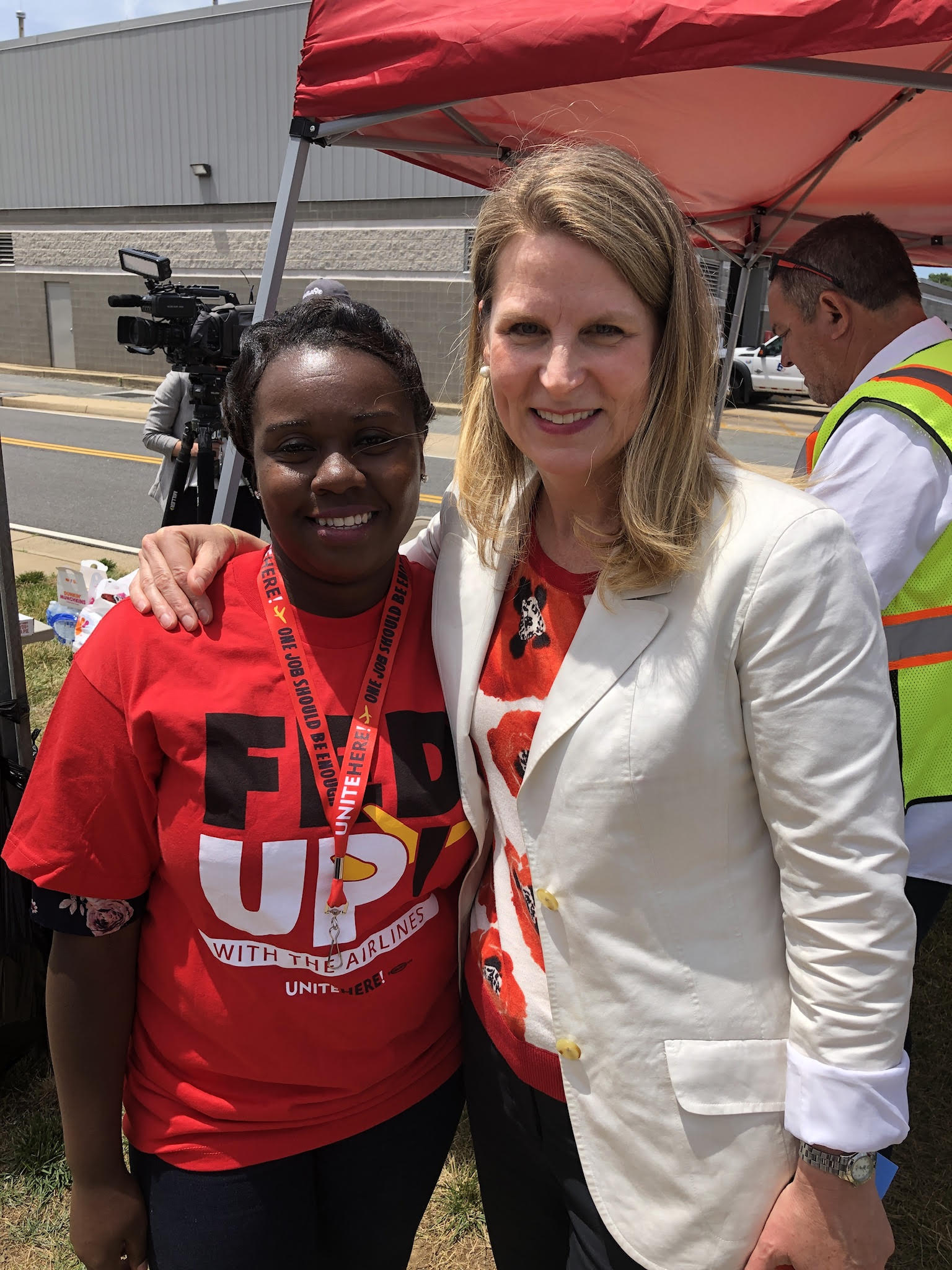 My name is Tenae Stover. I am a native Washingtonian, and I have been working at Reagan National Airport for LSG Sky Chefs for the past three years. I'm a leader with my union UNITE HERE in our national fight for respect and dignity and for one job to be enough to live for airline catering workers across the United States.
Our jobs are hard, and we deserve more than Sky Chefs and American Airlines want to give us. We have been in negotiations since October of 2018, but Sky Chefs continues to reject our asks—a national $15 wage floor and affordable health care. Workers at more than 30 airports around the country, including National, took votes over the past month to authorize a strike when we are released by the government. At National, the vote passed by 100%. 
Sky Chefs is our employer, but it is a subcontractor of the airlines, merely the middleman. American Airlines ultimately has the power and influence over our wages and benefits. It's the one who determines what food we prepare, how we prepare it and how much its willing to pay for our hours of difficult labor.
Sky Chefs is a 365-day business—it is open every single day of the year and never closes. My co-workers and I spend most of our time there, including holidays, which we are rarely able to spend with family members. Every day, we prepare meals and beverages for thousands of passengers traveling through National, many traveling on American Airlines. 
We all work on our feet for eight or more hours a day. Our health insurance is not good at all. My individual insurance costs me about $60 per week—some $250 per month—and others pay hundreds more for family plans. Even though some of my co-workers are older, right now they don't have a pension they can benefit from and must continue to work these long hours just to survive. On top of all this, we only make around $13 per hour. One co-worker of mine who has been working there for 30 years makes the same low hourly rate as I do.
Two years ago, I was evicted from my home because Sky Chefs wasn't paying me enough. At the time, I was making just over $9. I couldn't afford to pay my rent, transportation, food and clothing with Sky Chefs as my only source of income. I was forced to move in with a family member, even though I want to be independent. Still to this day, Sky Chefs does not pay me enough and I cannot live on my own.
But I know that the way to stand up and fight back is through my union. I'm a proud member of UNITE HERE and proud to be a leader in this campaign, which is not only a fight for workers at National, but a nationwide fight for tens of thousands of workers. I decided I wanted to fight for myself as well as all the other workers in this industry. After getting more involved with my union, I can see that whether we're workers for Sky Chefs in Washington, D.C., or at other American Airlines hub airports, in Marriott hotels in other cities, or even at the Walter E. Washington Convention Center in my own hometown, we're all fighting against corporations and their greedy, unfair labor practices that put our livelihoods and families at risk. I want to pave the way for the generations to come by setting the standard for a better living for all. 
Today, the economy is doing well and the airline industry continues to earn record profits, and yet airline catering workers like me continue to be forgotten. That's why we fight back against these companies to win what we rightfully deserve. We're simply tired of being overworked and underpaid. We are fighting for $15 and for affordable health care. I am proud that my union UNITE HERE is fighting for fair treatment and respect for all airline catering workers. This fight we're in, and the strike authorization votes we've taken, show we have power. Without us, the workers, neither Sky Chefs nor the airlines would profit, and they know that. We'll do whatever it takes within the law, even if that means a strike when we're released, to get what we are fighting for.