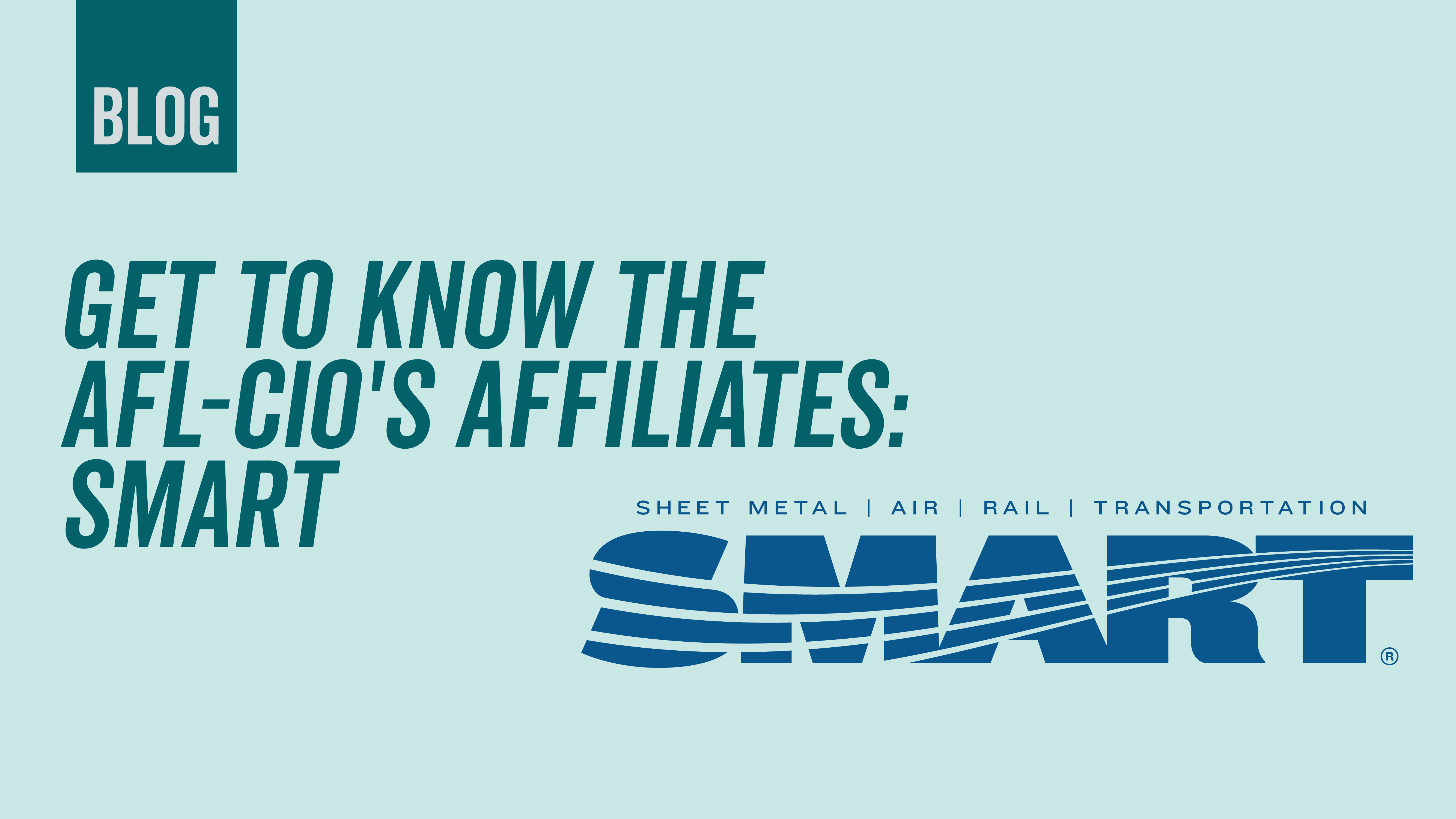 Next up in our series that takes a deeper look at each of our affiliates is the International Association of Sheet Metal, Air, Rail and Transportation Workers.
Name of Union: International Association of Sheet Metal, Air, Rail and Transportation Workers (SMART)
Mission: To advocate for fairness in the workplace, excellence at work and opportunity for all working families.
Current Leadership of Union: Joseph Sellers Jr., a second-generation sheet metal worker, serves as the general president of SMART. He began his career as an apprentice in 1980 at Local 19 in Philadelphia. In 1994, he was elected to the local's executive board and was appointed as training coordinator in 1996. He later served as business representative, president and business manager of Local 19.
In 2009, Sellers was elected as SMART's 11th general vice president. He became general secretary-treasurer in 2011 and was re-elected in 2014. He became general president in 2015. During his time in office, Sellers has "developed and led special campaigns to increase outreach and awareness for construction, production and transportation industries members, union industry officials and policy makers on key issues including pensions, health care, and apprenticeships." He "implemented and continues to lead enhancements to the union's information technology, professional skills training and lifelong learning curricula."
Richard McClees serves as general secretary-treasurer and John Previsich serves as transportation division president. SMART also has 15 vice presidents with various areas of responsibility.
Current Number of Members: 216,000
Members Work As: Sheet metal workers, service technicians, bus operators, engineers, conductors, sign manufacturing and installers, welders, HVAC technicians, production employees and more.
Industries Represented: Sheet metal production and installation, HVAC service, air, rail, bus and other mass transit, among many others.
History: The history of this organization begins in the second half of the 19th century, with the founding of several unions that were forerunners of the Sheet Metal Workers' International Association (SMWIA) and the United Transportation Union (UTU), which later joined together to form SMART. In 1888, SMWIA formed and by 1901, the union had grown to more than 5,500 members from 108 locals in the United States and Canada. In 1899, SMWIA first received a charter from the American Federation of Labor.
In 1922, SMWIA railroad shop members launched one of the biggest strikes in U.S. history, when 400,000 workers walked off the job. After a federal injunction shut down strike support activities, the action ultimately failed. But the seeds were laid for future collective action and success. SMWIA continued to grow, particularly as many smaller unions in the industry came on board to help expand the power of their members . By 1925, membership had risen to 24,000 from more than 440 locals.
Over the ensuing decades, sheet metal workers rose to prominence. In 1927, members from Local 206 in San Diego built a major part of the Spirit of St. Louis, which Charles Lindbergh flew across the Atlantic. During World War II, members were secretly part of the team that developed the atomic bomb. After the Sept. 11 attacks on the World Trade Center, SMART members in the building trades helped search for survivors and SMART transportation workers evacuated as many people as possible from the danger zone.
In 1969, the UTU was officially formed with the merger of the Brotherhood of Railroad Trainmen, the Brotherhood of Locomotive Firemen and Enginemen, the Order of Railway Conductors and Brakemen and the Switchmen's Union of North America. And in 2008, UTU and SMWIA merged to become the International Association of Sheet Metal, Air, Rail and Transportation Workers (SMART).
Current Campaigns/Community Efforts: SMART has numerous teams focused on member safety. The SMART Action Network gives members and supporters opportunities to make a difference on important issues with opportunities to take action on numerous issues and events as a rapid response network. SMART's Product and Services directory helps people find union-made in America products and services within the sheet metal industry. SMART also has the SMART Army that  engages members in local communities and events in order to build and promote members' role in local communities while furthering an understanding of the values of the labor movement. SMART publishes The Member's Journal and the SMART TD News to provide news and additional resources related to the industry.