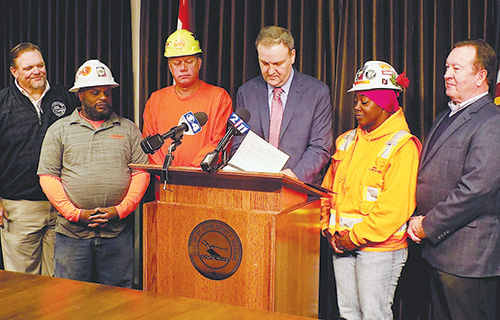 On Jan. 24, the St. Louis Board of Aldermen passed a bill requiring any development project totaling at least $1 million and receiving any form of city funding or tax incentives to pay workers the prevailing wage, the usual hourly compensation and benefits paid to a majority of workers in the area. Board Bill 88, sponsored by Alderman Sarah Wood Martin, also applies to housing projects that include more than 20 units. 
Greater St. Louis Labor Council President Pat White (USW) led the effort among labor allies to pass the legislation in response to the behavior of out-of-town, nonunion labor contractors that have been getting massive tax benefits from union-friendly local governments. "Making contractors pay prevailing wage on projects that get these incentives is huge for workers here in St. Louis," White said. "This puts us on a level playing field with out-of-town, predominantly nonunion contractors who have gamed the system to benefit themselves to the detriment of everyone else. Many thanks to Alderman Sarah Wood Martin and everyone else who helped get this done. This law will put people to work and will return millions of dollars to our community."
The Greater St. Louis Labor Council also led an effort to pass similar legislation in St. Louis County late last year which brought the same level playing field for workers employed by county projects that receive county tax benefits.
These are significant victories for Missouri working people in the wake of the disastrous prevailing wage restriction passed by the state legislature in 2018. The law, which was uniformly opposed by labor, reset the calculation to set prevailing wage rates and caused wages to drop in some areas by as much as 50%. 
Photo: St. Louis County Executive Sam Page (center) signed a prevailing wage ordinance into law surrounded by local union members and Labor leaders, including (from left) Greater St. Louis Labor Council President Pat White, Laborers (LIUNA) Local 42 members Brian Watson and Frank Lewis, Page, Local 42 member Danyeal Crittenden, and John Stiffler, executive secretary-treasurer of the St. Louis Building and Construction Trades Council.