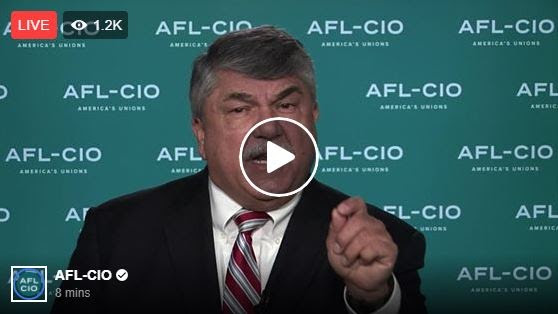 In a Facebook Live event Wednesday, AFL-CIO President Richard Trumka (UMWA) spoke about working people's response to the COVID-19 pandemic and answered questions from union members. 
Lisa, a member of the Ohio Nurses Association/AFT, asked about getting N95 respirators and other vital supplies into the hands of front-line nurses.
Michael, an AFT member in New York, asked what message we can send to ensure that the rich and corporations don't use this public health crisis to further erode the middle and working classes.
Garrett, a letter carrier in Seattle, asked whether or not this crisis may be an opportunity for the labor movement to increase the number of union jobs in the United States.
Watch the video below to see Trumka's answers to these questions and more discussion of our response to COVID-19. You also can read a transcript of his remarks.