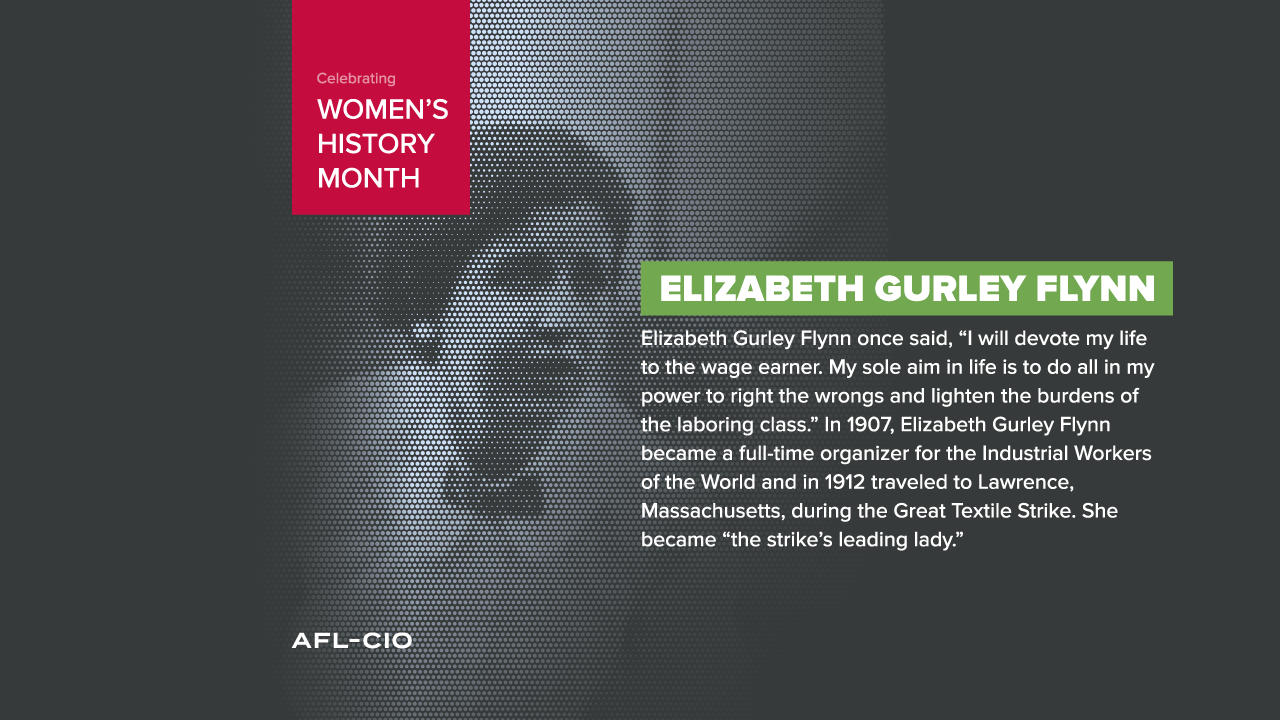 For Women's History Month, the AFL-CIO is spotlighting various women who were, and some who still are, leaders and activists working at the intersection of civil and labor rights. Today, we are looking at Elizabeth Gurley Flynn.
Elizabeth Gurley Flynn was born in 1890 in Concord, New Hampshire, to a radical, activist working-class family. When she was 10, the family moved to the South Bronx, where she attended public school. By the time she was 15, Flynn was active in socialist groups. At 15, she gave her first public speech, and the next year she was expelled from high school. She became a full-time organizer for the Industrial Workers of the World (IWW).
In the years leading up to World War I, Flynn was active on women's rights, free speech for IWW speakers and organizing textile strikes in places like Lawrence, Massachusetts, and Paterson, New Jersey. She also worked to organize garment workers in Pennsylvania, silk weavers in New Jersey, restaurant workers in New York City and miners in Minnesota. 
Flynn opposed the war when it broke out, and like many war opponents, she was charged with espionage. The charges were dropped and Flynn began working to defend immigrants threatened with deportation for their opposition to the war.
In 1920, Flynn helped found the American Civil Liberties Union (ACLU) and was elected to the national board. From 1927-1930, she chaired International Labor Defense. During that time she was active in trying to free jailed labor organizers Thomas J. Mooney and Warren K. Billings. For the first half of the 1930s, she withdrew from public life because of bad health, but she returned to public life in 1939 and was re-elected to the ACLU board. When Adolf Hitler and Josef Stalin signed a nonaggression pact, the ACLU expelled all Communist Party members from its ranks, including Flynn.
Flynn ran for the Communist Party of America's Central Committee successfully, and ran for a seat in Congress unsuccessfully. During World War II, Flynn fought for women's economic equality. After the war, as communism grew more unpopular in the United States, Flynn shifted back to defending free speech rights for radicals. In 1951, she was arrested for conspiracy to overthrow the government based on the Smith Act of 1940. She spent more than two years in prison.
She returned to political action once she was out of prison, and in 1961, she became the first woman elected national chair of the Communist Pary. A critic of the Soviet Union, Flynn traveled behind the Iron Curtain and was stricken ill. She died in the USSR and was given a state funeral in Red Square.
In his autobiography, journalist Eugene Lyons described Flynn as "the most brilliant woman I had ever met. A veteran of the front trenches in the labor struggle since fifteen, she was, at thirty, attractive, winsomely Irish in her wit and her savor of life, with a remarkably cool intelligence behind her fiery oratory and personality. In the Mesaba Range strike, the Paterson and Lawrence strikes, her eloquence and courage and sweetness had won her tens of thousands of worshipful friends among the workers."