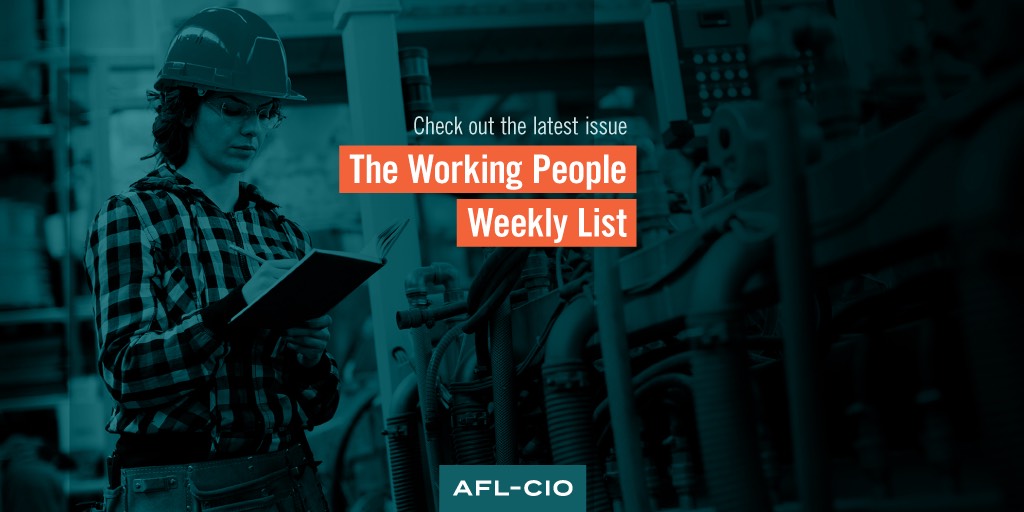 Every week, we bring you a roundup of the top news and commentary about issues and events important to working families. Here's the latest edition of the Working People Weekly List.
Service + Solidarity Spotlight: Firefighters in Omaha Donate Bikes to Kids: "Members of the Omaha Professional Fire Fighters Association-IAFF Local 385 in Nebraska donated dozens of bikes and helmets to local children."
Service + Solidarity Spotlight: UNITE HERE Raises $2.5 Million to Support Members Impacted by COVID-19: "UNITE HERE announced on Monday that it had raised $2.5 million for the union's Education and Support Fund to provide direct relief to its members and their families who have been impacted by COVID-19."
Safety and Security: Worker Wins: "Our latest roundup of worker wins features important victories for safety and security during the COVID-19 pandemic and includes numerous examples of working people organizing, bargaining and mobilizing for a better life."
Service + Solidarity Spotlight: Rally to Save the News Held in Chicago: "The Chicago Federation of Labor helped host a 'Save the News' rally in downtown Chicago. Union members were joined by the Rev. Jesse Jackson and Illinois Comptroller Susana Mendoza, as well as other community leaders."
Protect Working Families: In the States Roundup: "It's time once again to take a look at the ways working people are making progress in the states. Click on any of the links to follow the state federations on Twitter."
Service + Solidarity Spotlight: School Leaders Issue Guide to Reopen Schools Safely: "School supervisory personnel who were among the first to call for closing schools at the start of the pandemic have released a new, comprehensive guide for reopening schools safely. 'School leaders want to reopen their schools, on time and in person,' said Ernest Logan, president of the School Administrators (AFSA), which represents principals, assistant principals, supervisors, and school directors and managers."
Service + Solidarity Spotlight: 'Airline Workers Are Doing Everything That We Can to Make the Flights Safe': "What does the future hold for air travel? Safety must be the first and highest priority for both workers and passengers, according to Transport Workers Union (TWU) President John Samuelsen. 'It is safe to fly, but also, passengers on planes have a level of responsibility,' he said in a recent video from HuffPost."
Service + Solidarity Spotlight: UAW Shares Stories of Members Facing Down COVID-19: "Whether they are an academic researcher looking for a drug to fight the deadly virus, an autoworker making a quick pivot to manufacture ventilators, masks or shields, a maintenance worker disinfecting the plant, or a health care worker making sure the sick can receive treatment, UAW members are courageously doing what they can to battle COVID-19."
Economy Gains 4.8 Million Jobs in June; Unemployment Declines to 11.1%: "The U.S. economy gained 4.8 million jobs in June, and the unemployment rate declined to 11.1%, according to figures released Thursday morning by the U.S. Bureau of Labor Statistics. The improvements reflect the continued resumption of economic activity that previously was curtailed because of the COVID-19 pandemic."
Pass the HEROES Act: What Working People Are Doing This Week: "Welcome to our regular feature, a look at what the various AFL-CIO unions and other working family organizations are doing across the country and beyond. The labor movement is big and active—here's a look at the broad range of activities we're engaged in this week."
Service + Solidarity Spotlight: Milwaukee Area Labor Council Hosts Rallies to Thank Front-Line Workers: "The Milwaukee Area Labor Council, under the leadership of President Pam Fendt (LIUNA), has been hosting weekly events on Wednesdays for union members to thank front-line workers."
Service + Solidarity Spotlight: UFCW Fights to Save Members' Lives, Help Those on the Front Lines: "In a press conference on Thursday, the United Food and Commercial Workers (UFCW) announced that 238 UFCW members have died from COVID-19 and nearly 29,000 workers have been infected or exposed to the coronavirus over the past 100 days."
Service + Solidarity Spotlight: Paramedic Says, 'The Anger Is Blinding': "The Washington Post interviewed Anthony Almojera, a paramedic for the New York City Fire Department and vice president of AFSCME Local 3621, DC 37. He illustrated how the words of gratitude for workers like him are not matched by their meager paychecks."