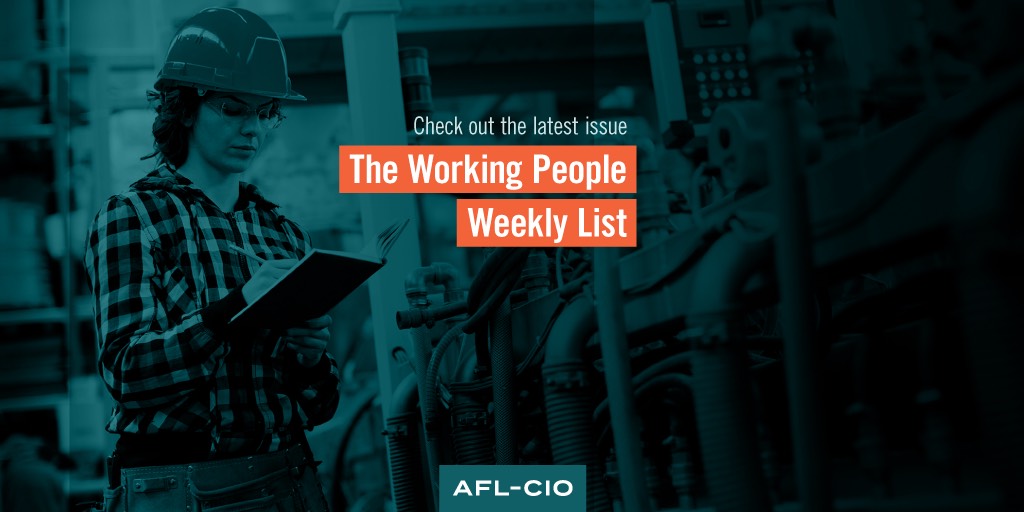 Every week, we bring you a roundup of the top news and commentary about issues and events important to working families. Here's the latest edition of the Working People Weekly List.
Organizing Wins in Minneapolis Serve as a Model for the Labor Movement: "More than six months have passed since the start of the COVID-19 pandemic in the U.S., and more workers across America are joining together in solidarity to create changes in our workplaces. Minneapolis is one city that has seen a wave of worker actions and organizing wins in the hospitality sector, and the labor movement's successes there will undoubtedly inspire workers in other parts of the country who are looking to form a union."
National Hispanic Heritage Month Profiles: Dora Cervantes: "Throughout National Hispanic Heritage Month, the AFL-CIO will be profiling labor leaders and activists to spotlight the diverse contributions Hispanics and Latinos have contributed to our movement. Today's profile covers Dora Cervantes."
50 Reasons the Trump Administration Is Bad for Workers: "As a candidate, Donald Trump promised to protect workers and fight for us. President Trump hasn't lived up to that noble rhetoric. The Economic Policy Institute reports on 50 ways that the Trump administration has been bad for workers." 
SMART Members at Wolf Metals Integral to Creating Units That Sanitize PPE: "On a Thursday in March, when much of the country was being told to shelter in place due to the effects of COVID-19, members of the International Association of Sheet Metal, Air, Rail and Transportation Workers (SMART) Local 24 in Ohio were beginning to modify and transform Critical Care Decontamination System (CCDS) units to disinfect personal protective equipment (PPE), including N95 masks for health care workers. By Monday, SMART members at Wolf Metals had created four units, with more created since then, to help combat the spread of COVID-19 among front-line health care workers."
Trump Administration Moves to Suppress the Proxy Voting Rights of Working People's Retirement Plans in Corporate Elections: "In a partisan 3-2 vote, the U.S. Securities and Exchange Commission approved rule changes that will make it harder for investors to hold corporate CEOs accountable by filing shareholder proposals on environmental, social and governance issues. The AFL-CIO strongly opposed these rule changes as a threat to shareholder democracy."
California Labor Federation Wins New Protections for Workers: "Last Thursday, California Gov. Gavin Newsom signed into law a package of bills to expand worker protections. The new state laws will provide a workers' compensation presumption for front-line workers who are afflicted with infectious diseases on the job and a requirement for employers to give timely notification of COVID-19 cases in the workplace. The California Labor Federation, under the leadership of Executive Secretary-Treasurer Art Pulaski (IAM), took charge of the fight for these new policies."
CDC Continues to Choose Politics Over Science: "On Friday, the Centers for Disease Control and Prevention (CDC) finally acknowledged airborne transmission of SARS-CoV-2, the virus responsible for the COVID-19 disease. But this long awaited recognition was promptly retracted from its website Monday morning with the message, 'Posted in error.'"
Solidarity and Cookies Lift Spirits at Operation Feed Atlantic City: "Nurses bring their healing touch with them wherever they go, and on Thursday members of Shore Nurses Union/NYSNA in New Jersey added a touch of sweetness to the Operation Feed Atlantic City food-distribution program with a donation of 500 boxes of Girl Scout Cookies that will help lift the spirits of laid-off union members and the Atlantic City community."
National Hispanic Heritage Month Profiles: Ernesto Galarza: "Throughout National Hispanic Heritage Month, the AFL-CIO will be profiling labor leaders and activists to spotlight the diverse contributions Hispanics and Latinos have contributed to our movement. Today's profile features Ernesto Galarza."
Get to Know AFL-CIO's Affiliates: United Steelworkers: "Next up in our series that takes a deeper look at each of our affiliates is the United Steelworkers."
IFPTE Backs Corporate Bankruptcy Reform: "Members of the International Federation of Professional and Technical Engineers (IFPTE) are putting their weight behind the Protecting Employees and Retirees in Business Bankruptcies Act of 2020 (H.R. 7370), a bill to rebalance America's corporate bankruptcy laws to protect workers."
UFCW Prompts Largest Citation Over Coronavirus-Related Health and Safety Violations in California: "Following a comprehensive complaint filed by United Food and Commercial Workers (UFCW) Local 770, the California Division of Occupational Safety and Health (Cal/OSHA) has issued its largest coronavirus-related citation in the state, fining food processing company Overhill Farms and its staffing agency more than $200,000 for serious health and safety violations."
New COVID-19 Protections In Las Vegas: Worker Wins: "Our latest roundup of worker wins begins with an important victory in the fight against COVID-19 for Las Vegas' workers and includes numerous examples of working people organizing, bargaining and mobilizing for a better life."