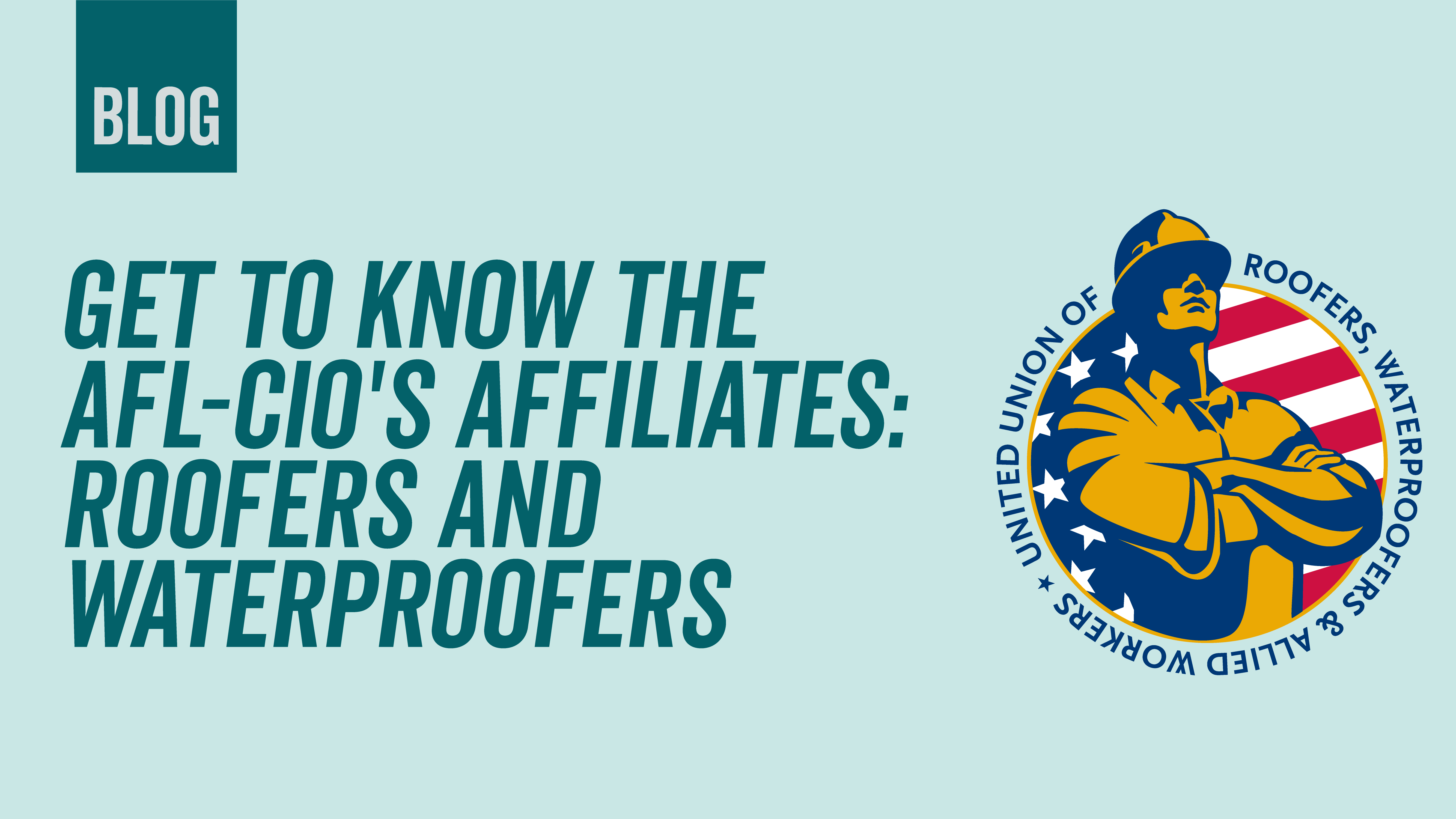 Next up in our series that takes a deeper look at each of our affiliates is the Roofers and Waterproofers.
Name of Union: United Union of Roofers, Waterproofers and Allied Workers
Mission: To provide a collective voice for the brothers, sisters and friends in the union, ensure members have the protection of a contract and dignity on the job and to provide members with training, brotherhood, sisterhood and friendship and an opportunity to make a difference.
Current Leadership of Union: Kinsey M. Robinson serves as international president and James A. Hadel serves as international secretary-treasurer. The organization also has 10 international vice presidents: Douglas Ziegler (First), Thomas Pedrick (Second), Paul F. Bickford (Third), Richard R. Mathis (Fourth), Daniel P. O'Donnell (Fifth), Robert Peterson (Sixth), Michael A. Vasey (Seventh), Michael Stiens (Eighth), Brent R. Beasley (Ninth) and Joseph Pozzi (Tenth). 
Number of Members: 22,000
Members Work As: Applying all types of roofing and waterproofing systems, including but not limited to: all low-sloped roofing systems (vegetative and solar photovoltaic roofs), structural waterproofing, steep-sloped roofing systems and air barrier applications.
Industries Represented: The construction industry across the United States.
History: On June 5, 1903, the American Federation of Labor chartered the International Slate and Tile Roofers Union of America and on Nov. 6, 1906, AFL chartered the International Brotherhood of Composition Roofers, Damp and Waterproof Workers. In 1919, the two unions met in Pittsburgh and merged to become the United Slate, Tile and Composition Roofers, Damp and Waterproof Workers Association. By World War II, the combined union grew to more than 7,000 members. The post-war construction boom led to membership doubling by 1950, with membership peaking in 1978. That year, they adopted the current name, the United Union of Roofers, Waterproofers and Allied Workers. The union continues to focus on training, safety and cooperation in an effort to provide the safest and best-trained roofers and waterproofers in the industry.
Current Campaigns/Community Efforts: The Journeyman Waterproofer and Roofer Magazine, Personal and Professional Standards of Conduct, Women in Roofing, Political Action, Community Outreach, Apprenticeships, Safety and Health, Education and Training and Help Wanted.