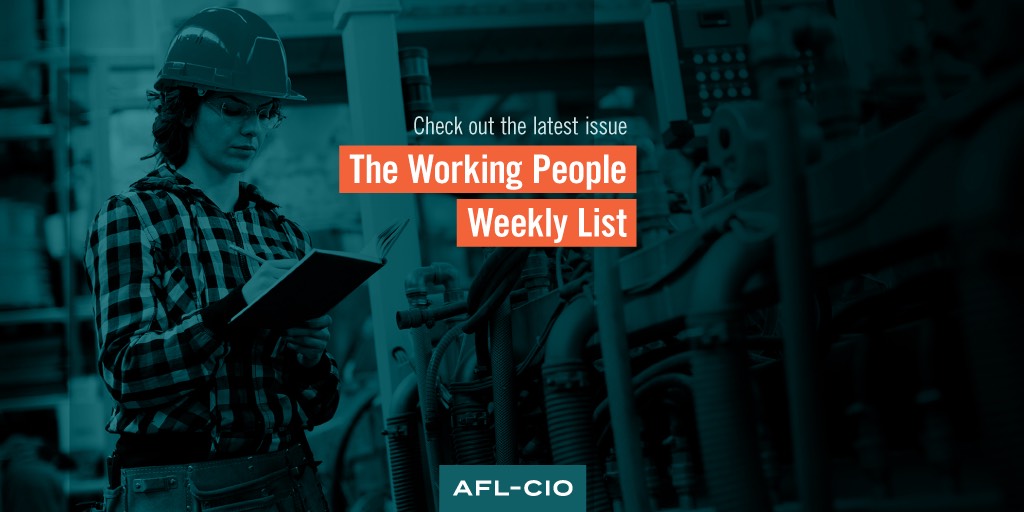 Every week, we bring you a roundup of the top news and commentary about issues and events important to working families. Here's the latest edition of the Working People Weekly List.
Big Tech Unionizing: "Workers at Google and other Alphabet companies have started the Alphabet Workers Union, in partnership with the Communications Workers of America. This is a breakthrough. It includes all workers. It follows union victories at Kickstarter and Glitch. This is Labor 2.0. Unions are for everyone, in every field. That's why the labor movement is working to organize Big Tech and fighting for a fair and equitable future of work, in every sector. The AFL-CIO is even starting a technology institute, to leverage innovation for the labor movement, because the benefits of technology should create prosperity and security for everyone, not just the wealthy and powerful."
President Biden Picks Former United Steelworkers Safety Official to Lead OSHA: "President Joe Biden has tapped James S. Frederick, a Pittsburgh-area workplace safety advocate who spent 25 years with the United Steelworkers, to lead the Occupational Safety and Health Administration, signaling tougher federal enforcement on employers amid the COVID-19 pandemic. The nomination of Mr. Frederick, 53, to the federal workplace safety agency was announced Wednesday in a union press release a few hours before Mr. Biden took the oath of office at the U.S. Capitol."
Biden Moves to Oust Top Labor Board Attorney Peter Robb: "The Biden administration has asked for the resignation of the National Labor Relations Board's general counsel, Trump-appointee Peter Robb, according to four people familiar with the decision. The White House notified Robb of its decision by letter, which specified he had until 5 p.m. Wednesday to voluntarily resign or be fired, two people with knowledge of the correspondence said. The NLRB enforces private-sector workers' rights to organize, and its general counsel has sweeping authority to determine which types of cases the agency does or doesn't pursue. Robb, a former management-side attorney who helped Ronald Reagan defeat the air traffic controller's union, has pushed an aggressive, pro-business agenda at the labor board."
Biden Names Gensler as SEC Head in Push Toward More Scrutiny: "His appointment was cheered by Richard Trumka, the president of the AFL-CIO labor federation, in a sign that he was considered palatable on the left of the Democratic party. 'We applaud Joe Biden for choosing a man who stands up for public interest against Wall Street excess, is knowledgeable and has shown through his work during the Obama administration that he supports working families,' Mr Trumka wrote in a tweet on Monday morning."
Biden, AFL-CIO Labor Law Agendas Track Each Other: "Go to incoming Democratic President Joe Biden's 'Building Back Better' agenda on his website and read through it. The word 'union,' the phrase 'right to organize' and especially the word 'worker' run through it like a constant thread. No wonder AFL-CIO President Richard Trumka, in a Jan. 12 telephone press conference, considered Biden the most pro-worker president in decades. 'And in one week and one day, Joe Biden will be inaugurated and we're ready to work with him.' That's because two key items of pro-worker legislation top both Biden's agenda and the Workers First Agenda Trumka unveiled at the press conference. And so does a lot of other legislation—from job safety and health rules to new infrastructure–the incoming U.S. chief executive advocates."
AFL- CIO Secretary Treasurer Liz Shuler Touts Workers First Agenda: "Liz Shuler, Secretary-Treasurer of the AFL-CIO was featured on today's edition of the America's Work Force Union Podcast. She spoke with host Ed 'Flash' Ferenc about how heartbreaking it was to hear President Trump incite violence at the Capitol, the 'worker first' agenda of 2021, and the Orsted Wind Farm project being a union job. New York State AFL-CIO President Mario Cilento also joined the podcast today. He discussed improved technology to communicate with workers and union members through an app called Union Strong, the NYS legislative agenda for 2021 and preventing layoffs in the future."
Biden must pass the Protecting the Right to Organize Act: "So America today needs more than anything solidarity and human dignity—the church's core teachings. The teaching that we are our brothers' and sisters' keepers, that we are not commodities whose value is determined by a flawed and arbitrary market, but human beings, souls, created in the image of God, and each of our worth is beyond price. And it is high time our nation's laws promoted solidarity and human dignity. That is why as Biden prepares to take office during a devastating pandemic and defining moment for our country, this is the moment to rewrite America's labor laws and pass the Protecting the Right to Organize (PRO) Act. This piece of legislation would protect and empower workers to exercise our right to organize and bargain. It would make sure that workers can reach a first contract quickly after our union is recognized, end employers' practice of hiring permanent replacements to punish striking workers and hold corporations responsible. And it would ban so-called 'right to work,' a regime of state laws rooted in racism, that has left working people poorer and weaker."