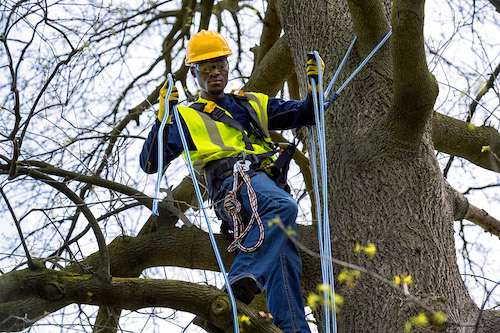 Working people across the United States have stepped up to help out our friends, neighbors and communities during these trying times. In our regular Service + Solidarity Spotlight series, we'll showcase one of these stories every day. Here's today's story.
Detroit's Tree Trimming Academy recently graduated its first class of tree trimmers, providing new talent in a high-demand field and a lucrative career opportunity for area residents. The academy is a collaboration among Electrical Workers (IBEW) Local 17, utility company DTE Energy, the city of Detroit and Focus: HOPE, a local nonprofit organization that provides employment training and assistance.
"We strive to build an empowered and diverse workforce and are excited to help develop more well-trained and well-paid workers who put safety first," said Local 17 Business Manager James Shaw (not pictured). "Growing and developing local talent has to be a focus to best maintain safe, reliable energy."
Some 70% of power outages are caused by trees, and a lot of today's trimmers are reaching retirement age, creating a need for a new generation to fill these much-needed jobs. The Tree Trimming Academy was created to establish a new pipeline of talent. While the program is open to anyone, there's an emphasis on actively recruiting from Detroit and the surrounding area to make sure as many jobs as possible go to local residents.