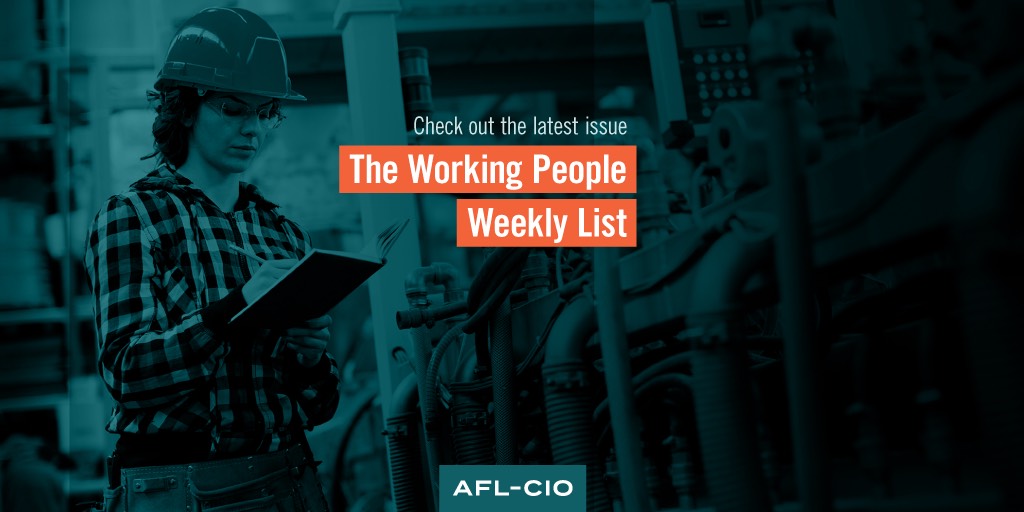 Every week, we bring you a roundup of the top news and commentary about issues and events important to working families. Here's the latest edition of the Working People Weekly List.
Amazon Workers Could 'Make History' with Historic Union Vote in Alabama: "The Retail Wholesale Department Store Union, or RWDSU, the union organizing workers at the warehouse in Alabama, has been in contact with the White House about the effort, Reuters reported earlier this month. 'We have a new administration in Washington that has a completely different attitude towards the importance of unions,' RWDSU President Stuart Appelbaum told Yahoo Finance Live last week. 'So it seemed like the right time and the right place to hold an election on unionization.'"
Grocery Store Workers Have Been on the Front Lines for a Year, but They're Struggling to Get the COVID Vaccine: "Grocery store workers in the United States have been stocking shelves, handling customers and keeping stores tidy in challenging and sometimes dangerous pandemic conditions for almost a year. But a vaccine that once offered these essential workers hope for their safety remains elusive for most. Although coronavirus risks are high and new variants of the virus are spreading, most of the more than 2.4 million low-wage grocery workers in this country have not yet been made eligible for the vaccine. Guidance on vaccine eligibility continues to evolve, leaving these frontline workers unsure of when they'll be able to receive the vaccine. Some workers say they feel let down that they have not been given vaccine priority and are bracing themselves for months more of possible exposure to COVID-19 at their jobs without the best protection against the virus."
Millions of Jobs Probably Aren't Coming Back, Even After the Pandemic Ends: "Millions of jobs that have been shortchanged or wiped out entirely by the coronavirus pandemic are unlikely to come back, economists warn, setting up a massive need for career changes and retraining in the United States. The coronavirus pandemic has triggered permanent shifts in how and where people work. Businesses are planning for a future where more people are working from home, traveling less for business, or replacing workers with robots. All of these modifications mean many workers will not be able to do the same job they did before the pandemic, even after much of the U.S. population gets vaccinated against the deadly virus."
Biden Meets with Labor, Business on COVID-19 Relief: "The meeting on Wednesday included Richard Trumka, president of the American Federation of Labor and Congress of Industrial Organizations (AFL-CIO), and Elizabeth Shuler, the AFL-CIO's secretary-treasurer. The AFL-CIO has been one of the loudest groups calling for a $15 minimum wage. Other attendees at the Wednesday meeting, which also covered Biden's push for an infrastructure measure, included Sean McGarvey, president of the North America's Building Trades Union, and Robert Martinez Jr., international president of the International Association of Machinists and Aerospace Workers."
Biden, Union Leaders Huddle on Infrastructure Plan: "Union leaders meeting with Mr. Biden and Vice President Kamala Harris included AFL-CIO President Richard Trumka, Sean McGarvey, president of North America's Building Trades Unions, and Mark McManus, general president of the United Association of Union Plumbers and Pipefitters. Biden noted that many of the attendees were longtime friends—'as they say in parts of my state, these are the folks that brung me to the dance'—and the meeting capped a number of actions to appeal to his labor allies."
Biden Nominates Jennifer Abruzzo to Serve as NLRB General Counsel: "Richard Trumka, president of the American Federation of Labor and Congress of Industrial Organizations (AFL-CIO), cheered Abruzzo's nomination, describing her as someone who has 'tirelessly fought for working people her entire career.' 'Even as workers have stepped up to the plate throughout this pandemic, we've been denied basic federal protections time and again. Today, is another step toward righting the wrongs of the past four years. The days of the NLRB actively blocking workers from organizing a union are over. We look forward to working people finally getting the fair treatment we deserve,' Trumka said."
Key Players to Watch in Minimum Wage Fight: "'It would actually help millions of workers out there right now,' he recently told CNBC. Trumka added that the economy would also benefit because those workers would boost consumer demand and, in turn, create new jobs."
How Amazon Is Trying to Stop Its 6,000 Alabama Fulfillment Center Employees from Forming a Union: "Amazon is using PowerPoint presentations, text messages, and posters and signs hung on bathroom stalls as part of a 'disinformation campaign' to pressure warehouse employees not to form a union, it has been alleged. Employees at the BHM1 fulfillment center in Bessemer, Alabama that is staffed by some 6,000 workers have recently started to vote on whether to become the first Amazon warehouse workers in the country to unionize. The decision could set off a chain reaction by inspiring workers in many of the other scores of Amazon facilities and warehouses across the country to do the same."