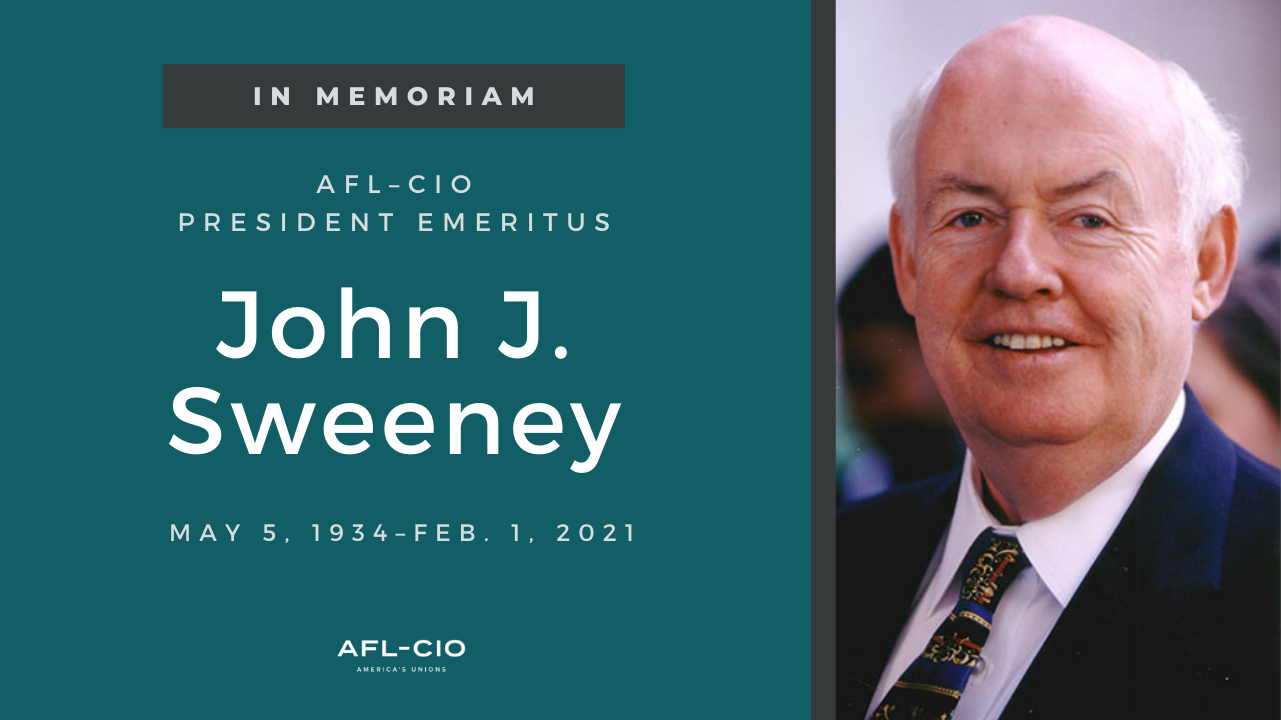 John Sweeney, who led an era of transformative change in America's labor movement, passed away Feb. 1, 2021, at the age of 86. Sweeney was one of four children born to Irish immigrants in a working-class Bronx neighborhood shortly after the Great Depression. His parents, James and Agnes Sweeney, worked as a bus driver and a domestic worker, respectively. Sweeney always understood the struggles and the pride of working people.
Sweeney was interested in politics from childhood. His mother took him to see Franklin Delano Roosevelt's funeral train. He often spoke about his father's loyalty to his union, the Transport Workers Union (TWU), and its colorful president, Mike Quill, with a sense of what it did for his family. Solid meals. A week of vacation. And political rallies with his father. Sweeney met his wife, Maureen Power, while working on a political campaign. He ran for and was elected Democratic district leader and volunteered for John Kennedy's presidential campaign. But it was the labor movement where it all came together for him.
As a young man, Sweeney held jobs as a grave-digger and building porter while studying economics at Iona College in New Rochelle, New York, where he joined a union for the first time. Sweeney was exposed to Catholic social teaching from an early age, including the Xavier Labor School, whose head was the inspiration for the priest in the film "On the Waterfront." He worked throughout his career to forge alliances between Catholic leaders and the labor movement.
Driven by his Catholic faith and commitment to solidarity, Sweeney took a position as a researcher with the International Ladies' Garment Workers' Union, a predecessor to UNITE HERE. It was during this time that Sweeney was connected with the Building Service Employees International Union, known today as the Service Employees International Union or SEIU. Sweeney worked his way up the ranks of Local 32B, winning election as president in 1976. He merged 32B, the union for male janitors, with 32J, the union of female janitors, in 1977, forming the powerful Local 32BJ—which now represents hundreds of thousands of building service workers throughout the East Coast. The men had the job of heavy cleaner and washed and waxed the office building hallways and lobby, while the women were designated light cleaners and dusted the offices and emptied the trash. He often noted that if a glass wall separated an office from a hallway, the men cleaned the outside and the women cleaned the inside. The men were paid more. The merger, led by Sweeney, got them a unified contract. As president of 32BJ, Sweeney led several successful citywide strikes, winning better wages, benefits and other contract improvements. This led to his election as SEIU international president in 1980. 
This tribute was shared at John J. Sweeney's memorial service on May 5, 2022. 
Sweeney transformed SEIU—dedicating one-third of the union's budget to new worker organizing and doubling its membership over the next decade. He focused on winning new collective bargaining for low-wage workers and was a champion for immigrant rights. He spearheaded the Justice for Janitors campaign of mass civil disobedience in Los Angeles that brought dignity and voice to caretakers and cleaners across the United States and Canada, an effort that set the tone for worker organizing and economic justice for decades to come. He also led high-profile mergers with 1199 and other public employee unions, growing SEIU's size and strength. 
In 1995, Sweeney led an insurgent campaign to capture the presidency of America's labor federation, the AFL-CIO. Running on a New Voice ticket with United Mine Workers of America President Richard Trumka, who leads the AFL-CIO today, and AFSCME International Vice President Linda Chavez-Thompson, in the newly created position of executive vice president, paving the way for the first person of color in the federation's highest ranks, Sweeney was swept into office on a promise of bold change and a recommitment to worker organizing. As president, Sweeney founded the Union Summer campaign to recruit young people to become organizers. He pushed the labor movement to become more diverse and take on issues of civil rights, racial justice and gender equality. He was deliberate about recruiting and supporting strong women as senior staff members, modeling diversity for the labor movement. And it was under his leadership that America's unions began to embrace immigrant workers as part of the broader union family, particularly those who had not yet achieved legal status. It was at Sweeney's insistence in 2000 that the AFL-CIO, for the first time, supported a path to citizenship for undocumented workers.
The victory of Sweeney's New Voice team created a new kind of internationalism for the labor movement, one focused on challenging corporate-driven globalization. After leading the labor movement's historic protests in Seattle against the World Trade Organization, Sweeney transformed the federation's commitment to promoting a global agenda rooted in worker rights, environmental protection and pro-worker economic policies. He translated the protests in the streets to build corporate campaigns with multinational corporations that supported worker organizing. In 1997, Sweeney created the Solidarity Center, allied with the AFL-CIO, to focus on supporting worker organizing and strengthening trade union capacity in more than 30 countries worldwide.
Sweeney also built the AFL-CIO into a political powerhouse, electing pro-worker champions and fighting for union-friendly policies at all levels of government. 
Sweeney inspired hard work and loyalty from his staff by working harder and longer than anybody and never giving up on people or goals. He kept the optimism and hope of a child of immigrants from the Bronx, and his faith and his belief in this country. Sweeney had a reputation as someone who had helped more people than anyone could count, and who always not only carried his own bags when he traveled, but unfailingly offered to help his staff carry theirs. Sweeney was as comfortable with a janitor and nursing home worker as he was with a pope or president. It was a consistent and remarkable display of humility for someone given the Presidential Medal of Freedom by former President Barack Obama in 2011, a true icon who former President Bill Clinton called "a force for inclusion and activism."
John Sweeney retired from the AFL-CIO in 2009 after nearly 60 years in the labor movement. He is survived by his wife, Maureen; their children, John and Patricia; a granddaughter, Kennedy; and sisters, Cathy Hammill and Peggy King. He is preceded in death by his brother, James Sweeney.
In lieu of flowers, the family requests contributions be made to the "John J. Sweeney '55, '10H Scholarship Fund" at Iona College. To make a contribution online, click here, under Designation select John J. Sweeney '55, '10H Scholarship Fund. To make a contribution by check, make it payable to Iona College, Joyce Advancement House, 715 North Ave., New Rochelle, NY 10801 (please note in the memo: Sweeney Scholarship Fund).
Speakers at his memorial included President Liz Shuler, Secretary of Labor Marty Walsh, Executive Vice Presidents Emeriti Arlene Holt Baker and Linda Chavez Thompson, SEIU President Mary Kay Henry and President Sweeney's granddaughter Kennedy.