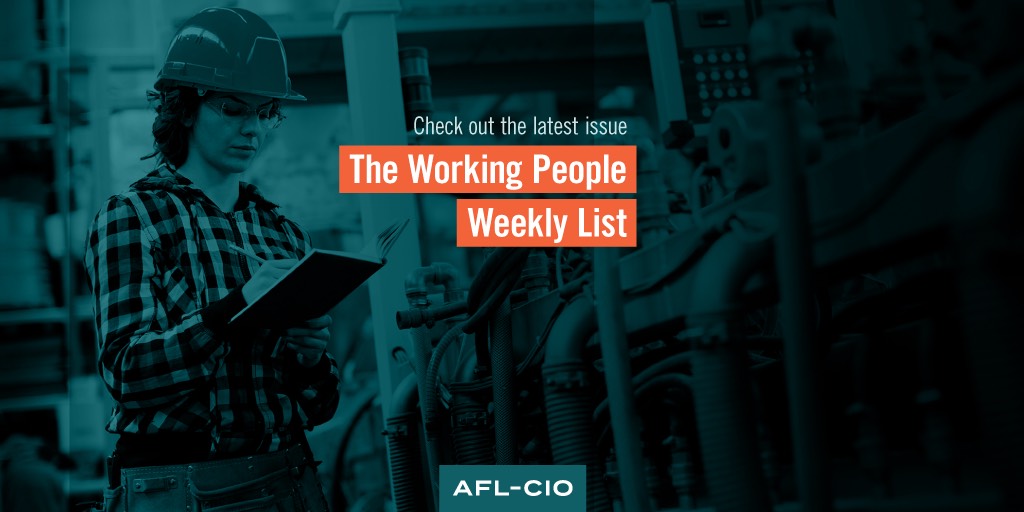 Every week, we bring you a roundup of the top news and commentary about issues and events important to working families. Here's the latest edition of the Working People Weekly List.
The Amazon Workers' Campaign Shows the Need for Labor Law Reform: "The organizing drive still underway by workers at Amazon's fulfillment center in Bessemer, Ala., reveals some of the many ways our current labor law gives employers too much power to stand in the way of workers trying to gain a collective voice. Workers at Amazon want a union to bargain better pay, safety protections, and dignity on the job. Instead of respecting its workers' choice, what has Amazon done? Amazon has forced workers to attend small group meetings where supervisors rail against the union."
House Passes Equality Act to Boost LGBTQ Protections: "The House voted 224-206 on Thursday to pass the Equality Act, which would expand federal protections for LGBTQ people by prohibiting discrimination based on gender identity and sexual orientation. Why it matters: The legislation passed in the House in May 2019 but never reached the Republican-controlled Senate under former President Trump. Democratic leaders believe there is a chance to pass the act into law this year with a 50-50 split in the Senate, but it is uncertain whether enough Republicans will support the bill for it to move forward."
Amazon Workers' Fight to Unionize Draws Help from Around the World: "Roughly a hundred organizers have been calling workers from Amazon's Bessemer, Alabama, warehouse in recent weeks, making the case for why they should unionize. The robust phone-banking operation reflects the high stakes for organized labor as workers at the facility consider forming the first Amazon union in the U.S. The organizing effort extends well beyond the Retail, Wholesale and Department Store Union (RWDSU), which would represent the facility's employees. The phone campaign includes around 20 organizers on loan from the AFL-CIO, the influential labor federation that includes 55 unions. A dozen nurses who recently unionized their hospital in North Carolina also have been pitching on the effort, calling workers to tell them large-scale labor victories are possible in the South."
Multimillion-Dollar 'Union Avoidance' Industry Faces New Scrutiny: "Workers unionizing with the Retail, [Wholesale and Department Store Union] at an Amazon distribution center in Bessemer, Alabama, have been met with a range of tactics to dissuade them from voting for a union, including frequent text messages, paid social media advertisements, and 'classes' intended to warn them against unionization."
Four Million Hotel, Restaurant Workers Have Lost Jobs. Here's How They're Reinventing Themselves: "Workers at America's hotels, restaurants, bars and convention centers have been among the hardest hit during the Covid-19 pandemic. Lockdowns and the lack of travel have caused many gathering places to close or reduce their staff. Since February 2020, the leisure-and-hospitality sector has shed nearly four million people, or roughly a quarter of its workforce. As of January 2021, 15.9% of the industry's workers remained unemployed; more than any other industry, according to the Bureau of Labor Statistics. As a result, millions of hospitality workers—a group that includes everyone from front-desk clerks to travel managers—are trying to launch new careers. Some have transitioned to roles that tap skills honed over years of public-facing work in high-pressure environments. Others have seized the moment to remake themselves for different occupations. Many remain conflicted about leaving an industry they say continually provides new experiences and engenders lasting relationships."
Trumka Talks Importance of Infrastructure Investment: "AFL-CIO President Richard Trumka joined Bloomberg Radio to discuss how important it is to rebuild our infrastructure with good union paying jobs and how that will benefit our communities."
2.5 Million Women Left the Work Force During the Pandemic. Harris Sees a 'National Emergency.': "Vice President Kamala Harris said on Thursday that the 2.5 million women who have left the work force since the beginning of the pandemic constituted a 'national emergency' that could be addressed by the Biden administration's coronavirus relief plan."
Infrastructure Is Prime Topic in Biden Meeting with Union Leaders: "AFL-CIO President Richard Trumka said in a post-meeting statement, 'For working people, this was the most productive Oval Office meeting in years.' Trumka added, 'As we made clear today, America can only build back better if unions are doing the building.'"