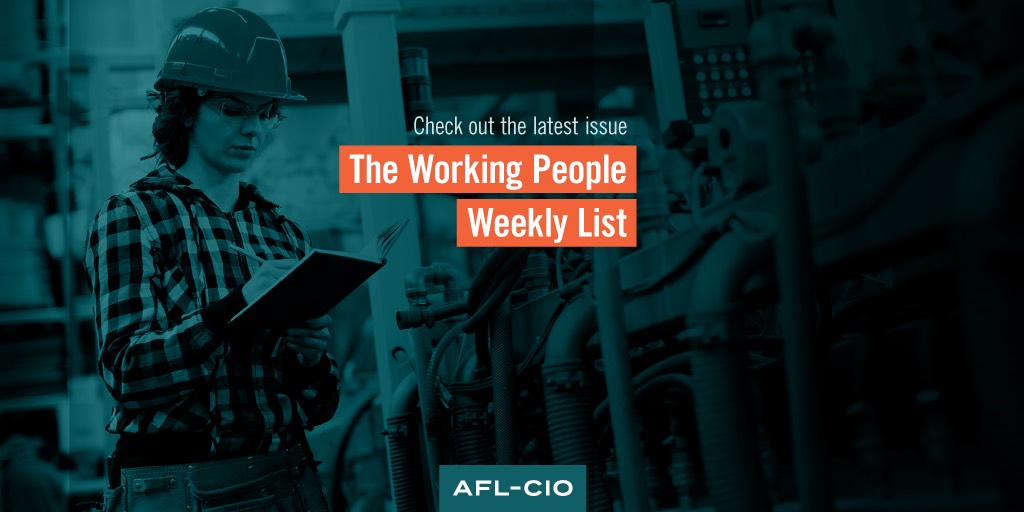 Every week, we bring you a roundup of the top news and commentary about issues and events important to working families. Here's the latest edition of the Working People Weekly List.
Eight People Describe How Unions Changed Their Lives: "As companies like Amazon, Facebook, and Google fight aggressively (and insidiously) against workers' attempts to unionize, it's a good time to get familiar with what unions can actually do for people. Because unions can help workers win more rights, companies sometimes take months before recognizing a union (like at BuzzFeed) or concluding negotiations—a process Gimlet leadership is accused of exploiting in the months before a Spotify acquisition. Even and especially when it's met with resistance from companies, power of organized labor can and does better conditions and protect people against workplaces that would rather exploit them."
The Pandemic Accelerated Job Automation and Black and Latino Workers Are Most Likely to Be Replaced: "'When technology comes into a union worksite, we're able to negotiate to get a fair share of the increased productivity and make sure it's healthy and safe—it's called bargaining acquiescence. We bargain to get a fair share for workers. But society as a whole doesn't have that,' says Richard Trumka, president of the AFL-CIO."
Katherine Tai Confirmed as Biden's Trade Representative: "AFL-CIO President Richard Trumka tweeted that Ms. Tai's confirmation was a 'win for working people.' Myron Brilliant, executive vice president of the U.S. Chamber of Commerce, tweeted that his business group 'looks forward to engaging with Tai and the Biden administration on a pro-growth #trade agenda.'"
Essential Workers Mark One-Year Anniversary of COVID-19: "On March 13, 2020, President Donald Trump declared a national emergency because of the spread of COVID-19. Today, several of Minnesota's essential workers marked the grim anniversary with a call for change. From outside the American Federation of Labor and Congress of Industrial Organizations building, down the street from the Capitol, they called on Minnesota lawmakers to pass a Quarantine Pay Bill. It would allow essential workers to be paid when they need to take time off work for COVID-related reasons. It would also provide retroactive pay for those who've already gone without it. Mary Turner is president of the Minnesota Nurses Association. 'They're not covered when they have to go to quarantine,' Turner said. 'They go without pay when they have to care for a sick family member or a child without a classroom. They have isolated themselves in hotel rooms, basements, even backyards because most of all they can't afford to get sick.'"
Julie Su Is the Right No. 2 Choice to Help Lead Biden's Labor Department: "When President Biden nominated Julie Su, California's current Labor Secretary, to serve in the number two spot in the U.S. Department of Labor, many in this state and across the country applauded the choice. But in recent weeks, Su has come under fire from some for her handling of unemployment benefits during the pandemic. These attacks, however, are unfounded. Su's experience, expertise and tireless dedication to helping working Americans make her the perfect candidate to serve as deputy labor secretary in Biden's administration."
No, the PRO Act Wouldn't 'Kill' Freelancing: "Private opposition to the Protecting the Right to Organize (PRO) Act has so far been surprisingly muted. The proposed bill is remarkably comprehensive in nature, encompassing the most far-reaching rewrite of the National Labor Relations Act (NLRA) since the Taft-Hartley Act passed in 1947. Perhaps this is because few insiders believe the PRO Act can pass a deadlocked Senate without a clearer commitment by Democratic politicians to gut the legislative filibuster, but whatever the case, you have to do some digging to see any real organized campaign against the bill as a whole. Even then, it's the usual suspects ringing the alarm bells: the Chamber of Commerce, the Associated Builders and Contractors, the HR Policy Association, and other organizations which historically have strongly opposed unionism and any pro-worker legal amendments."
The PRO Act Would Undo Decades of Southern Anti-Union Laws Rooted in Racism: "'We have a generational opportunity to make America's economy and democracy work for working people again,' North Carolina State AFL-CIO President MaryBe McMillan said in a statement. 'The PRO Act does that by ending misleading and racist 'right to work' laws and creating meaningful consequences for employers that retaliate against workers for simply exercising their right to organize.'"
The PRO Act Could Do More Than Revive Unions: "A gap this wide indicates a serious problem. If Americans like unions and want to join them but aren't, it's likely because they can't. Fortunately, a possible fix awaits: The Protecting the Right to Organize (PRO) Act would mark the biggest expansion of collective-bargaining rights in decades. President Biden has said he supports the bill, and he may soon be in a position to make good on that support. The bill passed the House with bipartisan support late on Tuesday evening, and is headed now to the Senate."
For Blue-Collar Workers, It's Fear. For White-Collar Workers, It's Isolation. COVID-19 Changed Work for Everybody: "Work has changed for people in one of two ways—they either work in person and face a swath of protocols and potential exposure to COVID-19, or they can work from home, siloed to their kitchen tables and deprived of the social aspect of work. 'People really had to make the very real choice…between being safe on the job and having a job,' said Rebecca Reindel, safety and health director with the AFL-CIO, an organization of workers' unions. 'Many workers were hesitant to go back.'"
Uber Eats and Deliveroo Riders in Spain to Get Collective Bargaining Rights: "Delivery riders for apps like Uber Eats and Deliveroo will be granted the same rights as employees in Spain, including the right to collectively bargain, according to an announcement from the Spanish government on Thursday. Spain will become the first country in the world to formally give gig economy delivery drivers rights similar to employees. Gig economy riders will also get access to information about the algorithms used to dispatch deliveries, giving workers a peek under the hood—a dramatic change that will likely send shockwaves throughout the industry."