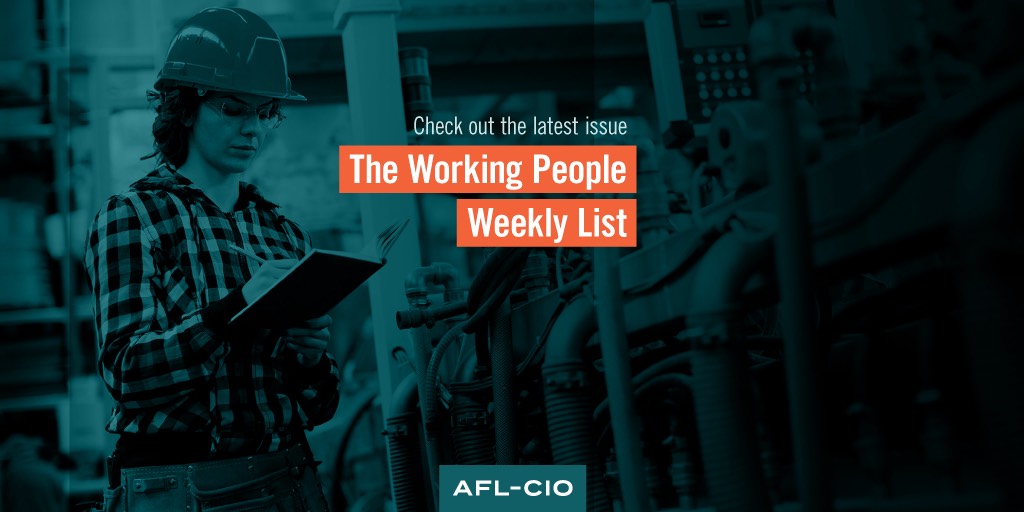 Every week, we bring you a roundup of the top news and commentary about issues and events important to working families. Here's the latest edition of the Working People Weekly List.
Bill to Protect Health Care Workers Against Violent Workplace Attacks Passes the House: "'The pandemic of workplace violence has actually been going on for decades, and the COVID-19 pandemic has exasperated it,' said Bonnie Castillo, a registered nurse and executive director of National Nurses United."
AFL-CIO President Discusses the Energy Outlook Under the Biden Administration: "Richard Trumka, AFL-CIO President, joins the Yahoo Finance Live panel to discuss the 'Green Economy' under President Biden."
Why The PRO-Act Is Key To Racial Justice And Economic Democracy: "The initial results for RWDSU's high profile organizing drive at an Amazon facility in Bessemer, Alabama demonstrate the extent that labor laws favor employers during unionization efforts.  The historic campaign also illustrates the struggles that working class people of color face in achieving economic justice in the fast growing fulfilment and logistics sector. And more presciently, the campaign highlights the need for better legal protections for such workers seeking to unionize, namely passage of The PRO-Act. In a video press conference on April 9, RWDSU President Stuart Appelbaum recognized the efforts of the Bessemer workers while pointing out, 'The results demonstrate the powerful impact of employer intimidation and interference. Amazon misled and tried to manipulate workers. They took full advantage of terrible labor laws.'"
Union Appeals Amazon Election in Alabama, Says Company Violated Laws: "In objections filed with the National Labor Relations Board, attorneys representing Retail, Wholesale and Department Store Union allege that Amazon intimidated and threatened employees into voting against unionizing. The union cited meetings that the company held with workers and a mailbox installed outside of the warehouse. More than 70% of workers who cast ballots in the election voted against joining the RWDSU. 'Amazon knew full well that unless they did everything they possibly could, even illegal activity, their workers would have continued supporting the union,' RWDSU President Stuart Appelbaum has said. 'We demand a comprehensive investigation over Amazon's behavior in corrupting this election.'"
King Backs PRO Act After Campaign by Labor, Advocacy Groups: "After a campaign by organized labor and advocacy groups, Sen. Angus King is supporting legislation that would expand the ability of workers to organize a union and pursue collective bargaining.  King's communications director Matthew Felling confirmed in an email that the Maine independent, who caucuses with the Democrats, is co-sponsoring the Protecting the Right to Organize Act—also known as the PRO Act. The legislation passed the House in March with support from Maine U.S. Reps. Chellie Pingree and Jared Golden. Andy O'Brien, communications director of the Maine AFL-CIO, said the bill would essentially address policies, such as the Taft-Hartley Act of 1947, that over the years have whittled away at workers' ability to form a union and negotiate a first contract. 'It's a really exciting time right now because you've got so many workers who are organizing and trying to form unions, but unfortunately laws allow for rampant union-busting, so this bill would be really the strongest pro-labor legislation since the New Deal if it passes' he said."
Manchin Throws Support Behind Union-Backed PRO Act: "Sen. Joe Manchin (D-W.Va.) on Monday threw his support behind the PRO Act, union-backed legislation to promote labor organizing. The PRO Act would block 'right to work' laws, which allow people who benefit from union representation to opt out of membership and paying dues, and impose tougher restrictions on companies seeking to prevent unionization efforts. It passed in the House last month in a narrow, party-line vote of 225-206, with just five GOP members supporting it and one Democrat voting against."
SEC Chief Gary Gensler Picks Top Labor Union Official for Policy Role: "Gary Gensler, the new chief of the Securities and Exchange Commission, on Monday tapped a labor-union investment official as his policy director, raising expectations that the agency will embrace progressive policy goals. Gensler, who was sworn in on Saturday, picked Heather Slavkin Corzo for the top policy role in his office. The hire suggests Gensler will tackle issues such as stricter corporate disclosures related to climate-change risks and companies' spending to influence politics. Corzo has worked as director of capital markets policy at the AFL-CIO and as head of U.S. policy at the Principles for Responsible Investment, a group of asset owners that incorporates environmental, social and governance considerations into their holdings."
The Technology 202: The Tech Industry is Fighting a Bill Making it Easier for Its Workers to Organize: "Liz Shuler, the AFL-CIO's secretary-treasurer, said in an interview she has 'no doubt' the union push would have been successful if the Pro Act were in place because it might have deterred Amazon from allegedly intimidating workers. 'Right now if Amazon breaks the law, it's like a slap on the wrist,' Shuler said. 'There's really no downside to breaking the law time and time again to intimidate people.… The Pro Act would reverse course on that.'"
Unionization After Amazon: "Amazon workers in the company's Bessemer, Alabama, warehouse last week voted overwhelmingly not to join a union. This happened despite tales from inside Amazon warehouses across the country of grueling work conditions and little time for bathroom breaks. Labor and management nationwide have been watching this situation closely for what it might mean for the union effort in other states. One of those watchers is Connecticut AFL-CIO president Sal Luciano. He joined Connecticut Public Radio's All Things Considered to share his thoughts on why this unionization effort failed and what that means for the future of unions."
Freight Trains in the U.S. Are a Disaster Waiting to Happen: "Freight trains in the U.S. are crashing more often, and people in the industry are worried about what comes next. VICE News' Motherboard looks into how the industry got here."