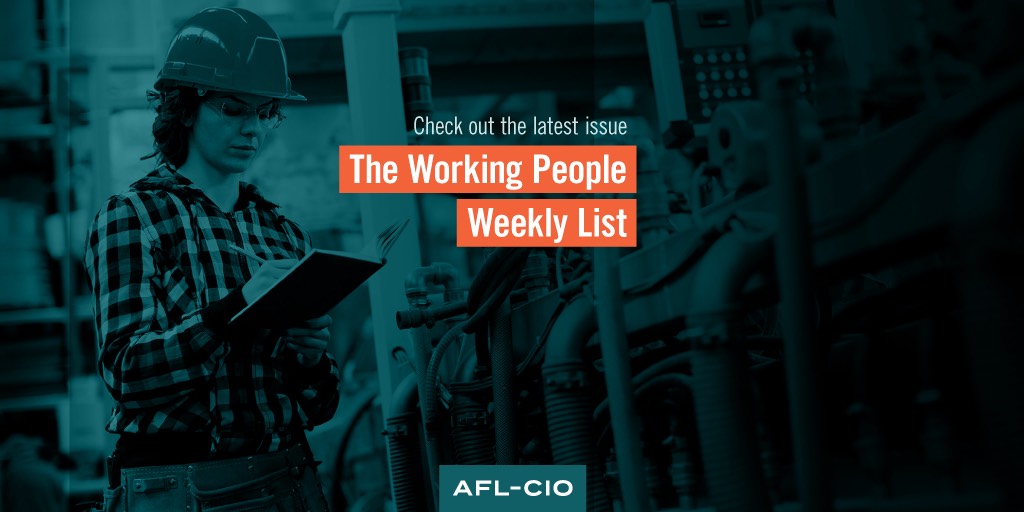 Every week, we bring you a roundup of the top news and commentary about issues and events important to working families. Here's the latest edition of the Working People Weekly List.
'Passing the PRO Act Is Not a Spectator Sport': AFL-CIO Leads National Day of Action: "The AFL-CIO is encouraging people to call U.S. senators on Thursday to urge them to support the passage of the Protecting the Right to Organize Act, a historic piece of legislation that would significantly strengthen workers' right to form unions and help reverse a decades-long assault on labor waged by corporations and their political allies. 'Passing the PRO Act is not a spectator sport. All of us must act—and act today by driving calls into the Senate,' AFL-CIO president Richard Trumka said Thursday. 'From Alabama to Alaska, we are going to make our case for an economic and political system that works for working people.'"
Biden Is Rebuilding the National Labor Relations Board: "On his first day in office, President Joe Biden fired Peter Robb, the Trump-appointed general counsel of the National Labor Relations Board (NLRB), the agency responsible for interpreting and enforcing federal labor law. A new report by the nonpartisan US Government Accountability Office (GAO) shows why Biden was right to fire Robb—and to do so quickly. The GAO found that Robb was dismantling the agency from the inside. He reduced staff size, destroyed employee morale, and failed to spend the money appropriated by Congress. This all occurred while Robb was pursuing an anti-worker, pro-corporate agenda."
Stress on the Front Lines of COVID-19: "Worry, exhaustion, constantly changing safety rules and long hours of wearing PPE are just a few things America's health-care workers cite as the hardest parts of going to work on the front lines of the coronavirus pandemic. Their work has saved countless lives but also taken a personal toll: 62% say worry or stress related to covid-19 has had a negative effect on their mental health. A 55% majority feel 'burned out' going to work. Nearly half of all health-care workers say worry or stress has caused them to have trouble sleeping or to sleep too much."
Black Workers Being Left Behind as Economy Recovers from Pandemic: "In March, the unemployment rate for Black workers with a bachelor's degree or higher was 4.7%, compared to 3.6% for white Americans, according to Labor Department data that's not seasonally adjusted. To be sure, that gap did shrink from the prior month. The disparity is nearly double between Black and white workers who graduated high school, the data show.  'If even the best-educated Black person doesn't do as well in the economy, then that must be discrimination,' said William Spriggs, chief economist at the AFL-CIO."
The Filibuster Threatens Both Civil Rights and Workers' Rights: "The GOP's embrace of the filibuster to thwart President Biden's legislative agenda reveals how the struggles to extend civil rights and labor rights are inextricably intertwined. The use of the anti-democratic device to block civil rights legislation is well known. In 1957, Senator Strom Thurman of South Carolina talked for 24 hours and 18 minutes to stall the first piece of federal civil rights legislation enacted since the Reconstruction era, a bill that empowered federal prosecutors to prevent interference with voting."
Biden's Infrastructure Package Is Designed to Boost Unions: "Many of the new jobs are likely to be union positions, because the plan targets sectors that already have high levels of union participation, said Greg Regan, president of the Transportation Trades Department, a coalition of unions in industries such as aviation and rail transit."
Florida Labor Unions Say Proposal Will Lead to 'Disaster' for State Worker Pensions"'The people making these decisions fundamentally do not understand how pensions work,' AFL-CIO spokesman Rich Templin said. 'And the actions they are taking will prove disastrous.' Templin said over the next few days public sector labor union members will call, text, email, and talk in-person to lawmakers about the dangers lurking in the bill."
'She-Wees' and Plastic Bags: Amazon's Pee Scandal Is Much Worse for Women: "Motherboard spoke to six women who have driven Amazon delivery vans during the past year. Some fast during work hours, even in the heat of the summer, to avoid wasting time finding a bathroom. Others either hold their pee for up to 10 hours, squat over trash bags, or purchase 'she-wees,' female urinals that cost roughly $13.99, on Amazon.com. An Amazon delivery driver trainer who works out of an Amazon warehouse in South Bend, Indiana, told Motherboard that drivers frequently dump bags or bottles with pee and poop on the side of the road. 'I am a trainer for my [delivery company] and I tell all the new girls to invest in a she-wee or you will not make it at this job,' she said. Motherboard granted the driver anonymity because she feared retaliation from her employer."