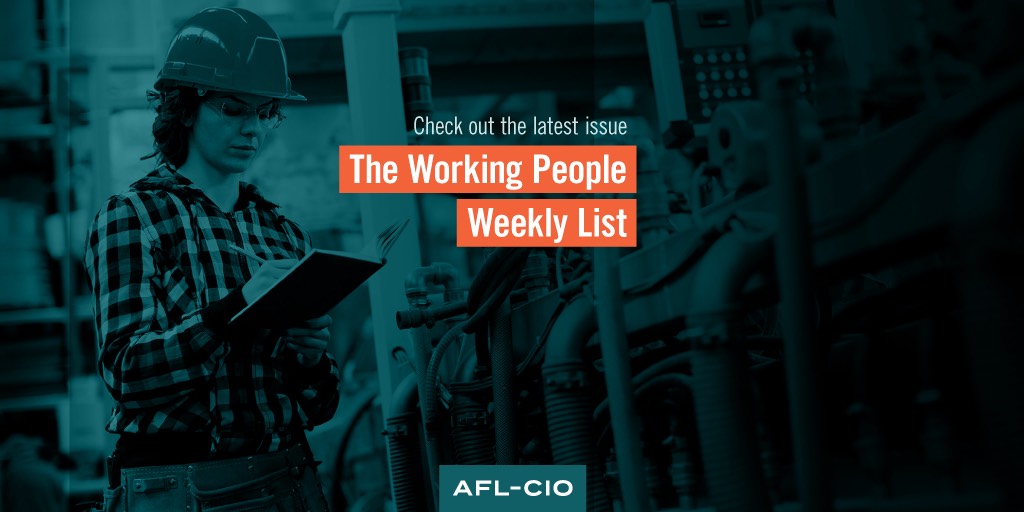 Every week, we bring you a roundup of the top news and commentary about issues and events important to working families. Here's the latest edition of the Working People Weekly List.
Pass the PRO Act to Empower Workers, Protect Rights: "The United States Senate should pass the Protecting the Right to Organize Act (PRO Act), five human rights and labor groups said today in releasing a question-and-answer document about the issue. The Senate should seize on a once-in-a-generation opportunity to tackle rampant economic inequality by empowering workers and building a more just and human rights-based economy."
Organized Labor Puts Heat on Democratic Holdouts to Support PRO Act: "Senators who haven't yet voiced support for the Protecting the Right to Organize Act might soon hear from more constituents on the matter. The AFL-CIO labor federation says it's spending seven figures on television and radio ads aimed at bolstering Senate support for the PRO Act, which would make it easier for workers to join unions. The ads will run in Arizona, Virginia and West Virginia―states with moderate Democratic senators whose support, or lack of it, could determine the bill's fate."
Unions Applaud Biden OSHA for Advancing COVID Safety Standard to Protect Workers: "'Make no mistake, an emergency OSHA standard will save lives,' AFL-CIO President Richard Trumka said in response to the move. 'We're grateful for the Department of Labor's work in getting the standard to this point, and we urge swift issuance of the rule.' 'Strong enforceable standards that require employers to develop workplace COVID-19 safety plans, implement science-based protection measures, train workers, and report outbreaks are necessary for reducing infections and deaths, and beating this virus,' Trumka continued."
Biden to Raise the Minimum Wage for Federal Contractors to $15, Giving Roughly 390,000 Workers a Pay Bump: "'This is a victory for working people across the country, but we can't stop fighting until everyone has the same guarantee,' John Weber, AFL-CIO spokesperson tells CNBC Make It in a statement. 'Building a just recovery means giving workers a fair return on our hard work and finally raising the federal minimum wage to $15.'"
Biden Names Former AFL-CIO Official Celeste Drake as 'Made in America' Director: "President Joe Biden on Tuesday named Celeste Drake, a former AFL-CIO official, as the first 'Director of Made in America' at the Office of Management and Budget. The White House said in a statement that Drake would shape federal procurement policy, to help carry out Biden's vision for a future 'made in all of America by all of America's workers.' One of Biden's early executive orders as president tightened 'Buy American' rules in government procurement. Drake joins the administration from the Directors Guild of America and was the trade and globalization policy specialist for the AFL-CIO."
President Biden Will Promote Unions Through a White House Task Force: "President Biden will sign an executive order on Monday creating a task force to promote labor organizing, according to a White House fact sheet. The task force, to be led by Vice President Kamala Harris and populated by cabinet officials and top White House advisers, will issue recommendations on how the federal government can use existing authority to help workers join labor unions and bargain collectively. It will also recommend new policies aimed at achieving these goals."
Labor Experts: The Power of Unions Could Be Rising Again: "Steven Tolman, the president of the AFL-CIO of Massachusetts, an umbrella union group, has seen unions' longtime challenges firsthand. The former state senator was a railroad worker in the early 1970s, and he said he watched as businesses' increasingly hardline stances toward unions became more common. Today, he said, unions remain critical for their ability to improve the lives of their working members. 'We are the only ones able to fight inequality,' Tolman said. 'If you have a union, you have the right to stand up against injustice, the right to advocate for safer working conditions, and most importantly, the right to good wages.' A bill, the Protecting the Right to Organize, or PRO, Act, would limit employers' ability to stand in the way of union organizing and strengthen the government's powers to punish companies violating workers' rights. It faces a daunting challenge in the Senate, but experts nonetheless see a shift in place."
President Trumka Talks Infrastructure and PRO Act: "AFL-CIO President Richard Trumka joined Bloomberg Radio to discuss the importance of passing the PRO Act and a complete infrastructure package."
What This Workers Memorial Day Needs: "[Kentucky State AFL-CIO President Bill] Londrigan said it is undeniable that OSHA has greatly improved worker safety and health for all workers. 'Indeed, multiple studies bear out the fact that union workplaces have been far safer because unions provide a voice on the job where workers can join with management to address workplace hazards and implement solutions jointly.' Added Londrigan: 'Recognizing the linkage between worker safety and strong trade unions is another critical reason for Congress to pass the Protecting the Right to Organize (PRO) Act. For the past 50 years, trade unions and our members have been under constant attack from anti-union multinational corporations and politicians bankrolled by big business.'"
It's All Too Easy for Employers to Interfere in Union Elections: "Earlier this month, we saw a more prominent example of this phenomenon, when workers at the Amazon warehouse in Bessemer, Alabama, voted by more than 2 to 1 against joining a union. (Amazon chief executive Jeff Bezos owns The Washington Post.) It followed several other high-profile organizing defeats in recent years, including autoworkers at Volkswagen in Tennessee and Nissan in Mississippi, as well as Boeing employees in South Carolina."