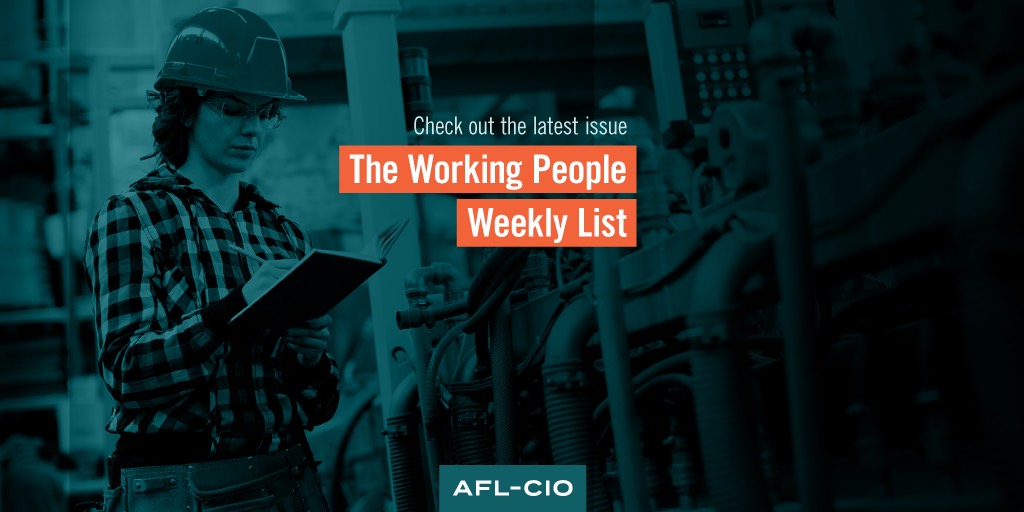 Every week, we bring you a roundup of the top news and commentary about issues and events important to working families. Here's the latest edition of the Working People Weekly List.
Trumka on Bloomberg TV: PRO Act Should Be Passed in a Bipartisan Way: "AFL-CIO Richard Trumka joined Bloomberg's Balance of Power to discuss the budget proposal that provides the largest tax cut ever for working families, and how important passing the PRO Act and voting rights legislation is to our democracy."
Texas Democrats Meet with Labor Activists, Sen. Manchin in Washington as They Push Voting Rights: "A crowd gathered as a large number of the more than 50 members—some casually dressed in sneakers and jeans or tracksuits—met at the Black Lives Matter plaza Thursday morning for a press conference hosted by the American Federation of Labor and Congress of Industrial Organizations. Leaning on the image and legacy of Congressman John Lewis, a civil rights icon who died almost exactly a year ago, AFL-CIO president Richard Trumka denounced GOP-led efforts in multiple states to pass election integrity bills before turning to the Texas delegation with a smile. 'Heroes and heroines, every last one, in my opinion,' Trumka said to loud cheers from the crowd of mostly labor and civil rights activists."
Trumka Praises Inclusion of Pro Act Fines in Key Money Bill: "Hefty fines for corporate labor-law breaking, a top part of the Protect the Right to Organize (PRO) Act, have been inserted into the Senate Democrats' key money bill, a budget 'reconciliation' measure which right-wing Senate Republicans can't filibuster. 'Parts of the PRO Act are part of reconciliation,' AFL-CIO President Richard Trumka told People's World at an outdoor July 15 press conference. 'Some of it can't get in,' due to the rules that restrict 'reconciliation' bills to taxing and spending only, Trumka admitted. 'But the (PRO Act) fines and things having to do with monetary policy are in,' he elaborated. Trumka discussed the PRO Act after introducing and praising the Texas state Democratic legislators who flew out of Austin to D.C. to stop their right-wing GOP colleagues from passing more-repressive voting legislation targeting Blacks and browns than the Lone Star State already has on its books."
CEOs Made 299 Times More Than Their Average Workers Last Year: "'This is consistent with what we've been seeing year to year,' Liz Shuler, AFL-CIO secretary-treasurer, said in a press conference with reporters Wednesday. 'Inequality, the imbalance in our economy, is clear by this report that the pay of CEOs and working people continues to be a major problem in this country.'"
Senate Confirms Calif. Labor Secretary Su to DOL's No. 2 Spot: "Liz Shuler, the secretary-treasurer of the AFL-CIO, in a tweet on Tuesday called Su 'a fierce leader who will ensure the U.S. Department of Labor can deliver on its mission and improve the lives of working people across the nation.'"
Daily on Energy: Labor to Pressure Biden to Deliver Unionized Clean Energy Workforce: "Labor leaders want to see President Joe Biden's aggressive climate policies include strong protections for workers to guarantee that the clean energy jobs created would carry the same benefits that unionized fossil fuel jobs do. The AFL-CIO, the country's biggest labor group, is throwing its support behind those policies, but it is promising to keep the pressure on Biden to fulfill his promise of a unionized clean energy workforce. He'll be starting from a low baseline. 'The pattern that we've seen is the family-supporting union jobs are in the traditional sector' such as fossil fuels, said Liz Shuler, AFL-CIO's secretary-treasurer, in a virtual event yesterday hosted by the Center for American Progress."
Alaska Workers Stand Up for Equality: "The labor movement in America has always stood for fairness and equal opportunity. Collective bargaining as an idea rests on the principle that everyone must come together to achieve a common goal, regardless of background. This is why labor unions were able to lead some of the most important movements in American history, from the campaign for the 40-hour work week, to minimum wage and workplace safety laws. It's also why we as Alaskan labor leaders are announcing that we stand with the recently created Labor for Equality Council, a group of unions representing 4.9 million workers, dedicated to passage of the Equality Act, which would ensure all LGBTQ workers and their families are able to feel safe and welcome in their workplaces and communities."
Case of Hervis Rogers 'Textbook Example' of Voting Injustice, Say Rights Advocates: "The Texas AFL-CIO said the case against Rogers had similarities with the one against Crystal Mason, another Black Texan, who was sentenced to five years in prison for casting an ultimately uncounted provisional ballot in the November 2016 election while she was on federal supervised release. 'This is a voter suppression prosecution, pure and simple, a poster child for Jim Crow 2.0,' said Texas AFL-CIO president Rick Levy in reference to Rogers' case. 'Unfortunately, it confirms that Texas' shameful legacy of disenfranchisement is alive and well and desperately needs fixing.'"
AFL-CIO Wants Workers 'Front and Center' in Battling Global Warming: "Workers, especially union workers, should be 'front and center' in the battle to reverse global warming, AFL-CIO Secretary-Treasurer Liz Shuler says. That especially includes unionists who build and repair energy infrastructure, such as members of her home union, the Electrical Workers (IBEW), she adds. Shuler outlined what should be the central role of workers in battling global warming in a one-on-one zoom discussion with Tony Podesta, the longtime Democratic heavyweight and founder of the Center for American Progress, a noted D.C. think tank."
Business, Labor Groups Endorse Bipartisan Infrastructure Deal: "The U.S. Chamber of Commerce, the AFL-CIO and a group of other prominent business groups on Thursday endorsed a $1.2 trillion, eight-year bipartisan infrastructure framework endorsed by President Biden and a group of Senate moderates."