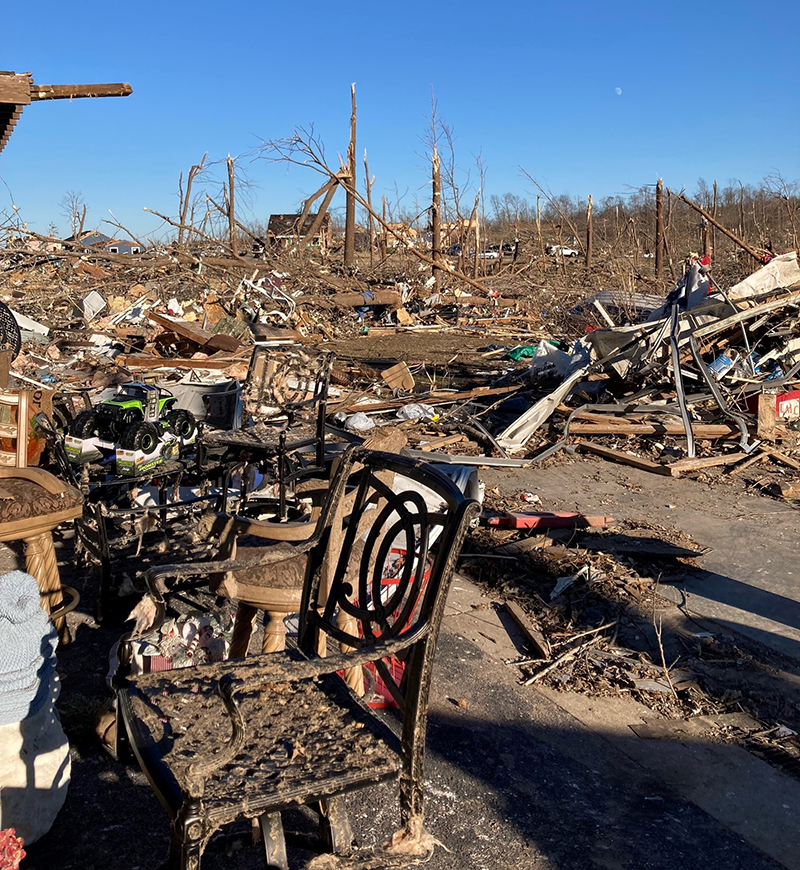 Working people across the United States have stepped up to help out our friends, neighbors and communities during these trying times. In our regular Service + Solidarity Spotlight series, we'll showcase one of these stories every day. Here's today's story.
Members of United Steelworkers (USW) Local 550 at the Paducah Gaseous Diffusion Plant are helping those who lost everything after a huge tornado and other storms churned through western Kentucky the night of Dec. 10, 2021. The tornado killed at least 77 people in Kentucky and left a trail of debris across a large swath of the region. While it did not claim the lives of any Local 550 members or retirees, at least one person lost a relative in the storm. In the wake of the tornado, Local 550's membership voted to donate up to $5,000 for disaster relief, and members are using vacation time and paid time off to help with clean-up efforts and to aid those who were displaced.
Local 550 member Greg Enlow took off work for the remainder of 2021. His house in Mayfield, Kentucky, missed the mile-wide, 190 mph twister by two blocks, but he understands that the entire community will have to rally behind those who were less fortunate. "I'm trying to help people out where I can and get things back to normal as quickly as possible," he said. Enlow said that several union members were on the ground early in the morning of Dec. 11 to bring water and other aid. "I was overwhelmed how the membership took care of people, me especially."
Click here to make a donation to support union members and families in Kentucky who were impacted by the recent storms.