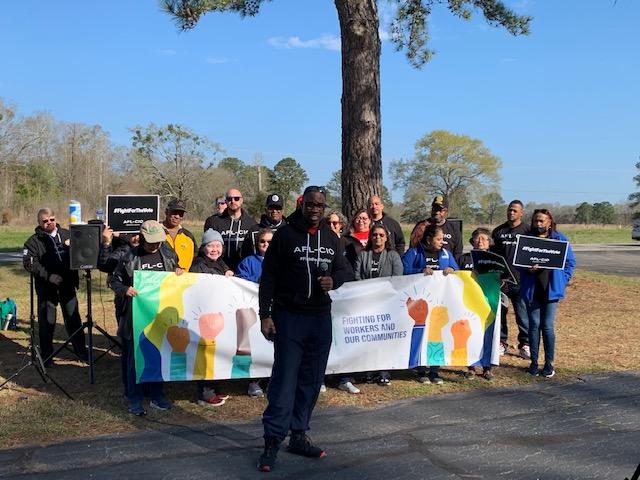 Working people across the United States have stepped up to help out our friends, neighbors and communities during these trying times. In our regular Service + Solidarity Spotlight series, we'll showcase one of these stories every day. Here's today's story.
Earlier today, the AFL-CIO and United Domestic Workers (UDW)/AFSCME Local 3930 led the fifth day of the 57th commemoration of the march from Selma to Montgomery, Alabama, joining national organizations and leaders in amplifying the call for federal voting rights protections. In the wake of widespread attacks on voting rights and organizing rights, particularly in communities of color, hundreds of trade unionists from across the country will come together to demonstrate the labor movement's commitment in the fight for democracy at the ballot box and to reinforce its longstanding bond with the struggle for civil rights.
The Rev. Jesse Jackson of the Rainbow PUSH Coalition took part in today's march, passing the torch to members of the labor movement on U.S. Highway 80 outside of Montgomery. AFL-CIO Secretary-Treasurer Fred Redmond will help lead a rally for justice and democracy at the state capitol in Montgomery on Friday. Vice President Kamala Harris, AFL-CIO President Liz Shuler and AFSCME President Lee Saunders were in Selma last weekend to mark the 57th anniversary of "Bloody Sunday." And Mine Workers (UMWA) President Cecil Roberts and Alabama AFL-CIO President Bren Riley (USW) joined today's march.