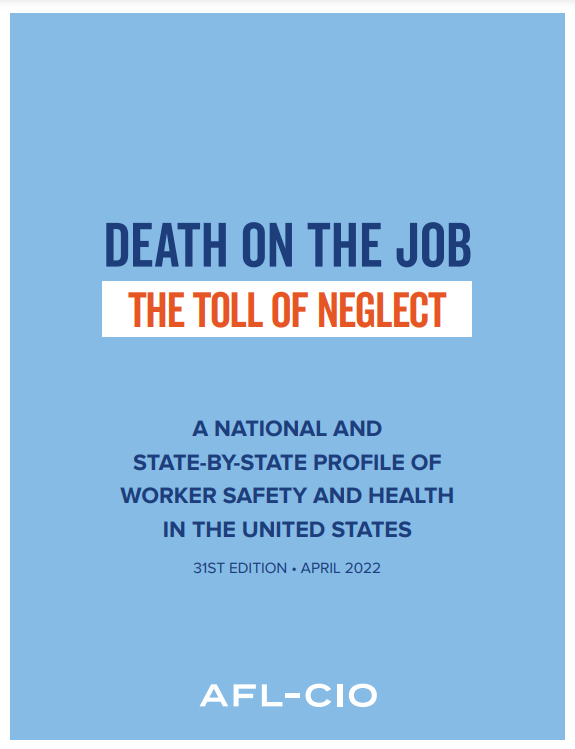 This 2022 edition of Death on the Job: The Toll of Neglect marks the 31st year the AFL-CIO has produced a report on the state of safety and health protections for America's workers. This report features national and state information on workplace fatalities, injuries and illnesses, as well as the workplace safety inspections, penalties, funding, staffing and public employee coverage under the Occupational Safety and Health (OSH) Act. It also includes information on the state of mine safety and health and the state of worker safety during the COVID-19 pandemic.
Here are 16 key things you need to know from the 2022 Death on the Job report:
1. Every day, 340 workers died from hazardous workplaces.
2. More than 4,700 workers were killed on the job.
3. An estimated 120,000 workers died from occupational diseases.
4. The fatality rate in the workplace was 3.4 per 100,000 workers.
5. Latino and Black workers face a greater risking of dying on the job than the workforce as a whole. The Latino rate was 4.5 per 100,000 workers, a 15% increase over the past decade. The Black worker rate was 3.5 per 100,000 workers.
6. Older workers were at high risk, with more than one-third of workplace fatalities occurring among workers ages 55 and older.
7. Nearly 3.2 million work-related injuries and illnesses were reported in 2020.
8. Musculoskeletal disorders accounted for 1 in 5 of all workers who reported workplace injuries or illnesses, more than any other type of injury or illness.
9. The true toll of work-related injuries and illnesses is significantly larger than what is reported, totaling between 5.4 million and 8.1 million annually.
10. The cost of on-the-job injuries and illnesses is estimated to be between $176 billion and $352 billion.
11. The states with the highest fatality rates were: Wyoming, Alaska, South Dakota, North Dakota and West Virginia.
12. The industries with the highest fatality rates were: agriculture, forestry, fishing and hunting, transportation, warehousing, mining, quarrying, oil and gas extraction, construction, and wholesale trade.
13. Workplaces are a primary source of COVID-19 outbreaks.
14. More than 700 workers were killed through workplace violence and overall violent incidents that led to lost-time injuries surpassing 27,000 incidents.
15. The number of inspectors working for the Occupational Safety and Health Act is near its lowest number since it was created more than 50 years ago. There are just over 1,700 inspectors for 10.4 million workplace.
16. Penalties for violations are still too weak, with the average penalty for a serious violation was only $4,460 for federal cases and $2,421 for state plans. Only 115 worker death cases have been criminally prosecuted under the OSH Act since 1970.
Read the full Death on the Job report.