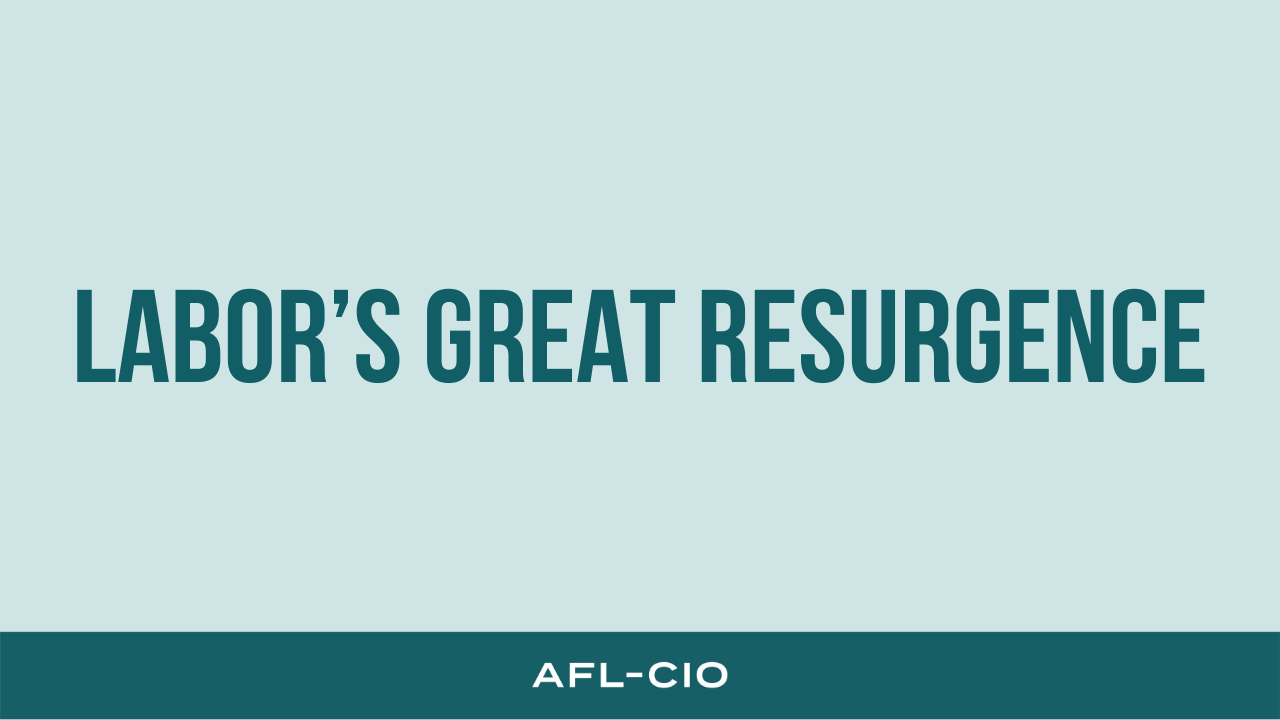 Unions are back. 
 
Or so we hear from observers of recent union victories at Amazon and Starbucks and in hundreds of other workplaces across the country. For those of us who have long fought for working people, the recent triumphs of the labor movement's David over corporate Goliaths are exciting.
Often overlooked in this historic turning of the tide is Bessemer, Alabama, where a parallel unionization effort at an Amazon facility appeared to go down in defeat.
Yet this vote, still too close to call, demonstrates that collective bargaining is within reach in a harshly anti-union state like Alabama. That fact represents the most notable sign of a widespread "great resurgence" in America's labor movement.
From New York to Bessemer, working people are taking risks for the right to dignity and control over our lives. Our motivations are simple and shared; coming together for decent jobs, health care and the ability to determine our futures.
Winning a union and the power to negotiate is a powerful tool. It's unacceptable that it is so difficult to achieve today. The good news is there is much that can be done to bring more into the movement and to build more effective vehicles to guarantee worker rights.
1. Invite all working people to the movement
Working people are fed up and fired up. We're sick of bad conditions, bad bosses and the lack of control. The pandemic dramatically ripped the cover off the reality so many Americans already lived every day: our system devalues working people.
That is why we keep seeing people band together for bargaining in all different forms.
Across all types of jobs—front-line essential workers, professional soccer players, stagehands, video game developers—working people are leading ground-up efforts for a better deal. No industry is off-limits.
We are increasingly hopeful, but success means the movement has to grow. Prioritizing inclusivity of industry, experience, and reflecting diversifying workforces made up of women, people of color, and historically marginalized groups.
We have to fight anti-union tactics and dispel stereotypes that unions are only for certain kinds of work. A union starts and ends with people—unions are whatever we want them to be. 
2. Prioritize innovation and experimentation
We must embrace experimentation in how we organize and get to the bargaining table.
Amazon Labor Union (ALU) organizers reminded us of critical values. They proved that agility, creativity and community are powerful organizing forces—they are not alone in reshaping the playbook of the modern labor movement.
We see all kinds of examples, from workers negotiating ways to mitigate their company's carbon footprint to those implementing fairer scheduling in emerging industries. Within the past year alone:
Employees like Nozlee Samadzadeh at The New York Times won their election to form The Times Tech Guild (TNG-CWA Local 31003), the largest union of tech workers with bargaining rights in the country. Samadzadeh and her co-workers, who organized their union as part of CWA's Campaign to Organize Digital Employees (CODE-CWA), will bargain for better pay, diversity and equity.
In December 2021, 17,000 academic researchers at University of California institutions organized with the UAW for fair pay, but also to reduce gender inequity, receive paid family leave and protection against discrimination.
Amazon workers in Bessemer are still standing up against a deep-pocketed anti-union campaign in a "right to work" state. The AFL-CIO and its affiliated unions shared expertise and resources for momentum in Bessemer's second campaign.
3. Work for structural reform
Make no mistake, the courageous workers at Amazon in Bessemer have made progress, but it is not a fair fight.
If Bessemer were in New York, we would be celebrating a second Amazon union. Beyond Amazon's illegal union-busting tactics and million-dollar consultants, systemic barriers stand in our way. Broken labor laws that have been chipped away at by corporations have made the drive harder. For this movement to scale we need systemic change.
We have the support of a pro-labor administration and a fair National Labor Relations Board enforcing labor laws. Now, we need to elect pro-worker candidates to pass good legislation and revamp laws that tip the scales for real people.
What's next?
The entire union movement is buoyed by the win in Staten Island, New York. We will be here to encourage and support ALU workers in every way possible as they prepare for contract negotiations. At the AFL-CIO, our role is not to get in the way of people's movements, as some corporate critics would have you believe, but to support them with additional resources, tools and expertise.
Around the country, working people are connected by a hunger for change and incredible courage. We need to band together to translate it into a sustainable voice on the job, safer workplaces and better livelihoods.
Our time is now to deliver fairness, dignity and prosperity to all working people. Together we can make sure this is the first of many more Amazon Labor Unions.