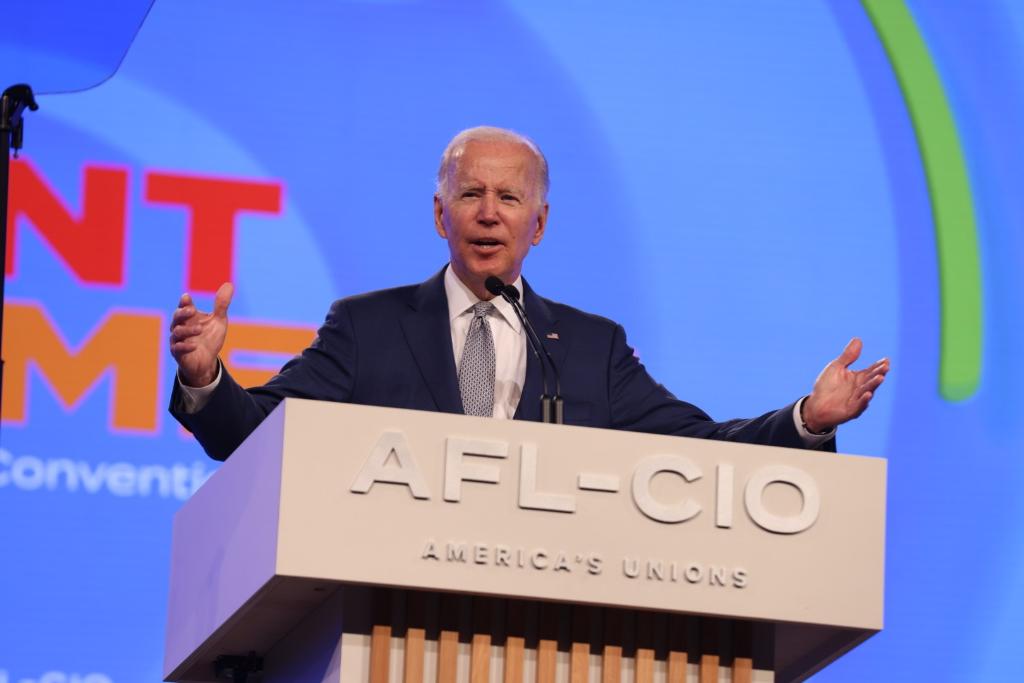 "It's good to be home," President Biden began, as he took the stage at the AFL-CIO Convention.
He heralded labor's fight to transform our economy, including winning passage of the American Rescue Plan and the bipartisan Infrastructure Investment and Jobs Act. "The infrastructure law is about more than rebuilding our infrastructure, it's about rebuilding the middle class," Biden said. Delegates rose in applause as he called on Congress to pass the Protecting the Right to Organize (PRO) Act, which will allow more workers to have a voice on the job.
Biden also spoke about what his administration is doing to blunt the economic impact of Vladimir Putin's invasion of Ukraine, which has caused gas and food prices to skyrocket in recent months. "When we work to bring down gas and food prices, we can save families' money on other items," he explained. "We can change the dynamic for working-class families" by expanding affordable child care and capping the price of insulin.
"We can do all this. All I'm asking is the largest corporations and wealthiest Americans to begin to pay their fair share of taxes," he said. Biden pointed out that the tax rate on America's workers is much higher than the effective tax rate on greedy corporations and billionaires.
And while anti-union senators propose to sunset Social Security and Medicare, and undermine the Affordable Care Act's protection for people with pre-existing conditions, Biden made clear that he and the labor movement will always stand in their way. "We're not going back to the false promise of trickle-down economics. We're going forward."
"We're counting on you again to build this country for all of us," the president told the assembled delegates. "I promise you, I'm going to keep fighting for you. Are you prepared to fight with me?"
The answer from workers in the hall was unanimous and in one collective voice: "Yes!"