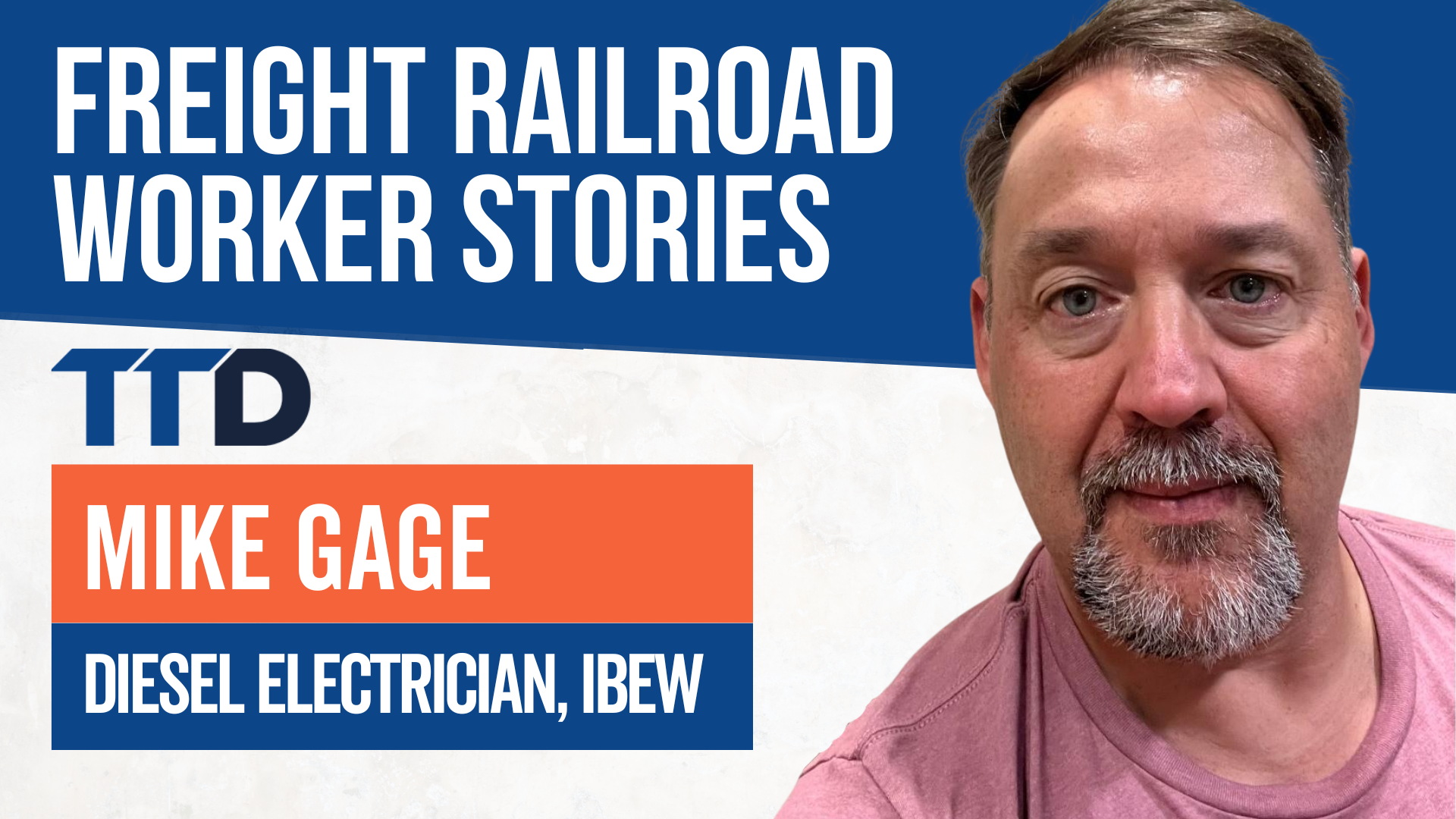 At a recent virtual U.S. Freight Railroad Worker Town Hall, Transportation Trades Department, AFL-CIO, (TTD) President Greg Regan introduced a group of workers who explained the challenges they've faced in their three-year fight for a new contract with U.S. freight railroad companies:
Since 2015, seven major railroad companies made $146 billion in net profits off the backs of these workers. That's the most money they've ever made in the history of railroading—even more than the Gilded Era railroad robber barons. During this same time period, the companies eliminated 45,000 jobs from the industry. Instead of recognizing the value of these workers, the companies have enacted massive job cuts and offered the remaining workers a net pay cut and worse health care benefits than they have now. This is unacceptable.
In the coming days, the AFL-CIO will share the stories of those workers. Check back here every day for more.
Today's story comes from Mike Gage, a diesel electrician who works for Union Pacific. He is a member of the Electrical Workers (IBEW) and serves as president of Local 1920 in North Platte, Nebraska. Gage said:
"I have been a diesel electrician for 17 years. In 2016, we had 309 workers on the roster at my location and now we're down to 191. Those of us who were lucky enough to avoid being furloughed by the companies are still dealing with the fallout from being short-staffed. There's always an excess of work for those of us who are left.
"In my location, there were 60 people furloughed by December 2020, so it's not pandemic related. It's related to the precision scheduled railroading business model. Because of a certain agreement in one of our contracts in 1987, if someone worked for the railroad for less than three years and they were furloughed more than one year, then the railroad isn't obligated to call those workers back. Of the 60 who were furloughed, only four came back. Given the way they're being treated by the companies, a lot of them don't want to come back.
"Seniority matters in this job; the longer you work, the more your seniority earns you better shifts, days off, and holidays. The companies told most of us when we were hired onto the railroad that after 10 years we would have 'paid our dues' and would get part of the weekend off, get to be on day shift, and wouldn't have to worry about holidays. But now there are workers with 15 years or more seniority who are still working third shift or second shift, if they're lucky. It's the same with holidays. There are workers with over 20 years of experience who are working holidays because of the worker shortage created by the companies. After 17 years on the job, my days off are on Monday and Tuesday, and thankfully I work the day shift.   
"The companies don't seem to think we sacrifice anything by working this way, but we really do."