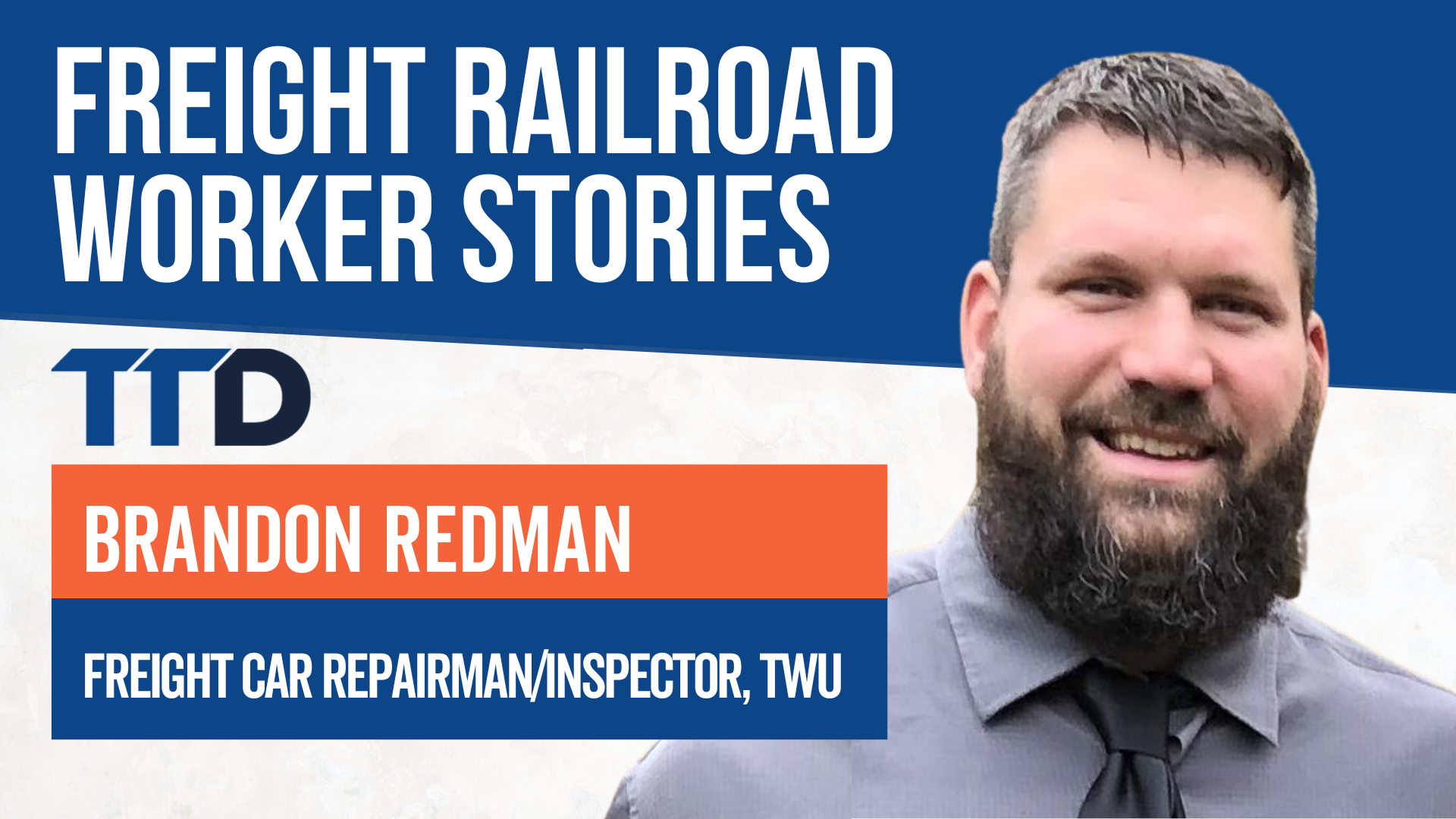 At a recent Virtual U.S. Freight Railroad Worker Town Hall, Transportation Trades Department President Greg Regan introduced a group of workers who explained the challenges they've faced in their three-year fight for a new contract with U.S. freight railroad companies:
Since 2015, seven major railroad companies made $146 billion in net profits off the backs of these workers. That's the most money they've ever made in the history of railroading—even more than the Gilded Era railroad robber barons. During this same time period, the companies eliminated 45,000 jobs from the industry. Instead of recognizing the value of these workers, the companies have enacted massive job cuts and offered the remaining workers a net pay cut and worse health care benefits than they have now. This is unacceptable.
In the coming days, the AFL-CIO will share the stories of those workers. Check back here every day for more.
Today's story comes from Brandon Redman of the Transport Workers Union (TWU). He works as a freight car repairman/inspector for Norfolk Southern in Elkhart, Indiana.

Redman said: "When I was hired in 2009, we had 80 Carmen out there. Now, we have just around 50. So you have less people doing the same amount of work or even more work, given the increased freight demand.

"There have been several instances in the last few years where the same Carman has been forced to work 16-hour shifts on four or five days in the same week. There is no way a person can be rested for an additional shift without having some sort of a heads-up of more than an hour.

"When you take into account all the additional responsibilities in life, such as driving to and from work, securing food for you and your family, paying bills, child care, hygiene, and so on, it is impossible to be rested for duty and be safe at work with forced 16-hour work days, let alone with no notice.

"That's just unsafe and it creates a real problem. The continued grind by the Carmen that haven't quit yet has taken a real toll.

"When I was hired in 2009, there were 10 to 12 inspectors working in the rail yard every shift. Now there's only six per shift. But the freight hasn't declined. In fact, it's increased. So you have more freight, less inspectors and quicker inspection times, and obviously it's not sustainable.

"At the end of the day, if we were properly staffed there would be safe and rested employees; proper inspections; safer trains and freight cars traveling the country; and greater employee retention."