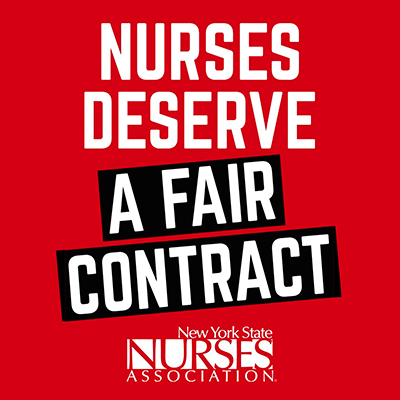 Working people across the United States have stepped up to help out our friends, neighbors and communities during these trying times. In our regular Service + Solidarity Spotlight series, we'll showcase one of these stories every day. Here's today's story.
More than 7,000 nurses in New York City went on strike this morning. The nurses are members of the New York State Nurses Association (NYSNA), an affiliate of National Nurses United (NNU), and are striking for fair contracts that improve patient care. The strike specifically addresses two hospitals: Mount Sinai Hospital on the Upper East Side and Montefiore Medical Center in the Bronx. The strike became a possibility after nurses' contracts at a dozen hospitals expired Dec. 31. NYSNA reached tentative contract agreements with most of those hospitals.
"It is time for the hospitals to treat these nurses fairly, with the dignity and respect they deserve, to ensure nurses can get back to serving their communities by providing superior care to their patients," said Mario Cilento (TNG-CWA), president of the New York State AFL-CIO.
"The entire New York City Labor Movement stands with our nurses, who are courageously taking action against dangerous understaffing that threatens the safety of their patients," said New York City Central Labor Council President Vincent Alvarez (IBEW). "The decision to go on strike is never an easy one, particularly for workers who care so deeply about the patients and communities they serve. But hospital executives created this crisis by failing to hire, train, and retain nurses while at the same time treating themselves to extravagant compensation packages. Now it's time for them to fix what they've broken. The full resources of the NYC CLC, our affiliates and our 1.3 million members are at the disposal of our City's nurses as they fight for the resources they need to provide safe, quality healthcare to all New Yorkers."