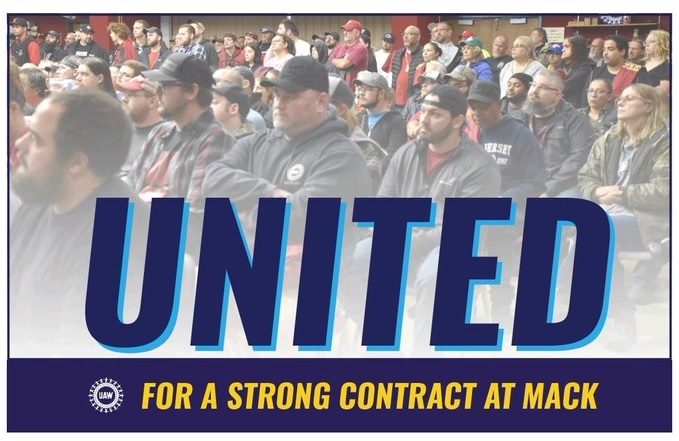 Working people across the United States have stepped up to help out our friends, neighbors and communities during these trying times. In our Service & Solidarity Spotlight series, we'll showcase one of these stories every day. Here's today's story.
UAW members voted by 73% to reject a tentative agreement, then nearly 4,000 UAW members at Mack Trucks in Pennsylvania, Maryland and Florida walked out on Oct. 9. "I'm inspired to see UAW members at Mack Trucks holding out for a better deal, and ready to stand up and walk off the job to win it," said UAW President Shawn Fain. "The members have the final say, and it's their solidarity and organization that will win a fair contract at Mack." 
Many topics remain at issue, including: wage increases, cost of living allowances, job security, wage progression, skilled trades, shift premium, holiday schedules, work schedules, health and safety, seniority, pensions, 401(k) plans, health care and prescription drug coverage, and overtime. UAW locals 171, 677, 1247, 2301 and 2420 in UAW Region 8 and Region 9 represent workers at Mack Trucks in Macungie and Middletown, Pennsylvania; Hagerstown and Baltimore, Maryland; and Jacksonville, Florida. The Mack Trucks strikers bring the total number of striking International Union, United Automobile, Aerospace and Agricultural Implement Workers of America members to over 30,000 workers across 22 states.