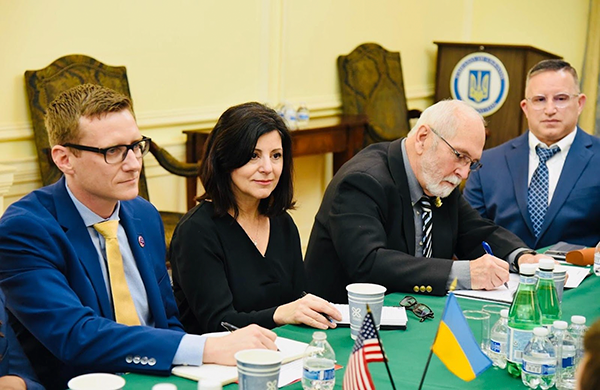 Working people across the United States have stepped up to help out our friends, neighbors and communities during these trying times. In our regular Service + Solidarity Spotlight series, we'll showcase one of these stories every day. Here's today's story.
Will Attig (UA; pictured left), executive director of the Union Veterans Council, AFL-CIO (UVC), led a delegation of labor leaders and working people to meet with Ambassador Oksana Markarova (not pictured) at the Ukrainian Embassy. The delegation expressed the U.S. labor movement's solidarity with the people of Ukraine. Joining UVC in the delegation were representatives from the United Association of Union Plumbers and Pipefitters (UA), Mine Workers (UMWA), Machinists (IAM), Ironworkers, AFT, AFGE, Association of Flight Attendants-CWA (AFA-CWA) and the Solidarity Center.
Ambassador Markarova asked union members to express support for Ukraine. She was also interested in learning more about training, mental health and child assistance programs run by America's unions.