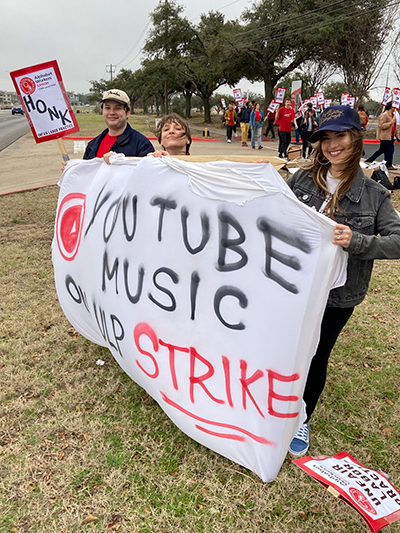 Working people across the United States have stepped up to help out our friends, neighbors and communities during these trying times. In our regular Service & Solidarity Spotlight series, we'll showcase one of these stories every day. Here's today's story.
Workers at YouTube Music have been on an unfair labor practice (ULP) strike for two weeks against Cognizant Technology Solutions and Google. The vast majority of the workers, who filed for recognition with the Alphabet Workers Union (AWU-CWA Local 1400) in October, were hired remotely and the companies' announced "return to office" plan ordered those workers to move to Austin, Texas, or they would lose their jobs. The workers then went on strike.
The workers say that Cognizant is desperate to break the strike and has engaged in smear tactics against low-wage workers. Google refused to call on Cognizant to end the return to office mandate, making them part of the problem. The workers demand that Cognizant and Google put an end to union-busting and the mandate, and allow their workers to freely exercise their right to organize.