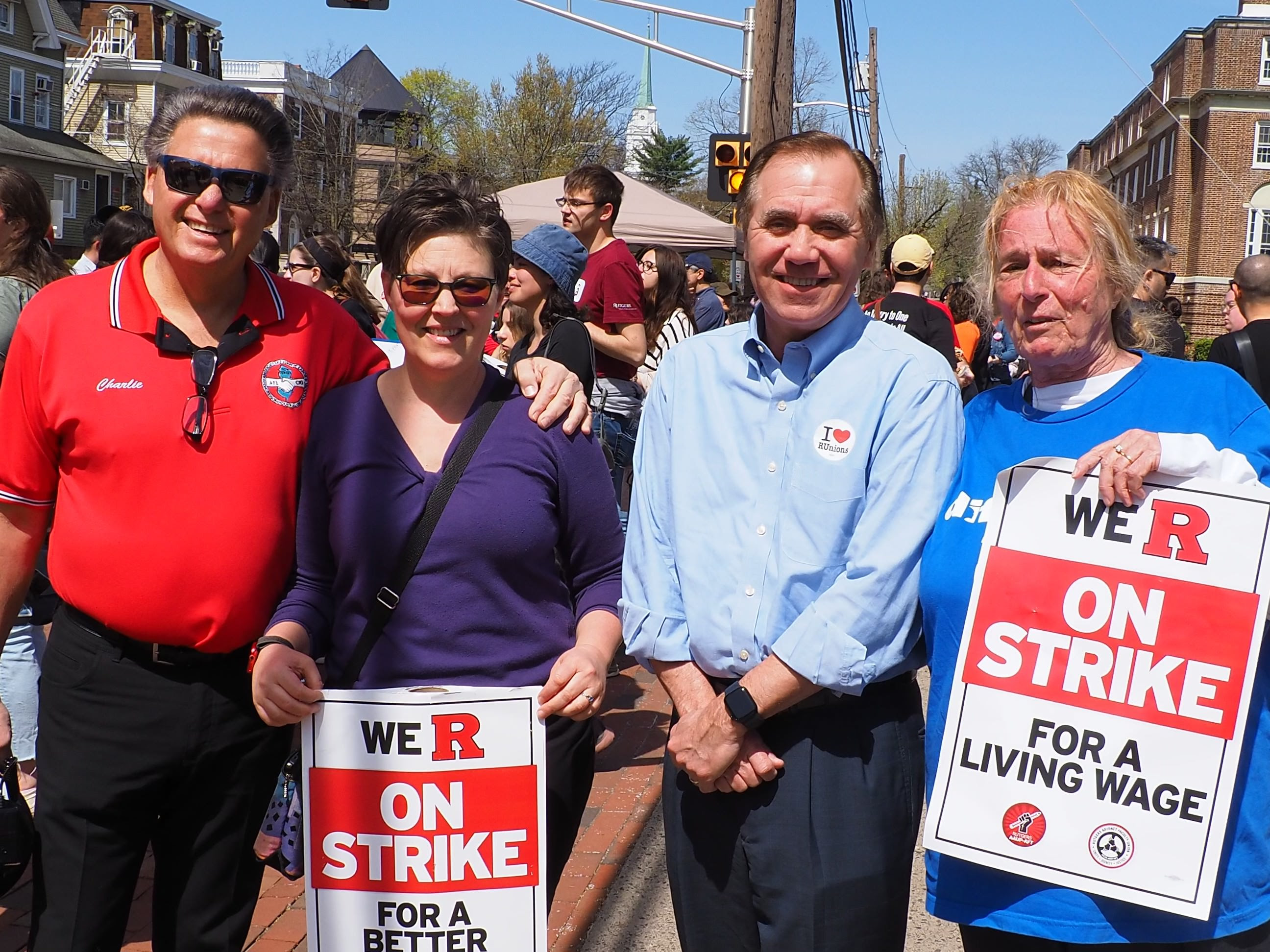 Working people across the United States have stepped up to help out our friends, neighbors and communities during these trying times. In our regular Service & Solidarity Spotlight series, we'll showcase one of these stories every day. Here's today's story.
The Rutgers AAUP-AFT Academic Worker Union represents graduate workers, faculty, postdocs and EOF counselors. These workers have been without a contract for 287 days and are on Day 4 of a strike. Their priority is resolving a contract that will serve as the foundational agreement for future generations of Rutgers AAUP-AFT members. 
The New Jersey State AFL-CIO, led by President Charles Wowkanech (IUOE; pictured, far left) and Secretary-Treasurer Laurel Brennan (Workers United, not pictured), is standing in solidarity with the Rutgers workers. In a statement, they said: 
"The New Jersey State AFL-CIO, along with our brothers and sisters, community allies and elected officials, are out in record numbers on the picket line showing their support. 
 
"We will continue to stand on the right side of history and demand that the Rutgers' Administration pay the faculty and staff what they are truly worth. We demand they stop the stalling tactics of, 'we don't have the money' while they are giving excessive raises and salaries to a chosen few as recently as this year.  
 
"The union members are fighting for items, including equal pay for equal work, a living wage for graduate workers, job security and access to decent healthcare. These are just a few of the issues that are on the table, however; Rutgers' offer doesn't even come close to salaries or benefits negotiated by faculty at other universities.
"Rutgers' Administration anti-union behavior, headed by President [Jonathan] Holloway, is not only insulting to the members who work at Rutgers but to all of us who live and work in New Jersey. 
 
"We demand that Rutgers engage in real good faith negotiations with substance and settle with the union on a fair and decent contract."