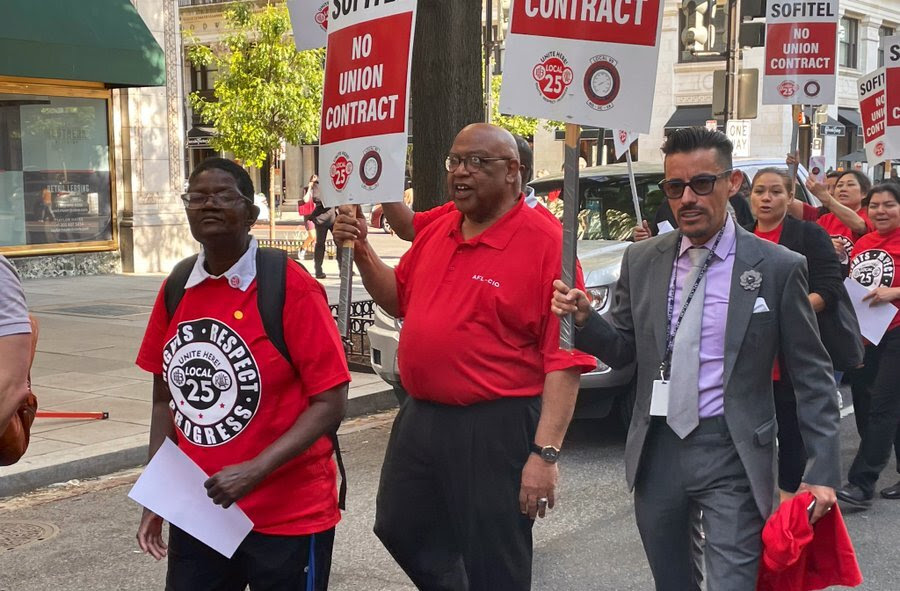 Working people across the United States have stepped up to help out our friends, neighbors and communities during these trying times. In our regular Service & Solidarity Spotlight series, we'll showcase one of these stories every day. Here's today's story.
Last week AFL-CIO Secretary-Treasurer Fred Redmond joined workers at the Sofitel Hotel in Washington, D.C., rallying in favor of the workers' right to organize. The hotel workers, overwhelmingly immigrants, women and people of color, are organizing to join UNITE HERE and the International Union of Operating Engineers (IUOE). The hotel, operated by Accor and owned by Brookfield Asset Management, has held mandatory anti-union meetings and threatened to change the schedule of an employee who is leading the union organizing effort.
"I am organizing a union because I want consistency with my schedule and to feel that my time is respected," said Francisco Rivas, an engineer at the Sofitel. "I want to spend more time with my family." 
UNITE HERE represents workers at Accor-managed and at Brookfield-owned hotels in 11 cities across the United States and Canada. The Sofitel workers don't have a guarantee of the same affordable health insurance, fair scheduling, regular raises, and pensions that union workers at hotels in these cities, and at over 30 union hotels in D.C., already enjoy.