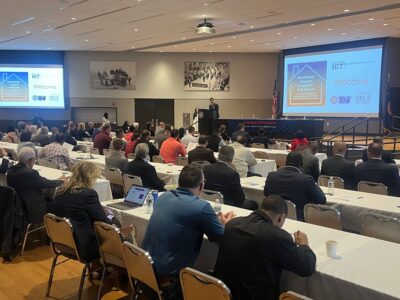 In response to a rise in the need for affordable housing across Massachusetts, the AFL-CIO Housing Investment Trust (HIT) hosted pension investment professionals, elected officials, labor and affordable housing experts to discuss how union pension funds and public investments are catalysts for equitable development and workforce growth.
Gov. Maura Healey emphasized the need to unlock development partnership opportunities and work with cities, towns and developers to build more housing as quickly as possible and for those who need it most. "Housing is one of the greatest challenges that we face as a state. We've got to relieve pressures so that people can afford to live and work here," Healey said. "I appreciate all the work being done by powerful worker-led organizations to expand access to careers in the trades, because they create the economic opportunities for both mobility and transformation in this state."

HIT CEO Chang Suh highlighted the importance of pension and public investments in creating new neighborhoods of affordable and workforce housing. "Our investments have already created thousands of homes and construction jobs while generating competitive returns," he noted.
Massachusetts Treasurer Deborah B. Goldberg highlighted the need for bold action to address the affordable housing crisis. "Encouraging and focusing on the development of affordable housing and facilitating employment for union members in the construction trades and related industries is critically important  for our state of economy," said Goldberg, chair of Mass PRIM, which is an investor in the HIT.  "The HIT is an example of the kind of work that can be done when we work together."
The summit addressed the most pressing housing and job creation challenges facing the commonwealth, including rising rent, the shortage of affordable and workforce housing units, and creating union construction career pathways for residents. Massachusetts needs 108,000 units of affordable housing to meet demand.  Pension funds' investments in vehicles such as the HIT can play a critical role in long-term planning to meet demand.