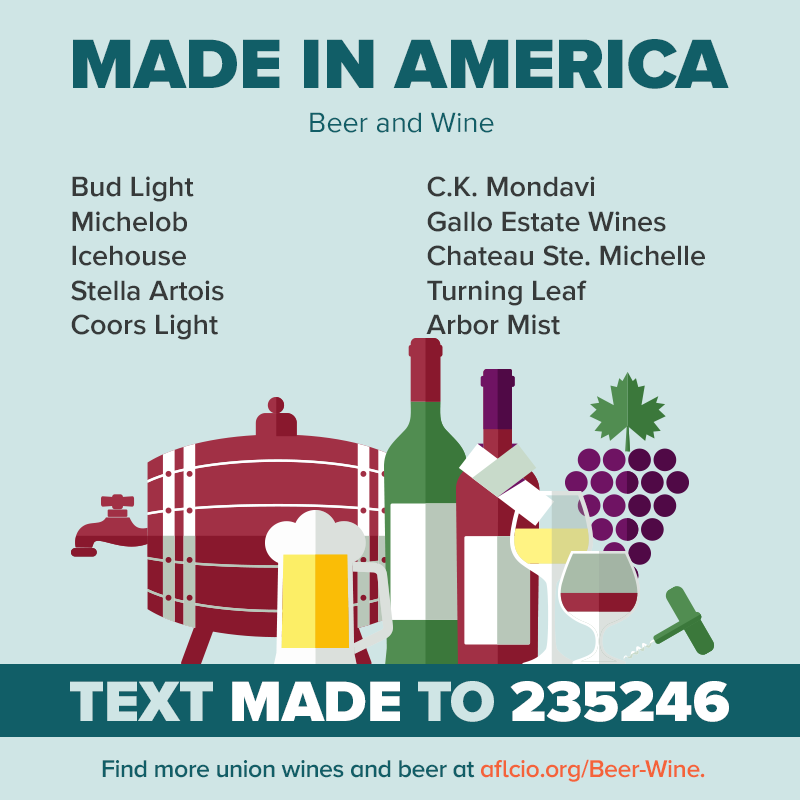 Whatever the occasion, you have a ton of choices when it comes to beer and wine choices that are made in America by union labor. Below are partial lists of wines and beers provided by Labor 411 and Union Plus. Listed beers are brewed by Machinists (IAM), United Food and Commercial Workers (UFCW), UAW, Operating Engineers (IUOE), IUE-CWA and Teamsters members. Wine selections are brought to you by the United Farm Workers (UFW), UFCW and the Teamsters.
Beer
Anheuser-Busch, Black Eye Ale, Black Hawk Stout, Blue Heron Pale Ale, Boxer, Budweiser, Busch, Butte Creek Organic Collection, Carmel Wheat Beer, Clear Creek Ice, Dundee Craft Beer, Eye of the Hawk, Genesee Brewery, Goose Island, Henry Weinhard's, Honey Amber Rose, Huber, Icehouse, Landshark Lager, Lazy Mutt Farmhouse Ale, Leinenkugel Brewing Co., Lionshead, Mad River Brewing Co., Mendocino Imperial, Michelob, Miller Beer, Milwaukee's Best, Minhas Oktoberfest, Mendocino-Talon-Double-IPA, Natural Ice & Light, O'Doul's, Olde English 800, Pabst, Peregrine Pilsner, Pyramid, Red Dog, Red Tail Ale, Rolling Rock, Sam Adams, Shergill IPA, Shock Top, Talon Extra Select Double IPA and White Hawk Select IPA.
Wine
Andre champagne, C.K. Mondavi, Chateau Ste. Michelle, Gallo Estate Wines, Gallo of Sonoma, St. Supéry, Tott's champagne and Turning Leaf.