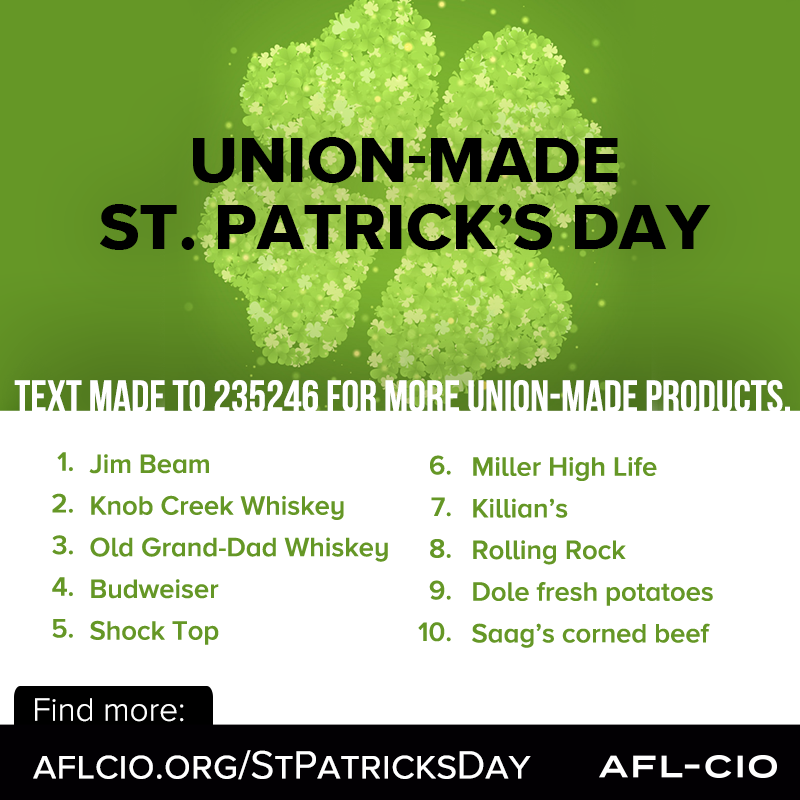 Many people will be celebrate St. Patrick's Day by going green and grabbing a frosty brew, and Labor 411 has more than a few great options. Their union-made beer list has topped 250 choices and if you're putting a meal together, they've got some delicious savory accompaniments.
Corned Beef
 Saag's
 Thumann's
 Winter's Premium Deli
Potatoes and Cabbage
Dole Fresh Potatoes
Purchase cabbage at a union grocery store like Safeway, Fred Meyer, QFC, Albertsons, Haggen and many smaller stores like PCC Natural Markets (See UFCW21.org or UFCW367.org, or UFCW1439.org for more info).
Beer
Bass, Beck's, Blue Moon, Budweiser, Busch, Butte Creek, Coors, Dundee, Duquesne, Genesee, Hamm's, Henry Weinhard's, Iron City, Jamaica Red Ale, Keystone, Killian's, Land Shark Lager, Lionshead, Mad River, Mendocino Brewing, Michelob, Mickey's, Miller Genuine Draft, Milwaukee's Best, Natural Ice, O'Doul's (nonalcoholic), Pabst Blue Ribbon, Red Stripe, Red Tail Ale, Rolling Rock, Sam Adams, Schlitz, Shock Top, Steelhead, Third Shift
This list of options for your St. Patrick's Day is courtesy of Labor 411.