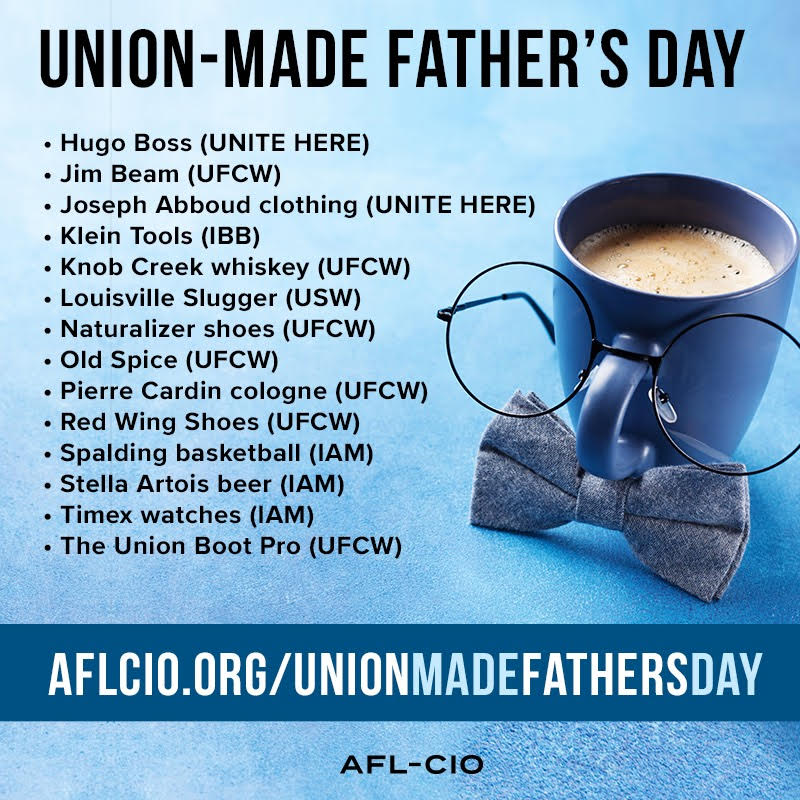 Celebrate your dad in solidarity style this Father's Day by getting him a gift that sports the union label. Check out some union-made Father's Day gift ideas from our friends over at Labor 411, the union business directory from the Los Angeles County Federation of Labor.
Don't forget to text MADE to 235246 for more union-made-in-America product lists. 
Hugo Boss (UNITE HERE)
Jim Beam® (United Food and Commercial Workers [UFCW])
Joseph Abboud clothing (UNITE HERE)
Klein Tools (Boilermakers [IBB])
Knob Creek® whiskey (UFCW)
Louisville Slugger (UAW)
Naturalizer shoes (UFCW)
Old Spice (UFCW)
Pierre Cardin cologne (UFCW)
Red Wing Shoes (UFCW)
Spalding basketball (Machinists [IAM])
Stella Artois beer (IAM)
Timex watches (IAM)
The Union Boot Pro (UFCW)
If you're thinking of splurging, spring for some game-day tickets so you can watch your favorite baseball players, who are members of the Major League Baseball Players Association, and make sure dear old dad gets a heaping cup of Budweiser beer, made by the Teamsters and IAM.