"The strike that stunned the country," read the headline in Time magazine.
Maybe Time was stunned. But 200,000 postal workers had a different view. For them, the Great Postal Strike of 1970 was the moment they were "standing 10 feet tall instead of groveling in the dust," as a Manhattan letter carrier put it. They got fed up, joined together, and transformed both the Postal Service and their own lives forever.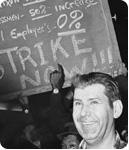 Postal workers were part of eight separate craft unions, including the National Association of Letter Carriers (NALC). But they (like all other federal employees) were denied the freedom to bargain collectively over wages. And like all federal employees, they were forbidden to even advocate for the right to strike.
By 1970, full-time employees started out at $6,176 ($34,641 in 2010 dollars). After 21 years of hard work, they averaged only $8,442 ($47,351 in 2010 dollars). It was a struggle just to survive on these wages, especially in big cities. Plenty of postal workers actually qualified for food stamps.
After years of debating but not acting on raising the pay of postal workers, Congress finally acted—sort of. In March, 1970, the Senate Post Office Committee reported a bill that would give postal workers a 5.4 percent pay increase, which was less than the rate of inflation. But then came word that Congress wouldn't even act on that bill for three or four weeks.
Postal workers contrasted their treatment with the 41 percent salary hike Congress had given itself just the year before. They were furious.
The delay by Congress was the last straw. On March 17, New York City letter carriers voted to defy the law and go on strike. Clerks and other postal workers refused to cross their picket lines. Then, the wildcat strike suddenly spread across the country. By the following week, 200,000 postal workers from New England to California had walked off the job. Time called it the largest walkout ever against the Federal government.
President Richard Nixon vowed to crush the postal workers. "We have the means to deliver the mail," he claimed. It was a hollow claim. He dispatched 23,000 United States Armed Forces personnel to New York City to process the mail, but without proper training, there was no way they could do the job. Meanwhile, courts were busy serving injunctions and imposing fines against union leaders.
Finally, the Post Office Department figured out it needed postal workers.
It went into serious bargaining with the postal unions. Within one day, they reached a preliminary agreement and the postal workers went back on the job. After a final agreement was hammered out a month later, the postal workers won a 6 percent wage increase—and that summer, President Nixon signed the Postal Reorganization Act that gave the postal workers an additional 8-percent raise.
They won another big victory. Under the newly reorganized Postal Service, postal workers now had rights they never had before. They could bargain collectively for wages, benefits and working conditions. And while they were still prohibited from striking, they achieved a binding arbitration process for resolving contract disputes.
The following year, five of the eight postal unions joined together in the American Postal Workers Union (APWU). The APWU, along with the Letter Carriers and the National Postal Mail Handlers Union, the APWU would become part of one of the most successful public-sector union movements in American history.
One who took part in the strike and witnessed everything that followed was a young postal worker in Cleveland, Bill Burris, who in 2001 was elected APWU president. He now says, "The most important achievement of the strike was winning the right to bargain collectively. By standing together, we had become a real union."
Sources
Walsh, John, and Mangum, Garth, Labor Struggle in the Post Office: From Selective Lobbying to Collective Bargaining. M.E. Sharpe, 1992. Anonymous, "Great Postal Strike of 1970: From 'Collective Begging' to Collective Bargaining. The American Postal Worker (March-April, 2010). Anonymous, "The Strike that Stunned the Country." Time (March 30, 1970). Anonymous, "APWU History" (www.apwu.org/about/history.htm). Panel discussion of the Great Postal Strike of 1970, Smithsonian NationalPostal Museum, March 22, 2010 (video) (http://apwu.org/news/webart/2010/10-024-strikeanniv_video-100322.htm).