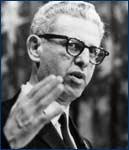 Prior to his public service in the 1960s as U.S. secretary of labor, Supreme Court justice and ambassador to the United Nations, Arthur J. Goldberg spent 23 years as a chief legal strategist and adviser to the American labor movement. Goldberg provided brilliant legal advice to the Steel Workers Organizing Committee (SWOC) in its successful battle to unionize the steel industry in the late 1930s. He was a principal architect of the U.S. collective bargaining system as it evolved in the post-World War II decades. Goldberg also helped draft the merger agreement between the American Federation of Labor and the Congress of Industrial Organizations in 1955 and played a key role in AFL-CIO policies aimed at ending corrupt union practices among affiliates.
Born and raised in Chicago, Goldberg was the youngest of seven children of Joseph and Rebecca (Perlstein) Goldberg, Jewish refugees from the Russian pogroms. Goldberg's father, the town clerk in his Ukrainian village, delivered produce to support the family in America. In 1916, when Goldberg was 8, his father died, leaving the family destitute. Relying on his own earnings and those of his brothers and sisters (none of whom went beyond grade school), Goldberg completed high school and, at age 16, entered Northwestern University. With the help of scholarships and a job as a union hod carrier, Goldberg completed his Bachelor of Science in Law degree in 1929 and, a year later, at the age of 21, a J.D. degree, summa cum laude. In 1931, he married Dorothy Kurgans, an artist and art teacher, with whom he had two children.
Denied access to the established gentile law firms in Chicago because of anti-Semitism, Goldberg initially joined a law firm founded by German Jews, at which he specialized in bankruptcy proceedings and other financial matters. He quickly tired of this area of law, however, and in 1933 opened his own law firm and soon was swept up in the labor conflicts of the time. Influenced in his college years by American Federation of Teachers' pioneer Lillian Helstein, who had awakened his interest in labor issues, Goldberg befriended garment union leader Sidney Hillman and other Chicago labor leaders. By 1937, Goldberg was working closely with the SWOC, advising on organizing strategy and successfully defending the union against court injunctions by turning the injunction weapon on the steel corporations themselves. He also aided other unions in this period, earning a reputation as a civil libertarian and passionate defender of labor's right to free speech and freedom of assembly.
In 1942, after Pearl Harbor, Goldberg enlisted in the army. He was assigned to direct the labor division of the Office of Strategic Services, where he helped support the activities of anti-fascist union leaders in countries under Axis domination. Goldberg had been an early supporter of President Franklin D. Roosevelt, and after the war he continued to back the Democratic Party, including its attempts to bolster anti-communism at home and abroad. In 1948, Goldberg became general counsel to both the CIO and the Steelworkers union, and he provided much of the legal rationale for the CIO's 1949 decision to oust the unions that had defied the organization's endorsement of Harry Truman and actively supported the third-party candidacy of Henry Wallace.
As principal legal adviser to CIO and Steelworkers President Philip Murray and his successors, Walter Reuther and David McDonald, Goldberg was intimately involved in shaping the labor-management agreements that emerged in the postwar decades. The Steelworkers, the second-largest CIO affiliate throughout the 1940s and 1950s, pioneered many of the distinctive characteristics associated with American collective bargaining. The union won strong job security clauses, wage increases tied to productivity, cost-of-living formulas and such extensive fringe benefits as supplemental unemployment income, pensions, sick leave pay and health care. In 1959, Goldberg represented the Steelworkers in negotiations during a strike that lasted more than 100 days and resulted in major gains for labor.
In the early 1950s, Goldberg worked with CIO President Philip Murray and his successor, Walter Reuther, in drafting a merger agreement that both the AFL and the CIO could accept. During the 1957 McClellan Committee investigations of union corruption, Goldberg urged AFL-CIO President George Meany to develop labor's own code of ethics. The action helped convince the public that labor was firmly opposed to corruption and would take strong action to ensure it was not tolerated among AFL-CIO affiliates.
Goldberg was an early supporter of John F. Kennedy's bid for the Democratic nomination for president and served as a campaign adviser during the 1960 presidential race. After the Democratic victory, President Kennedy asked Goldberg to join his cabinet as secretary of labor. A firm believer in the rights of women and minority groups, Goldberg appointed a diverse staff, bringing in AFL-CIO lobbyist Esther Peterson and the IUE's George Weaver, an African American, as assistant labor secretaries. He helped secure Kennedy's executive order setting up the President's Commission on the Status of Women and built support for raising the federal minimum wage, extending fair labor standards to additional groups of workers and increasing unemployment and Social Security benefits.
Goldberg also used his labor-management negotiation skills to resolve contract disputes in dozens of industries. During the infamous 1962 steel crisis, Goldberg, backed by President Kennedy and the Justice Department, convinced steel executives to rescind their announced price increase because it violated the noninflationary contract they had just negotiated with the Steelworkers.
Goldberg served as secretary of labor for less than two years. In 1962, with the retirement of Justice Felix Frankfurter, President Kennedy appointed Goldberg to the U.S. Supreme Court, where he helped ensure a pro-civil rights and civil liberties majority on the court. In 1965 President Johnson convinced Goldberg to leave the court and accept an appointment as U.S. ambassador to the United Nations. In that capacity, Goldberg hoped he could play a role in ending the escalating conflict in Vietnam. He was largely frustrated in that goal, although he was instrumental in persuading President Johnson to suspend U.S. bombing in 1968.
After leaving the Johnson administration in June 1968, Goldberg returned to private law practice in New York and taught law at Princeton, Columbia, American University and Hastings College of Law in San Francisco. He served as president of the American Jewish Committee in 1968 and chair of the Center for Law and Social Policy from 1968 to 1978. President Jimmy Carter awarded Goldberg the prestigious Medal of Freedom in 1978.
Goldberg authored three books: AFL-CIO Labor United (1956), The Defenses of Freedom (1966) and Equal Justice: The Warren Court (1971). Active until his death in 1990 at the age of 81, Goldberg's last project involved forming a committee to monitor human rights in Eastern Europe and China.